Shopping for bedsheets is always fun. If you go down to any shop where they sell bed sheets, you will see how many fabric, color and design options you have.
While there are many to choose from, a clear majority of the sheets are made from microfiber fabrics. It is easy to tell what bamboo or cotton sheets are made from but what are microfiber sheets?
I wondered what kind of benefits they would have against the competition, so I dug a little deeper. Here is what I found.
Microfiber is a really thin synthetic fiber. It is man-made in advanced laboratories and thinner than a denier. They are woven super tight therefore microfiber sheets are highly stain-resistant. While they may be a little too warm to sleep in during summer, microfiber sheets keep you warm and cozy in the winter time and just like all man-made fibers, microfiber sheets are extremely wrinkle resistant. Super easy to take care of, microfiber sheets can be thrown in the washing machine and washed with hot water since they can endure high temperatures with no problem.
Washing them with hot water may sterilize them in a fast, efficient way but microfiber sheets are so tightly woven that they may cause irritation to people with sensitive skin. Overall, they might not be the best friend of the environment, but they are a friend to your wallet.  Microfiber sheets are a cheap, durable option that needs very minimal care and takes up less closet space because of how thin they are.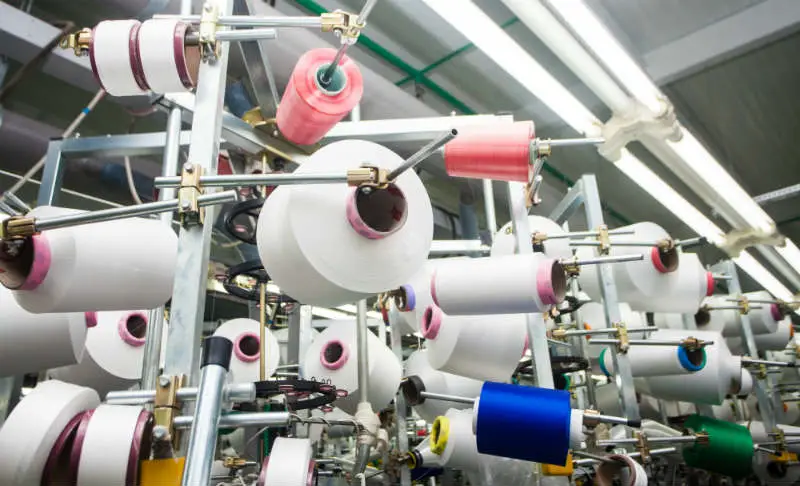 What is Microfiber and How is it Made?
A microfiber is a man-made synthetic fiber that has been created in an advanced laboratory using chemicals. The making of microfibers is much faster, easier and cheaper than other fabric alternatives which are the reason the textile industry has bloomed over the last couple of years.
The most commonly known microfibers are made from polyesters, polyamides like nylon or a polyester and polyamide hybrid. A lot of microfiber sheets are polyester. You can read more about the pros and cons of polyester sheets here.
Microfibers are often much thinner than silk fibers yet when woven together, they create a much stronger, durable fabric than silk. However, easier production, smaller costs, advanced technology come with some inconveniences to the environment.
Microfibers are made with non-biodegradable chemicals, so they cannot be recycled which creates a lot of waste.
However, they use a very little amount of water to make microfibers and none of the chemicals are toxic.
How Durable Is Microfiber?
While it might not be the most luxurious of fabrics, microfiber sheets are tightly woven together. So tight that if you spill something on it, instead of absorbing the liquids from the spill, you can just wipe it off and it will be good as new.
Microfibers are man-made and that usually means the fibers don't like to absorb water which helps it dry easy and also are incredibly wrinkle resistant.
A couple of shakes after getting out of the washer & dryer and you may not need to iron the sheets.
How to Wash Microfiber Sheets: Microfiber Care Instructions
Just like I mentioned above, the wrinkle-resistant microfiber sheets are much easier to care for than most other fabrics.
You can toss the sheets in the washing machine with your regular cycle and they will come out the same color, size and shape with minimal wrinkles.
The man-made microfibers can stand high temperatures without deforming your sheets even though the fabric is really thin. That aspect of the sheets comes in handy when you are lacking closet space because microfiber sheets can be folded small and because they are fine, require less space.
Are Microfiber Sheets Comfortable?
The comfort of your microfiber sheets depends on the thread count. I am sure you have already heard about the higher the thread count, the better the sheets. This is the case when it comes to microfiber sheets.
One other thing to check is the denier of the sheets. For fibers to be considered microfiber, the denier has to be smaller than 1 denier.
To put that into perspective, ½ of a hair strand is 1.25 den. To make sure that the sheets you are getting are microfiber, check the product description of your item before purchase.
How breathable is microfiber?
Microfiber sheets are not the most breathable of fabrics, therefore, can cause discomfort if you are a night sweater. Check out my article about the best sheets for hot sleepers.
Although they might be a bit hot to sleep in during summer, microfiber sheets will keep you warm and cozy during winter months without maxing your heat bill.
So, What Are the Pros and Cons of Microfiber Sheets?
Pros
Huge range of options regarding colors, size, and patterns
Most affordable types of sheets
Durable; it will last for a very long time
Easy to care for; can be washed with anything
Keeps you warm at night
Wrinkle resistant
Stain resistant
Dries very quickly
Cons
Made with chemicals

Non-biodegradable
Not recyclable
Can cause harm to sensitive skin
Not the softest sheets out there
Best Microfiber Sheets 2019
I found two Microfiber sheets on Amazon.com that I really liked.
AmazonBasics Deluxe Microfiber Striped Sheet Set
The first choice is this gorgeous Amazonbasics microfiber sheet set. The colors of the sheets and the reviews of the product was why I chose it.
Verified Amazon customers praised this item by saying it changed the way they will buy sheets from now on and how they are so cuddly and comfortable without paying too much for heat. And how they cannot believe they didn't try this before.
Read more reviews on Amazon
Mellanni Bed Sheet Set – Brushed Microfiber 
The second choice is this gorgeous Mellanni microfiber sheet set. The colors, the price and the fact that it is hypoallergenic was the reason why I chose it.
Also, it's worth mentioning that these sheets have kind of taken over the internet. Everyone seems to be talking about them and they have over 42 000 (!) mostly positive reviews on Amazon. 
The thread count is 1800 which is super soft and comfortable and it comes with 4 pieces, 2 pillowcases, a fitted sheet and a flat sheet. The Verified customers seem to love how incredibly soft the sheet set is as well as praising its amazing quality for the affordable price.
Mellanni sheets really do have a lot of great reviews since they are one of the top preferred products in their market. From the looks of the verified customers, you cannot get better quality sheets for this affordable price.
Read more reviews on Amazon
FAQ
Are microfiber bed sheets good?
Microfiber sheets are durable, easy to take care of and higher thread count microfiber sheets are very comfortable.
Do microfiber sheets make you hot?
Microfiber sheets might be too warm for people who sweat at night since they are not very breathable.
What is microfiber in the sheets?
Microfiber sheets are made with fibers that are finer than 1 denier. Microfiber sheets are commonly made with polyester or polyamides.
What kind of sheets is the best?
Depending on your needs, all types of fabrics have pros and cons. Microfiber sheets are best for people who don't want to spend a ton of money of sheets or people who tend to get cold at night.
Are polyester and microfiber the same thing?
Microfibers are mostly made from polyester. While not all polyester sheets are made with microfibers, not all microfiber sheets are made from polyester either. Sometimes they are made with polyamides or polyester and polyamide hybrids.
How durable is microfiber?
The super tight woven fibers create a really strong bond and make the sheets strong and durable. Microfibers need very little care and storage which makes them last longer.
Conclusion
Overall, microfiber sheets are a great option if you've got a taste for champagne on a beer budget.
Comfortable, durable, easy to care for and affordable. While there are more luxurious fabrics out there, microfiber sheets are still the king of the sheet industry by being the best seller due to the price and options range.
What are the best Microbiber Sheets?
Without a doubt Mellanni brushed microfiber bed sheet set. Look how many happy customers they have.