What are the best comforters for night sweats and hot sleepers? A cooling comforter is perfect for those who get hot or are going through menopause and have hot flushes when they sleep.
Let's get started with the temperature regulating comforters list so that you HOTTIE can sleep cool ASAP!
Best Blanket for Night Sweats and Hot Sleepers in 2023
MOST EFFECTIVE

BedJet 3 Climate Comfort System

Instant cooling & heating
No high A/C bills
Easy to install
ACTIVE cooling & warming

Check Price

BEST COOLING COMFORTER

BUFFY BREEZE COMFORTER

Keeps 95% of sleepers cool
Softer & more breathable than cotton
Earth-friendly & cruelty free
Hypoallergenic

Free trial

RUNNER UP

BROOKLINEN DOWN ALTERNATIVE COMFORTER

Lightweight - 600 fill power
Super-soft
Vegan and allergy friendlY
Award-winning, next-generation polyfill

Check Price

THIRD BEST FOR NIGHT SWEATS

CLIMABALANCE DOWN ALTERNATIVE BLANKET

100% Hypoallergenic Virgin Polyester
All season comfort
Sleep scientists design
Hot machine washable

Check Price

BEST TENCEL COTTON DUVET

WHATSBEDDING COMFORTER

Softer than cotton
Hypoallergenic
Machine Washable

Check Price

TOP MID-WEIGHT

LINENSPA ALL-SEASON DOWN ALTERNATIVE

Hypoallergenic down alternative fill
Machine washable
Dryer safe
Reversible design

Check Price

BEST LIGHTWEIGHT

EASELAND SOFT QUILTED DOWN ALTERNATIVE BLANKET

Soft Brushed Fabric
Fluffy & lightweight
Machine washable (cold water)
Tumble dry on low heat

Check Price
Best Comforter for Night Sweats & Sweaty Sleepers
So, what is the best blanket for hot sleepers or people who are experiencing night sweats you should be buying in 2023?
After extensive research and according to user reviews, it turns out it's not a comforter at all. It's the BedJet 3 Climate Comfort System for Beds with Cooling Fan and Heating Air.
This is the best solution if you're a hot sleeper or suffer from night sweats. 
1. BedJet 3 Climate Comfort System for Beds Review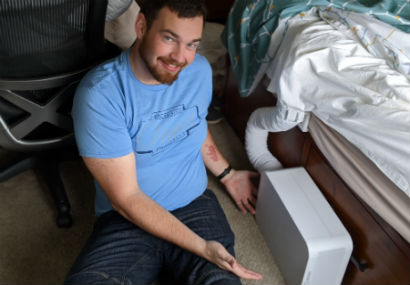 Most Effective Solution for Hot Sleepers in 2023
Let's take a look at the best choice sweaty sleepers have this year if they want to relieve their symptoms and stop sweating throughout the night.
The BedJet is a device you can control with your smartphone that can either cool down or heat up your mattress.
Its cooling ventilation will wick your body heat and moisture in a heartbeat which makes this a fantastic solution if you have night sweats or hot flashes.
If it's warmth you're looking for, it provides that as well. In just a matter of seconds, the BedJet 3 Climate Comfort System will transform your bed in a small and dry sauna.
This is a wonderful type of therapy if you suffer from cold legs and feet. It's also a lot safer to use than electric blankets which can get out of control very fast. It also warms you and the bed a lot quicker than an electric blanket.
The BedJet 3 Cooling and Warming System also comes with a diffuser for essential oils in case you want to practice aromatherapy right in your bedroom. In this way, you can enjoy their natural healing benefits and scent your sheets all at the same time.
Now that you know all these things about the BedJet 3, here are some pros and cons that have helped me review it objectively. 
Pros
It can heat or cool the bed in a matter of seconds because it diffuses air.

The BedJet represents smart and modern technology that you can control with your phone.

It can adapt to the natural biorhythm of your body.

You can practice aromatherapy by putting essential oils in it.

It has a dual-zone temperature which means the two halves of the bed can be heated or cooled separately. So no more arguing with your partner!
Reduces body heat naturally
Cons
The BedJet 3 costs more than a regular cooling comforter.
All in all, a cooling comforter and the BedJet are two different things and it comes down to you which one you need in your life.
Cooling comforters are a traditional way of fighting against night sweats and are more budget-friendly.
On the other hand, The BedJet makes it possible for your partner and you to stay happy at two different temperatures in the same bed. As for the aromatherapy, who couldn't use that in their bedroom?
2. Buffy Breeze Comforter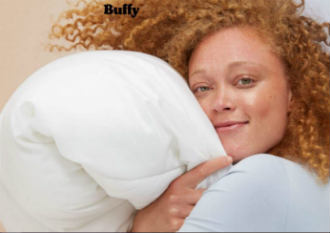 Best Cooling Comforter for night sweats
You will fall in love with this super soft temperature regulating comforter made by Buffy because it's ultra-breathable and it's made of 100 percent eucalyptus. What does this mean for your comfort?
The eucalyptus has the power of regulating temperature. Therefore, it will keep you cool at night. This makes it different from other fabrics such as polyester which traps the heat and makes you sweat.
The Buffy comforter is also hypoallergenic, therefore being the perfect choice if you have asthma, hay fever or other respiratory problems. It's resistant to allergens, microbes, and dust, keeping your airways unclogged and helping you breathe through the night.
Plus, you have the wonderful option of trying a Buffy comforter for free. Take it home, sleep with it for a few nights and see how you feel! Afterward, you can return it free of charge or keep it.
The company will only charge you if you decide to keep it.
Pros
keep 95% of sleepers cool all night

made of eucalyptus

regulates temperature

all materials are earth-friendly and cruelty-free

you can try it for free

relieves night sweats
Cons
might feel too light for some people
3. Brooklinen Down Comforter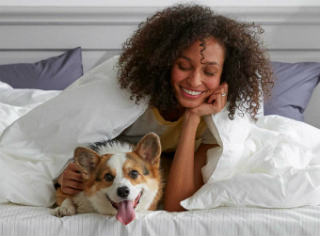 Runner-up
The Brooklinen down comforter is suitable for all seasons. It's very warm and fluffy but that doesn't mean that it will make you hot and sweaty. 
Since it's so light and cozy, you can leave it on your bed in the warm season as well. It will wick your sweat because it's made of incredibly soft cotton with a 400 thread count.
This down comforter is fluffy right as you pull it out of the box and it will remain so because it has a baffle-box construction. This means that the filling will stay in place as time goes by.
It also has a loop in every single corner so that you can tie it to your duvet cover as well as a lifetime warranty.
Pros
It can be used all year round
It's made of high-quality cotton
Very fluffy as soon as it comes out of the box
Ethically produced
Cons
Needs to be aerated to lose the smell of a newly fabricated product
Prefer listening to reading? Check out our video version of this article.
4. Climabalance Hypoallergenic Lightweight Down Alternative Comforter

Best Down Alternative Comforter for Night Sweats
Meet the cooling comforter that is about to turn your world around! The down comforter from Climabalance is the number one choice on my list for 2023.
It's made from hypoallergenic 100% virgin polyester which acts as a barrier that will protect you against mildew, mites, dust, allergens, and mold.
Apart from that, this amazing comforter consists of a very high tech fabric mesh designed not just to wick sweat but actually to transport your excess heat as well.
Therefore, it ensures that your body's temperature remains constant and perfect all through the night.
Pros
machine washable
doesn't necessarily need a duvet
can be used in all seasons as it adjusts to the temperature
Cons
may get charged with static energy
5
. WhatsBedding Cooling Blanket
Best Tencel and Cotton Duvet
This duvet is cotton, but the inside holds the reason why it works so well. It is filled with TENCEL LYOCELL.
The Tencel lyocell is cool to the touch. It works as moisture wicking. Which means it relies on the spacing of the weave to allow it to breathe. The cotton stays cool because of the evaporation process.
The overall feel of this blanket is soft and smooth which is what makes it some easy to cuddle up in.

Pros:
It can be used in hot or cold weather.

It is machine washable

You can dry it in a dryer on the lowest temperature setting 
It is cool to the touch
Cons:
• The stitching between the pockets does come undone which can cause the filling to redistribute.
• It should only be line dried.
6. LINENSPA All-Season White Down Alternative Quilted Comforter

Cool Mid-Weight Budget Comforter
This hypoallergenic quilted comforter is machine washable and dryer safe. Not to mention that it's incredibly cooling and breathable.
It's filled with an amazing blend of microfiber that is guaranteed not to clump or shift as time goes by, no matter how much you move during the night.
Linenspa markets it as a 'security blanket for grownups' because that's exactly what it feels like.
The cooling comforter is extremely soft and comfortable, so much so that you will never want to sleep wrapped in anything else ever again.
Pros
It's reversible

Doesn't clump like other cooling comforters do

It comes in neutral colors so it fits all bedrooms no matter how they are styled

It has eight duvet loops instead of four like most comforters.
Cons
The thread in the sewing can bunch in some places.
7. EASELAND King Soft Quilted Down Review
Best Cheap Lightweight Comforter for Warm Sleepers
This is not your standard down comforter. It is made to keep you warm when you need it and cool when you need it.
It is filled with polyfill. That keeps it lightweight. The top layer is also polyfill, so it does have a slightly smoother feel to it than the cotton.  
It is designed to keep your bed around 35 degrees. The stitching is just right so that it doesn't come undone and it stays perfectly spaced to remain fluffy.

Pros
• Machine wash and dry
• The material is strong and sturdy
• Keeps your bed cool

Cons
• If you sweat a lot, you might wake up feeling wet.
• There seems to be a smell coming from the polyfill, at least until you wash it a couple of times.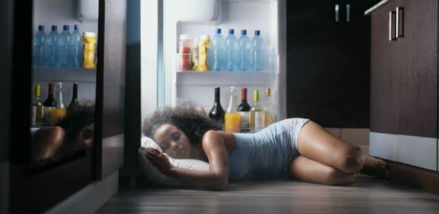 Best Bedding for Night Sweats
Apart from all the cooling comforters, down comforters, weighted blankets, and the wonderful BedJet you've already seen, you might want to compliment them all with some other accessories for your bedding.
They will help complete the set and make sure you get a cool and comfortable sleep.
Check out the Best Cooling Pillows for Hot Flushes in 2023
What Are Night Sweats?
Night sweats are not your typical hot flashes or waking up and feeling a little clammy. They are diagnosed as repeated bouts of severe perspiration that runs so deep you actually wet your clothes and even your bedding.
The most known condition that causes night sweats and body heat is menopause.
However, you should know that night sweats can also happen out of the blue because of stress, anxiety or because you are not sleeping in the right conditions.
Or you might just be a naturally hot sleeper and that's why your body temperature is high and you sweat at night. Therefore, all you need in this case is just a cooling comforter to help you sleep better and more relaxed.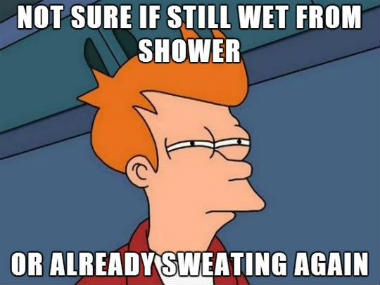 So, What are the Best Cooling Comforters for Hot Sleepers?
I have chosen the BedJet 3 Climate Comfort System for Beds as the winner when it comes to hot sleepers and night sweats.
Nothing beats this little engine that could. All you need to do is hook it up next to your bed and enjoy a small spa right in your bedroom. Instant on-demand cool bed? Yes, please! It's a great alternative to comforters. 
But, of course, the BedJet is a little too expensive. Therefore, as far as cooling comforters go, Buffy eucalyptus temperature regulating comforter was the one for me in 2023.
Its eucalyptus silk mesmerized me from the get-go and I bet you'll feel the same way! Plus, they offer a free trial, which means you get to make sure you and your comforter are a perfect match before you commit.
My runner-up cool blanket was Brooklinen with its superb high-quality cotton fabric and lightweight feel.
Climabalance Hypoallergenic Lightweight Down Alternative Comforter is also a great option. I love that I can wash it as I need to. It doesn't have a strong chemical smell because it's made from cotton. Plus, it fluffed out so easily.
Climabalance comforter is thick enough to give you the comfort level that you need but stays cool that you get a good night's sleep.
The LinenSpa Alternative Quilted Comforter which I loved for its fluffy filling, supple lining and of course price.
Stay cool!