Choosing the right material for your bedding and clothes is important, right? Yes, of course. Because we spend almost one-third of our day in bed and most of our days dressed. So when I wanted to buy new sheets, I got stuck between these options: Cotton, Microfiber or Polyester.
It did seem a difficult choice to make. But once I considered the qualities that I needed or did not need, it became pretty easy.
In short, cotton sheets are the most desirable when it comes to aesthetic feel, breathability, and smoothness on the skin although polyester sheets are durable and affordable. Microfiber sheets, however, can be a great alternative to cotton since they offer the best of both worlds in terms of comfort and maintainability.
Cotton vs Microfiber Polyester: Quick Comparison
Winner

100% Cotton

Natural
More breathable
Easy to dye
Quite easy to care for
Keeps you warm in winter
Cool in summer
Great for allergies & sensitive skin
Usually softer than polyester
Affordable

Check Price
100% Microfiber Polyester

Synthetic
Dries quicker
Less wrinkles
Very durable
Easier to care for
Good for winter
Less fading
Quite soft
Inexpensive

Check Price
Prefer listening to reading? Check out our video version of this article.
Let's settle one thing before we continue…
Microfiber vs Polyester
What's the difference between microfiber and polyester? Are they the same thing? Is Microfiber Polyester?
Don't worry, many people find it confusing. Here's the short answer: microfibers are usually made from polyester. So yes, microfiber is polyester most of the time.
But not all polyester sheets are made with microfibers and not all microfiber sheets are made from polyester. Sometimes they're made with polyamides or polyester and polyamide hybrids.
Cotton vs Microfiber vs Polyester: What's Better for Sheets, Comforters, Duvet Covers, Quilts, Pillows & Shirts
Durability
Both regular polyester and microfiber fabric are way more durable than cotton.
Fabrics made out of polyester are relatively water-resistant, dirt-resistant and they tend to retain their color for a long time when compared with cotton.
The only downside is that when reacting to oil, they form stains that may be too difficult to clean.
So if there's a chance of oil spilling on your clothes or bed, better stay away from polyester. But otherwise, polyester and microfiber simply outperform cotton in terms of durability.
Washability
Sine Polyester is water-resistant, it doesn't hold water and it doesn't become as heavy as cotton fabrics when wet.
On the other hand, microfiber bedding is like a sponge and can hold up to seven times their weight of water.
And they also give up water faster too – about three times quicker than cotton sheets and blankets.
This makes microfiber bedding easier to wash and it also dries faster than cotton. So if you'll have to wash your sheets and shirts often, better choose microfiber sheets.
And also, Polyester and microfiber comforters stay in shape and don't tend to wrinkle as much as cotton does, which is an added bonus.
Pilling
Pilling is the formation of small bobs on the surface of the fabric. Pilling is considered an eye-sour in the textile world.
Over time, all three types of sheets tend to start pilling and it primarily depends on the quality of the fabric.
If the sheets are made with a high thread count (like >400) and come from a good manufacturer, then pilling should be minimal.
Breathability
Breathability refers to the ease with which air can flow through the sheets.
Polyester sheets tend to trap the heat and hold the moisture inside on usage. This makes breathability poor in polyester.
It means if you sweat a lot or stay in a place of humid climate, your sweat will not get off your skin quickly.
Cotton, on the other hand, has high breathability thus it helps keep your skin get rid off you sweat and keep you cool.
Microfibers too like cotton have better breathability than regular Polyester sheets.
So it depends on whether you want yourself cool and dry – cotton, or warm and moist – polyester.
Softness
Although both cotton and polyester are processed materials, cotton is more natural than polyester, which is a completely artificial material.
So if you're looking for the feeling of being one with nature, choose cotton over polyester.
Cotton is soft on the skin, it feels warm and cozy.
So if you're that person who likes to sleep in with an old cotton t-shirt because it's just so comfy, cotton sheets are easily the pick for you.
Polyester and microfiber can cause skin irritation for those with sensitive skin. So in that case, it's wiser to choose cotton.
Cost
But again such a rich feeling of comfort and luxury comes with a higher cost.
Cotton is made from natural resources whereas polyester fabric is artificially made. So cotton, especially Egyptian and Pima cotton are very expensive.
Meanwhile, polyester and microfibers can be mass-produced at a faster rate and at a lower production cost compared to cotton.
Therefore polyester and microfiber sheets are usually only half as expensive as cotton sheets.
Read also: Microfiber Sheets Pros and Cons
So, What's Better – Cotton or Microfiber Polyester Bedding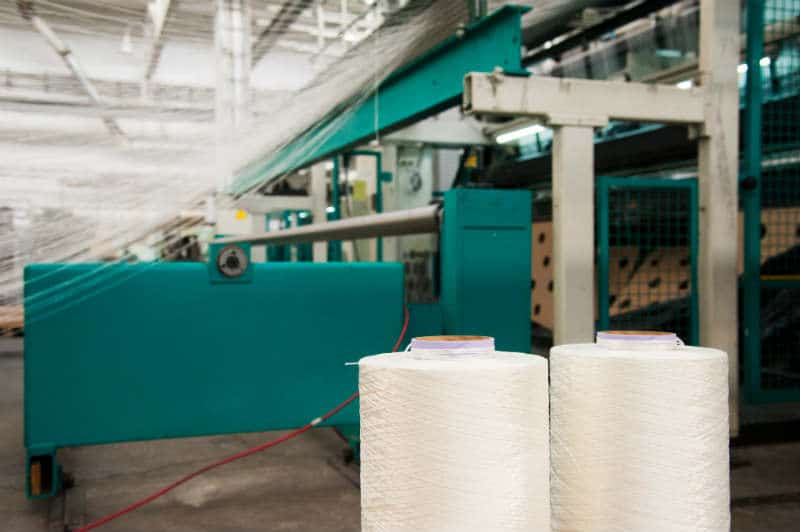 Cotton sheets are a more natural option and offer better breathability. However, polyester sheets have come a long way and I actually have felt some microfiber sheets that feel better than cotton.
In general though, cotton tends to feel better on the skin. Microfiber sheets are more durable than cotton and usually a bit cheaper but there is not a big difference in price.
Polyester Microfiber bed sheets are a great option but if you are against chemicals, have allergies or are a hot sleeper then you should go for cotton sheets.
Not all sheets are created equal and it is important that you choose a high-quality product. I personally like to shop in Amazon because I can read customer reviews and be sure to receive a sheet set you're happy with.
What Are the Best Cotton Sheets in 2023?
Thread Spread True Luxury 
Best 100% Cotton Sheets 
100% Cotton Bed Sheet Set made from one of the world's finest cotton, these sheets are a must for the ones who want an absolutely luxurious bedtime.
They might seem too expensive for being just a bed sheet but you won't regret after spending a night in them.
They're very breathable and  their softness really can get you addicted to Egyptian Cotton.
It has a thread count of 1000 and you don't have to worry about pilling. The dye too doesn't fade away even after many washes.
They also have elastic features at the corners so that you can easily snug them onto your bed.
Read more reviews on Amazon
California Design Den 100% Cotton Sheets
Best Budget Cotton Bed Sheet Set

These sheets have a thread count of 400 and are made of Indian Cotton.
Although they may seem less exquisite than more expensive ones, they still give you the luxurious hotel suite feel.
As with any great cotton sheet, they are breathable and are extremely comfortable to sleep in.
They also have elastic features for snugging the sheets on to the bed.
At its price point, you simply won't get any better sheets than this.
Read more reviews on Amazon
What Are the Best 100% Polyester Microfiber Sheets in 2023?
Mellanni Brushed Microfiber Bed Sheet Set
Best 100 Polyester Microfiber Sheets

These are made of brushed microfibers which are 100% polyester. They are very durable and are easy to wash.
Being made of microfibers they are surprisingly breathable and are very soft on the skin.
It's also worth mentioning that they come with a lifetime guarantee. The manufacturer seems to be quite confident that you'll love their bed sheets!
They're inexpensive, feel luxurious and very low maintenance. Wrinkle, stain, fade-resistant and hypoallergenic.
Read more reviews on Amazon
Sweet Home Collection Extra soft Polyester Microfiber Sheet Set
Runner-Up

There are things in life that are inexpensive but not cheap if you know what I mean.
These sheets are just an example of that.
They provide the luxurious feel, they wash well and they're breathable.
The best part is they don't wrinkle! As with other models, they offer elastic features for snugging onto the mattress.
Read more reviews on Amazon
So basically, if you are the kind of person who wants the best of the best and doesn't mind spending a lot in the process, then the Thread Spread True Luxury is the one for you.
These sheets will definitely make you feel like a medieval king when you sleep on them.
The California Design Den Cotton Sheets on the other hand also offer rich man's bed feeling but at a price which is commonly affordable.
At last, if you are not much into this "love natural – hate synthetic" thing, you can go for either the Mellanni Brushed Microfiber Bed Sheet Set or the Sweet Home Collection Sheets.
Both of these sheets are very inexpensive and offer you a comfort which is way more than what you'd expect at this price.
FAQ About Cotton vs Microfiber Sheets
Below are a few commonly asked questions when choosing between cotton, microfiber and polyester.
Microfiber vs Polyester Comforter, Duvet and Quilt: What's Better?
A high-quality microfiber comforter is better than polyester. However, a low-quality microfiber blanket is worse than a high-quality polyester one. 
These are the best-rated microfiber comforters, duvet covers, and quilts in 2023
Microfiber vs Polyester Shirts
Same story as with the blankets – in general, microfiber wins because it feels better and is more breathable. But high-quality polyester can outperform low quality microfiber shirts.
Check the Best Selling Shirts on Amazon
What is warmer cotton or microfiber bedding?
By warmer, I consider literally "warmer". If you are living in a cold climate, microfiber bedding will keep you warmer than cotton. This is because polyester is less permeable to air and water when compared to cotton.
Microfiber vs Cotton Pillow
A high-quality cotton pillow is better than microfiber but it can be more expensive, especially if it's made of luxurious Egyptian cotton.
Keep in mind that high-quality microfiber is usually better than a low-quality cotton pillow.
COZSINOOR has a highly rated 100% cotton cover and microfiber stuffing pillow that combines the best of two materials.
Is Polyester waterproof?
Microfiber polyester allows very little water to get absorbed into it. But it is not totally waterproof.
How to wash microfiber sheets?
Microfiber bedding needs to be washed without any detergents or fabric conditioners to last long. Just soak them in warm water and hand wash them.
If you use a washing machine, make sure you wash them separately without any washing powder.
See more polyester microfiber sheets available on Amazon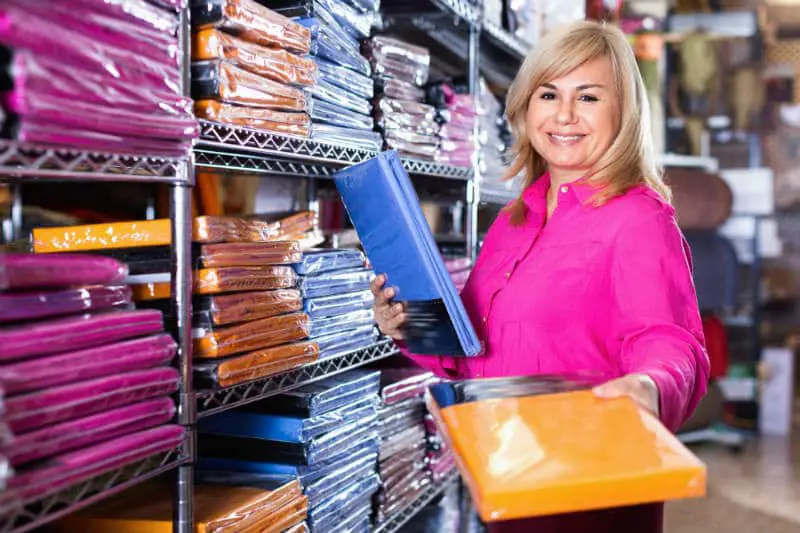 Conclusion
Cotton Sheets vs Microfiber Polyester Sheets: So, What's Better?
So there you have it – the differences between cotton, microfiber, and polyester. Plus, you now also know that polyester and microfiber can be the same thing but are not always.
Our ever-beloved cotton is still is the material of choice by providing us with a comfortable and enjoyable sleep even when the weather is humid.
But although high-quality polyester bedding scores lower in breathability, the polyester-based Mellanni Microfiber sheets recommended above are wonderful options to consider. Or if you want a comforter, Linenspa All-Season duvet insert is very well rated in 2023.
They're quite breathable, comfortable and durable. Being cheaper than cotton, microfiber sheets can be a great alternative to cotton ones. BUT if you are a hot sleeper, cotton or other fabrics that are more breathable are a better option for you. You can get the luxury Egyptian Cotton Bed Sheets by Thread Spread or the budget option by California Design Den.
The once difficult choice between polyester microfiber and cotton becomes easy when compared side by side. You just have to decide what qualities of the fabric are important to you.
Which sheets are you gonna sleep tonight? Microfiber or cotton?