I went shopping with my mom a few days ago and when we passed by the sheets section, she mentioned needing new bed sheets.
We saw that there were different types of bed sheets and that polyester seems to be a popular choice. So, we wondered about the polyester bed sheets pros and cons.
Once I got home, I did a bit of research and here's what I found out.
Polyester bed sheets are made from synthetic fiber that makes more affordable, durable and easy to wash. It also doesn't wrinkle, and its color doesn't fade easily. But, it isn't breathable and can't absorb moisture. Aside from being prone to piling and static, it can also irritate sensitive skins.
So, What are the Pros and Cons of Polyester Bed Sheets?
Polyester is a man-made material that is derived from coal, alcohol, petroleum by-products and carboxyl acid.
At very high temperatures, these components are processed and stretched to create a fabric product that is very durable, water-resistant and colorfast.
Often, you'll find beddings that have microfiber as the listed material. In general, microfiber is a cotton and polyester blend that enables buyers to have the best of both materials.
Moving on, let's take a look at the various pros and cons of polyester bed sheets.
The Pros
Durable and wrinkle-resistant

Colorfast and easy to maintain

More affordable than cotton

Can retain its shape even after many uses and washes
The Cons
Synthetic fiber

Not breathable and doesn't absorb moisture

Can cause skin irritation

Prone to static and piling

Fiber stiffens as it ages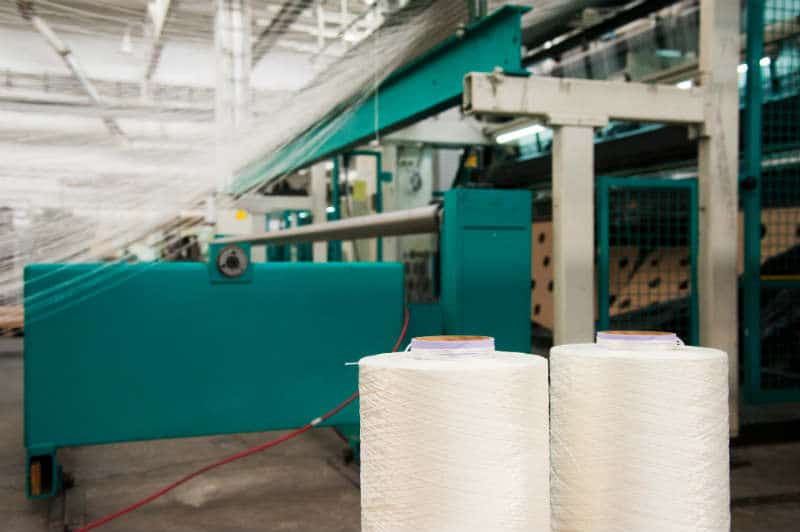 Polyester Bed Sheets Reviews
As with other products, some polyester sheets stand out from the rest in terms of comfort, price and durability.
Here, we have two polyester bed sheets that I highly recommend if you think that this material is suitable for you.
Mellanni Bed Sheet Set
You won't go wrong with Amazon's most popular polyester beddings, the Mellani Bed Sheet Set.
Can you believe that these sheets have over 42 000 reviews?! I don't know what are the most reviewed products on Amazon but these sheets must be up there. Everybody seems to be talking about these Melanni microfiber sheets. They offer excellent quality at a low price.
It's available in 7 sizes and you can get it in 39 fabulous colors. Each set includes one fitted sheet, one flat sheet and two pillow cases.
This product is thin but durable and colorfast. It also feels very soft and silky smooth.
Pros
Durable

Affordable

Wrinkle resistant

Stain resistant 

Fade resistant

Silky soft, you'll feel the difference immediately

Hypoallergenic

Various sizes and colors to choose from

Comes with a lifetime guarantee
Cons
Oil stains show and do not wash out

Read more reviews on Amazon
Sweet Home Collection 1500 Supreme Collection
The Sweet Home Collection 1500 Supreme Collection is a highly rated polyester bed sheet set.
Like the previous product, it's a 4-piece set that includes one flat sheet, one fitted sheet and two pillow cases.
It's available in six sizes and you have the luxury of choosing from 44 fantastic colors and designs.
This product has a very nice, soft feel to it. It's soft enough that it feels very comfortable to use but it isn't exactly silky, so you won't feel that you're sliding when you use it.
Pros
Very affordable

Comes in different sizes, colors and designs

Durable, colorfast and wrinkle-resistant



Cons
Few buyers thought that the pockets were not deep enough
Read more reviews on Amazon
Frequently Asked Questions
Is polyester good for bed sheets?
The answer to this question depends on weather you're a hot or cold sleeper.
Polyester is a synthetic fiber, so it isn't breathable, and it doesn't have moisture-wicking capabilities. However, it is soft and very durable. It is also cheaper than cotton beddings of the same quality.
Who should get polyester bed sheets?
Since polyester bed sheets aren't breathable, they're suitable for cold sleepers and people who live in cold climates. It isn't for people with sensitive skin as well.
What do you need to look for when buying polyester bed sheets?
There are several things that you need to consider when buying polyester bed sheets.
Size – Aside from the standard sizes like queen and king, you also have to consider the depth of the pockets. This is especially true if you use a mattress topper.
Color and Design – The bed sheets that you'll be buying are something that you'll be using every day for a long time. This makes it important that you get a color or design that is to your liking and which fits your room decor.
Elastic – Bed sheets of good quality have elastic all around the fitted sheet and not just at the corners. This will enable your sheet to stay in place.

Is polyester bedding toxic?
Synthetic fibers emit low levels of chemicals and, among synthetic fibers, polyester off-gas the least.
However, it can still cause allergies and skin irritations which is why it is not recommended for people with sensitive skin.
Do polyester sheets make you hot?
Since polyester is a synthetic fiber, it doesn't breathe and wick moisture. Polyester is best used by cold sleepers or people who live in cold places.
If you're a hot sleeper, this can lead to sweaty nights. Instead of polyester sheets, I recommend hot sleepers to check out my article about the Best Sheets for Night Sweats.
Is polyester warm enough for winter?
Polyester is a good alternative to other types of fabrics come winter. It is warm, affordable and low-maintenance.
Which one is warmer cotton or polyester?
Polyester can do a better job of keeping you warm. In general, cotton is best used during the summer since it is cool. On the other hand, there are different types of polyester with polyester fleece being the warmest.
What is better cotton or polyester?
The short answer is that it depends. Both have their pros and cons. Polyester is better if you're looking for something warm, affordable and durable. But, cotton is better if you're looking for something natural, breathable and skin-friendly.
What are the most comfortable bed sheets?
What's comfortable for one person may not be comfortable for another. Each type of bed sheet has their own pros and cons that make them worth buying.
However, cotton still remains as one of the most popular picks when it comes to comfortable bed sheets.
Final Words
Like all products, polyester bed sheets have its own advantages and disadvantages.
Bed sheets made of polyester can be a good choice for you if you're looking for something affordable and would last you a long time.
It can also work for you if you're looking for something to keep you warm. But, it isn't the right one for you if you're a sweaty sleeper. If you're a hot sleeper, you might want to check out sheets for hot sleepers instead.