Night sweats, or what is medically known as hyperhidrosis, is a common disorder which causes excessive sweating. This could lead to you waking up in the middle of the night, drenched in sweat. While the majority of the causes of night sweats aren't life-threatening, the underlying cause might still be a serious disease. Hence, unless you're going through menopause, it's best if you consult your doctor if you're having problems with excessive perspiration.
Fortunately, there are plenty of things that you can do to stay cool as you sleep. And, one of these is to get cooling sheets. Here are the best sheets for hot sleepers and night sweats that will keep you cool at night.
Top 3 Best Sheets for Night Sweats in 2023
WINNER

Cariloha Bamboo Sheets

100% Bamboo fabric
Eco-friendly
Super soft
Naturally breathable & moisture-wicking
3 degrees cooler than cotton sheets
Repels odors & allergens
100% quality guarantee

Check Price

RUNNER UP

Chateau Home Collection

100% Egyptian cotton sheets
800 thread count
Silky soft sateen weave,
Deep pocket
Imported from ethically certified factory in India
New & improved version
100% satisfaction guarantee

Check Price
PeachSkinSheets

SMART Fabric & Moisture Wicking Management
1500 Thread Count level of softness
moisture wicking
Dry ultra fast
Risk Free 30 Day Money Back Guarantee

Check Price
Best Sheets to Keep You Cool at Night: Reviews
#1 Cariloha Classic Bamboo Sheets

They're made of bamboo fabric which is popular for being comfortable and super breathable.
These sheets are going to keep you cool in summer and cozy in winter.
You can get this product in 5 different sizes namely twin, full, queen, king, and California king.
Review
If you want to prevent night sweats, then the Cariloha Classic Bamboo Sheet set is your best option. Its bamboo fabric construction allows the air to pass through while still being able to wick away the moisture. It can stay cooler than even cotton.
On top of that, its twill weave makes it extra soft, so you can have a comfortable sleep each time.
Moreover, these bamboo sheets can repel odors and allergens, so you can use it without any worries that your skin will get irritated. They're also very eco-friendly.
Pros
Soft, breathable and moisture-wicking

Has extra deep pockets

Odor and allergen-repellent
Cons
Limited colors to choose from
Read more reviews on Amazon
#2 Chateau Home Collection Egyptian Cotton Sheet Set
The next product that we're reviewing for this list is the Egyptian Cotton Sheet Set from Chateau Home Collection.
As its name indicates, this set is made from Egyptian cotton which is known for being soft and moisture-absorbing.
It comes in full, queen, king, split king and California king sizes.
Review
Upon touching this sheet set, the first thing that you'll notice is its softness. And, that's understandable since it's made from the Egyptian cotton, the gold standard for cotton sheets. Plus, not only is it super comfortable to use, it's breathable as well.
It has generous pockets that will fit no matter if you're using deep, pillow-top mattresses. Plus, it's available in 20 colors.
Finally, this is a completely risk-free purchase since you can get a refund for up to 30 days after your purchase if ever you're not satisfied with the product.
Pros
Has a cool feel to it and breathes well

Uses strong elastic that prevents the sheets from moving
Cons
Wrinkles after laundering but it goes away after a couple of days of use
Read more reviews on Amazon
#3 PeachSkinSheets Night Sweats: The Original Moisture Wicking Sheet Set
The PeachSkinSheets Night Sweats: The Original Moisture Wicking Sheet Set comes with cooling sheets made from microfiber.
It comes in 7 different sizes – twin, twin XL, full, queen, king, split king and California king.
Review
Like its name indicates, this sheet set from PeachSkinSheets can wick away your perspiration so that you won't feel sticky while you sleep. But, what exactly does wicking away the moisture mean?
Well, it simply means that the sheets will absorb the moisture quickly so that you're not drenched in sweat while you sleep.
It comes in a multitude of colors as well, so you can always pick your favorite or one ones that match your room's color scheme.
Aside from helping you sleeping cozily, you'll also be happy to know that it's great even for people with sensitive skin. Plus, this moisture-wicking sheet set is anti-microbial, anti-slip, durable and wrinkle-free out of the dryer.
Pros
Lots of colors to choose from

Deep-pocketed, anti-microbial, anti-snag and hypoallergenic

Has moisture-wicking capabilities

Cons
Doesn't stay as cool as sheets made from natural fabric
Read more reviews on Amazon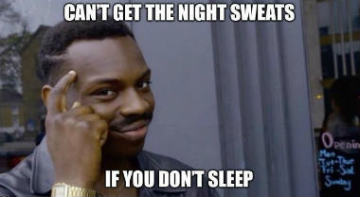 Best Sheets for Hot Sleepers & Night Sweats: FAQ
What is the best material for sheets to keep you cool?
You need to look for sheets that have soft, breathable fabric in order to stay cool at night. Example of breathable fabrics include cotton and bamboo. Additionally, you can also opt for fabrics that have been specially designed to wick away moisture.
What is the worst material for sheets to keep you cool?
If you're a hot sleeper, you'd want to steer clear of sheets with materials such as acrylic, nylon, vinyl, polyester, fleece and other acetates. These aren't breathable at all and can cause you to sweat even more.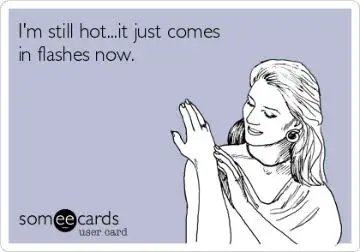 How can I keep my bed cool?
Aside from the material of your sheets, there are also other factors that can help keep your bed cool. The thread count of your sheets can also affect the quality of your sleep.
For example, a low thread count will feel cheap while sheets with high thread count are less breathable.
Moreover, you'll also want to stay away from sheets with dark colors. These absorb heat and will make you feel hotter. Instead, pick lighter colors which reflect heat rather than absorb them.
You might also want to try getting some cooling pillows to match your cooling sheets so you can sleep comfortably each night.
How can I reduce body heat?
Some of the ways that you can reduce your body heat for better sleep include the following.
Avoid smoking

Refrain from drinking alcohol and caffeine

Limit your intake of spicy foods

Don't wear restrictive clothing for your sleepwear.

Make sure that you're getting enough exercise.

During the day, drink lots of water.
Final Verdict
So, what are the best sheets for hot sleepers and night sweats in 2023?
I highly recommend the Cariloha Classic Bamboo Sheets for people with night sweats and hot flashes. They're super comfy and their breathability will have you staying cool all night long.
It's also a great choice if you often suffer from skin irritations on top of being a hot sleeper.
On the other hand, you might also like the Chateau Home Collection Egyptian Cotton Sheet Set. It's the perfect pick for you if like being able to choose from a lot of colors. And, of course, it can keep you from being too sweaty while you sleep.