Using eye drops can relieve symptoms of dry eyes during the day, but what to do when your eyes become dry again while you sleep? Hydrating sleep masks help your eyes retain moisture for a more comfortable night and morning. Let's find out what are the best rated eye masks for dry eyes and dry eye sleep masks on the market in 2023?
There are a number of good eye masks for dry eye relief available on the market, some use heat, others use cold and some both in order to alleviate the effects of dry eyes. My job is to help you find the eye mask that is perfect for you. But let's clarify some things first.
Does A Sleep Mask Help Dry Eyes? How Do The Eye Masks work?
Eye masks are more than just a fancy sleeping accessory. Eye masks help people that struggle to sleep, and they also help those that struggle with dry eyes.
Suffering from dry eyes is no fun and the side effects of it can be reduced dramatically with the help of a good eye mask.
Now that we have established that eye masks do work in the fight against dry eyes, let's take a look at how they work.
Eye masks hydrate a person's eyes, some high-end eye masks are battery powered to produce heat and a humid environment.
A humid environment is moisture-rich and it combats the effect of dry eyes, it also reduces puffy bags under your eyes. Eye masks also protect your eyes against dry air at night, some eye masks create a vacuum around your eyes in order to ensure a moisture-rich environment around your eyes when you sleep at night.
Best-Rated: Electric Heated Eye Mask for Dry Eyes in 2023
The highly rated dry eye mask by Wizard Research is the best option on the market in 2023.
It's ophthalmologist tested and approved. Plus, it has a patent pending.
This mask offers multiple heat levels and timer functions.
It's a bit more expensive than other USB heated masks but you can read from user reviews that this mask is worth the investment.
Wizard research mask is properly stuffed and shaped so that the heat goes where it needs to go and it also stays warm for a much longer time than the microwave compresses.
You can really finally say bye-bye to gritty dry eyes. It also works for irritated crusty eyes & styes.
Runner Up: Heating Sleep Mask for Dry Eyes
The second best sleeping mask for dry puffy eyes is the Heated Eye Mask by Graphene Times.
This high-quality eye mask is FDA approved and along with treating dry eyes it also treats dark circles.
For best results use the Heated Eye Mask by Graphene Times twice a day.
Best Dry Eye Sleep Mask: Eyeseals 4.0 Hydrating Dry Eye Sleep Mask
If you can't win the dry eye battle then the best solution for you will be the heated sleep goggles for dry eyes by Eye Ecco.
This doctor recommended nighttime mask is proven to help relieve dry eye during rest and sleep.
Eyeseals 4.0 hydrating sleep mask also works for aqueous deficient dry eyes, floppy eye syndrome, lagophthalmos, and recurrent corneal erosions.
Weighted Eye Mask for Dry Eyes: Cold & Warm Eye Compress Sleep Mask
Soothing Master weighted eye mask soothes dry eyes, stye, MGD, headache, Blepharitis, puffy and pink eyes.
Deep moist heat and cold therapy. This weighted eye mask for dry eyes holds its temperature well, and has a good weight to it.
The beads are BPA free and there's no disagreeable scent. In fact, there is no scent at all.
Heyedrate Cooling or Heating Eye Mask
If you prefer the comfort and feeling of either a warm or cool compress mask then look no further than the Dry Eye Mask by Heyedrate.
It isn't only easy to use and comfortable, it also relieves the symptoms of dry eyes caused by blepharitis and allergies.
Systane Ultra Lubricant Eye Drops
Last but not least – eye drops.
Yes, I know this article is about eye masks and you're already using high-quality artificial tears to relieve your dry eyes.
Well done! Just skip this part.
This section is for readers who are looking for dry eye relief and are yet NOT using eye drops.
An eye mask is great but if you combine it with eye drops it's even better. The advantages of artificial tears are that they're fast-acting and you can use them everywhere anytime to quickly soothe your irritated eyes.
I recommend the highly-rated Systane Ultra Lubricant Eye Drops.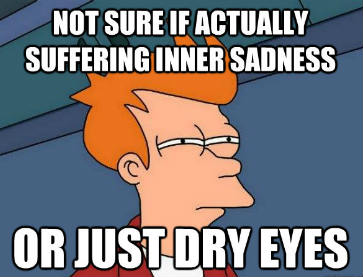 How do eyes stay moist?
Tears are the main moisture providers to our eyes. No this doesn't mean that you need to cry all the time in order for your eyes to be moist.
There are glands just above our eyes that make tears, we also have other glands on the edges of our eyelids that produce oils. The tears and oils produced by these respective glands ensure that our eyes are moist.
The oils float on top of the tears in order to slow down evaporation, this process ensures that your eyes can stay wet in extreme weather conditions such as in the desert.
Once these tears and oils have done their job they drain into your nose through small drain holes near the inner corners of your eyes.
Is it Dangerous to Have Dry Eyes?
Dry eyes can be dangerous if no course of treatment is taken. Dealing with dry eyes can be very uncomfortable and annoying and if left untreated it could permanently harm your vision.
Light sensitivity and blurred vision are two common side effects of dry eyes. Dry eyes are also more susceptible to scratches and infections which can be very dangerous.
How can I hydrate my eyes?
Dry eyes can be treated and hydrated in a variety of different ways. Let's take a closer look at how to hydrate your eyes:
Blinking –

Blinking is very important to our eyes, when we blink we nourish our eyes with oxygen and nutrients. Many of us stare at computer screens all day and this act reduces considerably which in return causes dry eyes. Don't be scared to blink every now and again, you won't miss a thing if you do.

Eye drops – Artificial tears, more commonly known as eye drops can alleviate the symptoms of dry eyes. Eye drops are normally the first course of treatment for people that suffer from dry eyes. Eye drops help lubricate your eyes by adding artificial tears to your eyes. If you're not using any, try Systane Ultra Lubricant Eye Drops. It will be a game changer.
Sleep masks –

try a hydrating sleep mask. There are a variety of sleep masks on the market that heat up and that have a host of other functions. Sleep masks create a humid environment around your eyes when you sleep which reduces the effects of dry eyes.
Best Eye Masks for Dry Eyes Reviews
Electric Sleep Mask for Dry Eye Relief by Graphene Times
Top-Rated
Review
Finding a high quality sleep mask that helps with dry eyes can be a daunting task.
If a high quality sleep mask for dry eyes is on your wish list then consider purchasing the  heated eye mask by Graphene Times.
This mask uses Far-infrared therapy that is generated through the heating of Graphene films in the mask.
Pros
FDA Approved

This mask uses Far-infrared therapy to treat your eyes in order to prevent and cure dry eyes, wrinkle lines due to aging and bags under the eyes

The sleep mask is ergonomically designed to ensure maximum comfort

The temperature that the masks generates can be adjusted to fit you personally

This sleeping mask switches itself off after one hour thus it is safe to wear the mask to bed

The mask features a 3D contoured design for extreme comfort especially around the nose of the user
Cons
The mask does have to be charged through a USB port

This mask does carry a hefty price tag

Some users might not be comfortable about the fact that the mask uses power to heat up
Eyeseals 4.0 Dry Eye Heated Goggles
Best Hydrating Sleep Mask for Nighttime Dry Eye Relief in 2023
Review
The Eyeseals are made out of medical grade plastic that keeps dry air out of the eyes and that creates a moisture rich environment.
A soft adjustable microfiber head wrap is used to ensure maximum comfort.
This dry eye sleep mask is recommended by doctors for nighttime use to relieve dry eye, lagophthalmos, aqueous deficient dry eye, floppy eye syndrome, and recurrent corneal erosions.
Pros
The Eyeseals 4.0 is made out of high quality materials that is medical grade

The Eyeseal 4.0 mask focuses on creating a moisture rich environment to prevent dry eye due to overexposure to dry air

The Eyeseal 4.0 is a very comfortable mask to sleep with

It has space for your eyelids when you blink

All natural
Doctor recommended

Cons
Dry Eye Mask by Heyedrate
Best Eye Compress Sleep Mask for Dry Eyes
Review
The Dry Eye Mask by Heyedrate is easy to heat warm or cool compress eye mask that offers relief for those who suffer from dry irritated puffy and itchy eyes.
Allergy sufferers and those who struggle with blepharitis can benefit greatly from the Dry Eye Mask by Heyedrate.
This reusable eye mask warms up in the microwave in just 15-20 seconds. If you prefer a cool compress then it needs to be left in the freezer for at least 2 hours before use.
The Dry Eye Mask by Heyedrate features a comfortable design. The company does more than just treat dry eyes, for every mask sold a free eye exam or eyeglasses are given to a person in need.
Pros
Hydrates your eyes through either heating or cooling

Easy to use mask that is quick to warm up

The company, Heyedrate, is serious about the health of our eyes and by purchasing one of their eye masks a person in need will receive either an eye exam or eye glasses.

The Dry Eye Mask by Heyedrate features an affordable price tag
Cons
The mask takes quite a while to freeze if you are wanting a cool compress mask, thus you have to plan ahead to put it in the freezer.

The white cover can get dirty fairly easy and needs to get washed on a regular basis.
How does one prevent dry eyes?
Preventing dry eyes can be a difficult task, but with the help of eye drops and the use of a sleeping mask one can alleviate the symptoms of dry eyes.  
Is heat or cold best to treat puffy eyes?
Puffy eyes is best treated through the use of a cold facial mask or through the application of ice.
Cold temperatures reduces swelling, the swelling associated with puffy eyes will thus be reduced through the use of cold treatment.
How do you heat eye mask?
How you heat your eye mask depends on the type and brand of eye mask that you have. Some eye masks are battery powered and others can be heated up by placing them in a microwave for 15-20 seconds.
How long should I keep a warm compress on my eyes?
A warm compress should be kept on for at least 15-20 minutes at a time. Battery powered heated eye masks switch off after an hour but you can take it off before that once you feel relief from the effects of your dry eyes
What vitamins help with dry eyes?
Vitamin D and Fish oil supplements are believed to help with dry eyes. Enough evidence doesn't currently exist to confirm these findings but impaired tear function is an occasional symptom of Vitamin D deficiency.
What should I eat for dry eye relief?
A healthy diet, in general, that is high in nutrients will be beneficial to your general eye health.
Cold-water fish such as sardines, tuna and salmon are all rich in omega-3 fatty acids which can help to protect against dry eyes.
Conclusive evidence doesn't exist on this subject but a healthy diet sure won't harm anyone.
Can dry eye affect your vision?
Yes, people with dry eyes experience irritated scratchy eyes which leads to blurry vision.
Advanced dry eye sufferers may suffer from damage to the front surface of the eye which could lead to permanent vision impairment.