Did you know that the average human being spends up to 33% of their life time sleeping? That's a whole lot of sleep if you ask me. But it actually got me thinking that if I spend that much time sleeping shouldn't I be investing more in my sleep time? For starters, I should certainly be thinking of investing in comfortable sleeping pajamas. There's no way I will want to spend 33% of my life in discomfort.
There is a simple solution that is affordable, eco-friendly and best of all very comfortable for all skin types. I am referring to bamboo pajamas. This material that is derived from the bamboo plant has become the toast of many. With these best bamboo pajamas, you can spend 33% of your life in complete comfort.
The bamboo pajama is so versatile, there's something for practically everyone and every situation. You have these very comfortable bamboo baby footies, pajamas for menopause relief, women's pajama sleep set, women's nightshirt, men's long pajama pants, women's nightgown and much more. And if you have sensitive skin, you have absolutely nothing to worry about because the bamboo material is naturally hypoallergenic so you're covered there. Let's at least spend this 1/3 of our lives in complete comfort.
Love bamboo? Check out my articles about bamboo pillow benefits and best bamboo sheets.
Why Wear Pajamas to Bed?
Well, nothing really stops you from going to be in a three-piece suit a ball gown. It's your life, right? However, the important question to ask is how comfortable you will be in whatever you decide to wear to bed.
I know a number of folks who love to go to bed in their birthday suits which will be fine if you are alone and comfortable that way.
I must, however, tell you a story of a man who slept in his birthday suit and sometime during the night, his pet cat thought it saw a rat and went after the rat. Well, let's just say that that fellow now goes to bed every night very well covered.
The bottom line is that you must be comfortable to sleep well and you need to sleep well to be fully recharged, functional and to avoid health complications.
This, therefore, is not just about wearing pajamas but wearing comfortable ones. You might also want to read my article flannel vs. fleece pajamas.
Best Fabric for Sleepwear: Why Choose Bamboo PJs?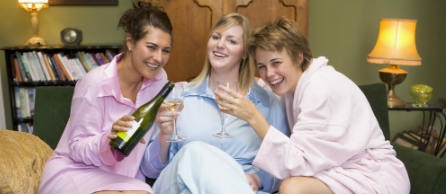 Like I mentioned above, the important thing is not just sleeping with PJs but comfortable ones. One of the major factors that affect the comfort level any pajamas can offer is the fabric it is made of.
The bamboo fabric offers this and much more which is why it is highly sought after today. Here are some facts about bamboo fabric.
Bamboo fabric is hypoallergenic. This means that it does cause allergic reactions to any skin type.

It is comfortable in every sense of the word.
It is biodegradable so you will not be polluting the environment even when you are done with it. It simply breaks down back into organic material.
It is sustainable. This means that you will not be causing a depletion of its supply by wearing cloths made from this fabric. The reason is that the bamboo plant is one of the fastest growing plants. After being harvested, it can grow back to full maturity in 12 months.
Best Fabric for Summer Sleepwear
On those hot nights, you need something that is very breathable and also wicks moisture very effectively.
This ensures you stay cool and that sweat does not pool around you. One fabric that can achieve this very easily is the bamboo fabric.
It makes some of the best moisture-wicking nightwear you can find. So, to ensure you enjoy cool summer nights, get a bamboo pajama.
Best Fabric for Winter Pajamas
When you sneak under the covers on those cold winter nights, you want to be cozy and warm.
There is an important balance that needs to be achieved to avoid too much heat. Bamboo pajamas offer one of the best heat regulation you can find.
It will keep you cool on warm nights and warm on those cold nights.
What is the Best Menopause Sleepwear?
One of the major challenges that menopausal women have to deal with is hot flashes.
Wearing something like this women's bamboo pajamas provides relief during those hot flashes.
The reason is that it is lightweight and very breathable, allowing for easy moisture wicking. These qualities combine to ensure good airflow and a better management of the night sweats.
If you suffer from hot flashes or are a hot sleeper looking for a relief you'll want to read these articles about cooling comforters and sheets for night sweats. Hot women and men need to sleep cool!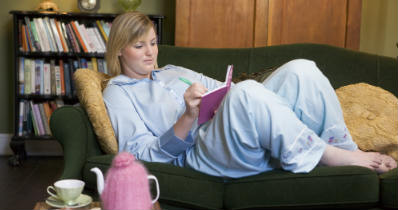 Best Bamboo Sleepwear in 2019
There is no one-size-fits-all when it comes to pajamas. There will always be preferences based on body type, gender, style etc.
I will, however, go ahead and make some recommendations based on my personal research and taste.
Best Bamboo Pajama Set for Women
Pangaboo Women's Pajama Sleep Set Review

If you are looking for the best bamboo pajama set for women, then look no farther than this Nature's Bliss Women's Pajama Sleep Set.
This set is made of 70% bamboo, 25% cotton and 5% spandex. The fabric combo offers fantastic temperature control which ensures your body stays cool on the hot days and warm on those cold days.
You won't believe how soft this pajama is on the skin. To give you an idea, it is two times as soft as cotton.
The design also takes into considering how well and stylishly it fits the wearer. It has a neckline that is quite generous and nicely designed pleats that gives it a sleek appearance.
The drawstring allows for a comfortable and perfect fit so you are not only comfortable but also stylish.
Texere Women's Long Sleeve Pajama Set Review

If you are looking for the best bamboo pajama set for women, then look no farther than the Texere Women's Long Sleeve Pajama Set.
This set is made of 70% bamboo, 25% cotton, and 5% spandex.
The fabric combo offers fantastic temperature control which ensures your body stays cool on the hot days and warm on those cold days. Being hypoallergenic, it is perfect for very sensitive skin-types so that anyone can use it without fear.
It is easy to care for. Just toss it into the washing machine with cold water and do not allow it to remain in the dryer for long.
Remove it quickly so it does not wrinkle. While placing an order, get one size bigger for increased comfort.
Best Plus Size Bamboo Pajamas
Texere Women's Button-Up Long Sleeve Pajamas Review
For the plus-size woman, go for the Button-Up Long Sleeve Pajama by texere. It offers everything you will want in a pajama.
Its fabric combines 70% bamboo, 25% cotton, and 5% spandex. It has an elasticized waist with drawstring for an easy fit.
With this pajama, you get to enjoy cool comfort on hot nights and warm bliss on cold nights thanks to its temperature regulation.
If you also have a sensitive skin or allergies, this is perfect for you because it is hypoallergenic.
Best Bamboo Nightgown
Women's Bamboo Viscose Nightgown by Texere Review

I recommend the stylish and alluring Women's Bamboo Viscose Nightgown which combines all of the above with blissful comfort. Its fabric is mainly made of bamboo with an addition of 25% of cotton and 5% of spandex.
This nightgown's style is obvious from the first sight. It features a twisted bodice that is further enhanced by the shirred effect brought about by the carefully pleated drape.
It has an adjustable strap and an antique silver slider. This is the nightgown you turn to when there is more than just sleeping on your mind.
Who says you can't look good for bed?
It's not just about the looks though. It is also very comfortable, with temperature regulation and a texture that is perfect for the sensitive skin.
GYS Womens Bamboo Viscose Sleeveless V Neck Nightgown Review

This beautiful and extra soft night gown comes in 17 different colors.
Made of 95% Viscose from Bamboo, 5% Spandex, so it doesn't only look great but feels super comfy as well. Yes, please!
It's very easy to care for as it's machine washable. No static cling.
This night gown is loved by customers and many are even thinking to order more. There are literaly hundreds of raving reviews about this cozy nightgown. See for yourself!
Best Men's Bamboo Sleepwear
Only Faith Men's Short Sleeve Bamboo Pajama Sleepwear Set Review

Men also need a good night's sleep so they are not left out. The Men's Short Sleeve Bamboo Viscose Pajama Sleepwear Set is the ideal choice for any man looking for that traditional pajama sleepwear.
It's made of 100% bamboo fiber and therefore provides the full benefits we've come to expect from bamboo fabric.
It comes in 4 different styles.
It features a short sleeve, top collar, two pockets and an elastic waistband for an easy fit. If you are ordering this, you may need to order one size bigger because it comes in Asian size.
Men's Bamboo Pajama Pants (Long)
David Archy Men's 2 Pack Bamboo Rayon Loungewear Review

A lot of men do not sleep with a top and so they just prefer comfortable pants as their nightwear. If this describes you, then this is what you are looking for – men's bamboo rayon long pajama Pants by David Archy.
Made from 95% bamboo rayon and 5% spandex, it offers the best of soft comfort and breathability.
It also features a waistband that fits comfortably without leaving any marks on your waist, a no-fly design that ensures nothing suddenly peeps out and a stretchy texture that ensures a good and stylish fit.
Caution: they're so comfortable that you might never want to take them off.
Men's Woven Plaid PJ Pants by Texere Review

A lot of men do not sleep with a top and so they just prefer comfortable pants as their nightwear. If this describes you, then this is what you are looking for – Men's Woven Plaid PJ Pants.
Made from 100% bamboo fabric, it offers quick moisture wicking for maximum comfort.
These pants feature elastic waistband, drawstring, hidden buttons, side pockets and a leg opening that is very relaxed. If you want comfortable pajama pants, you have it right here.
Conclusion
Those hours you lay down to get your body recharged is very vital to your overall performance, efficiency, and wellbeing.
There is a reason why you spend almost a third of your life sleeping. With the realization of how important sleep is, you should no longer take anything about it for granted.
Do not only invest in comfortable beds and pillows. You hopefully now know to also invest in your PJs. You can find a lot of top quality and comfortable bamboo pajamas online. 
Didn't like the pajamas I recommended? Click here to see more bamboo pajamas for women and bamboo pajamas for men.
Bamboo pajamas make it easy for you to achieve ultimate comfort without harming the environment or your body.
So, make your sleeping time a much more enjoyable time by getting one of these lovely bamboo pajamas so you can enjoy the best or comfort during cold and warm nights.
You may just discover that your sleeping time may increase beyond 33% simply because of how enjoyable you now find it with your more comfortable bamboo PJs.