Flannel vs fleece – what are the key differences and similarities between these two warm fabrics and which one is warmer? Is flannel or fleece better material for pajamas, sheets and blankets? Let's find out.
In short, flannel is made from natural wool and cotton fiber. Fleece pajamas and sheets are derived from polyester. Both materials are affordable, lightweight, and feel soft on the skin but fleece is not as breathable as flannel. It can trap heat and make you sweat which is why it's sometimes considered warmer. Flannel, on the other hand, will regulate your temperature and keep you warm without making you sweat. It's also a natural fabric and my preferred choice when it comes to sheets, blankets, and cozy pajamas.
Check out the best rated fleece sheets and flannel sheets in 2023.
If you're looking for a fleece or flannel blanket, go for the highly rated SOCHOW or Malinad.
Flannel vs. Fleece Pajamas Sheets & Blanket: Quick Comparison
WINNER

Flannel

Natural fiber
Made of wool and cotton
It feels smooth and soft on the skin. As it is lightweight and breathabe, flannel pajamas are very comfortable to wear
It is versatile and highly-absorbent. It stays warm when the temperature is cold or cool
It is a great quality fabric but tends to stretch out or deform after frequent washing
Affordable

Check Price
Fleece

Man-made fiber
Derived of polyester
It also gives off smooth and soft feeling on the skin. But due to its thread that is thicker compared to flannel, it is not very breathable
It is made of layers of thread that makes it a thick material. Hence, provides excellent insulation
It is also a remarkable material, although man-made fabric, it does not wear out or deform easily
Affordable

Check Price
Is Flannel The Same As Fleece?
There are many similarities between these fabrics but flannel and fleece are NOT the same thing. Flannel is made of natural fiber while Fleece is a synthetic material made of polyester. That's why fleece is usually cheaper. 
Flannel vs Fleece Sheets: Which Material is Better for You?
Do you feel always cold and don't mind using synthetic materials? In that case, fleece sheets are right for you. Fleece bedding traps the heat and will keep you warm during cold winter nights. 
If, on the other hand, you just want to feel cozy but not sweaty organic flannel is the way to go. Breathable flannel bedding will keep you warm in winter and cool in summer.
Which Is Warmer – Fleece or Flannel?
Fleece is often considered warmer, but that's because it traps the heat. The downside is that it can make you sweat. Flannel regulates your temperature and won't make you sweat. For that reason, flannel is the winner in my eyes. But as stated above, if you're always feeling cold, fleece is a more suitable material for you.
Not all sheets are created equal. If you're looking for a high-quality flannel sheet set, go for Pinzon Signature. However, if fleece is your preferred material I recommend Bare Home Super Soft Fleece Sheets.
What Is The Difference Between Fleece and Flannel?
Choosing between flannel and fleece pajamas might not seem quite a cinch! That's why I've conducted a thorough research and jotted down the essential factors that would intricately define the differences between the two and their benefits.
These factors include material, comfort, insulation, and durability.
Material
Flannel
Flannel is a type of fabric that is sourced out from wool and cotton, which are both natural materials. But latest innovations and designs incorporate these natural fibers with synthetic fibers and carded wools to reinforce their quality. It gives off a soft and smooth feeling that makes it an ideal material for shirts, sleepwear, and bed sheets.
Fleece
Fleece, on the other hand, is quite the opposite of flannel. It is a man-made fiber that is derived from polyester. It is usually woven together with other natural fibers to produce cozy and warm clothes. Although synthetic, fleece is a popular material used in making jackets, sweaters, and sleepwear such as pajamas.
Winner: Flannel
Comfort
Flannel
When choosing pajamas or sheets, one of the major features I check out is how it can provide superior comfort. Because it is a natural fabric, flannel feels soft and smooth on the skin and definitely not harsh or rough. One of the best examples of this all-natural material is the Pajama Mania pajamas, which is 100% made of cotton flannel and incredibly comfortable to wear. With its cozy, and lightweight feeling, these flannel pajamas can truly wrap you up in warmth even when the cold breeze blows.
Fleece
Fleece also has its own exceptional properties in terms of comfort. The focal feature of such material is the thickness of the threads that make it soft and smooth. Pajamas such as Totally Pink Fleece Pj Set is made of polyester fleece material that gives off a comfy and warm feeling. However, the thread concept makes the fabric not breathable and thus, may make you sweaty at times when you sleep.
Winner: Flannel
Insulation
Flannel
Sheets and pajamas need not be heavily insulated unless you're prepping for winter. But to battle the cold and shiver for a sound and cozy sleep at night, the material used for your jammies should be able to provide ample warmth. In that case, flannel has its outstanding features when it comes to insulation. Since it is a natural fiber, it is versatile and highly-absorbent. When it is cold or cool, flannel stays warm without letting you drown in sweat.
Fleece
As what was mentioned, fleece highlights an incredible thread count. These layers of thread trap the heat inside which give your body a warm feeling. Therefore, its insulation feature makes an excellent sleepwear such as pajamas. The chilly breeze may not stand a chance! However, it isn't as absorbent as flannel and may cause moisture build-up when the temperature gets hot.
Winner: Flannel
Durability
Flannel
Flannel is a remarkable material that naturally soothes the skin with its lightweight and soft features. But as a natural fabric that is derived from cotton, it stretches out and tends to deform when frequently washed.
Fleece
Fleece does not shrink and wear out easily. This man-made fabric is made from polyester. Polyester yarn, then, is commonly sourced out from recycled plastic bottles or soda bottles. But the quality of this material may still vary or can even shrink depending on the method of washing.
Winner: Fleece
Final Recount
The comparison review between flannel and fleece material entails their advantages and disadvantages, particularly as a fabric used for pajamas. To determine which material stands out, four categories were mentioned in this article. For a quick overview, here is a recount:
Flannel: 3/4
Fleece: 1/4
So, as we can see flannel is a clear winner.
When it comes to price, fleece pajamas are more budget-friendly though. Let's think of it as a bonus round and give one more point to fleece.
Flannel wins 3-2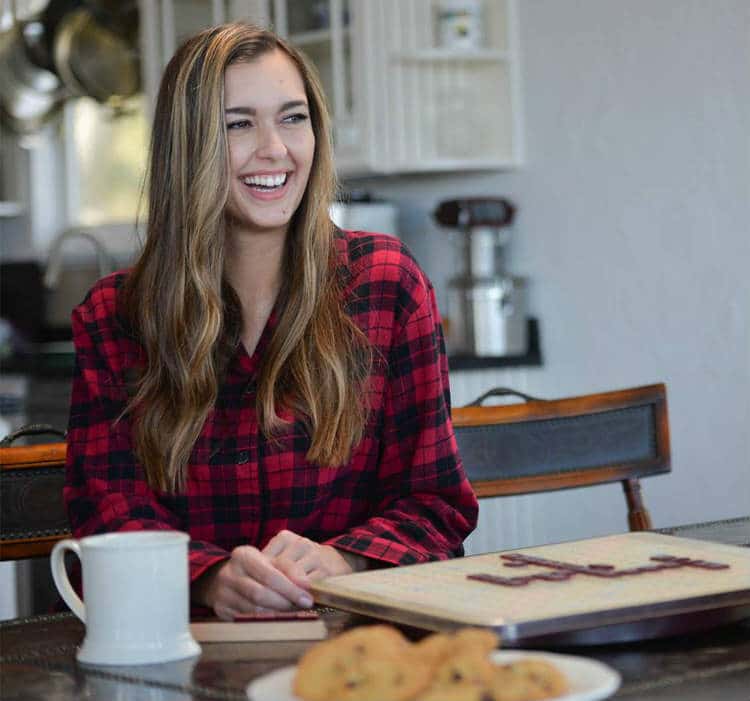 What Are The Best Flannel Pajamas in 2023?
Del Rossa Women's Flannel Pj Set
What I find fascinating about this pajama set from Alexander Del Rossa is the pre-shrunk cotton fabric.
As what was mentioned before, flannel material tends to stretch out or deform over time.
But this pre-shrunk cotton fabric reinforces its quality and keeps it in its pristine condition.
Apart from its busy prints and vivid hues, the 100% flannel fabric guarantees comfort and warmth that will let you sleep sound at night.
Tailored with an elastic waist, I do find it much more comfortable to wear as it can adjust to the comfiest fit. The buttoned front also adds greater comfort and easier access to wear and take off the shirt.
And if you're looking for a lovely present for your mom, wife, or girlfriend, this will definitely be a nice treat!
What Are The Best Fleece Pj Sets in 2023?
Angelina Womens Cozy Pajama Set
If you're up for a sleepover, a pajama party, or just want to revel in a good night sleep, this fleece pajama from Angelina is one the best finds worth a try.
What I like the most about this fleece pajama is the warmth and comfort that it delivers without going out of style.
Made of 100% fleece polyester, it provides a cozy and warm feeling during the cold night. The colorful prints and bright colors are truly an eye candy!
The stretchable waistband is also a major plus. Not everyone finds a perfect fit, but the drawstring waistband makes it very flexible and easy to wear.  Besides the fleece material, the long sleeves provide an extra warmth to get through the chilly night.
There are many more flannel pajamas available in Amazon.
Looking for pajama that keeps you warm in winter and cool in summer? Check out the best bamboo pajamas!
Pros and Cons of Flannel and Fleece
 

Pros

Cons

Flannel

It is a natural fabric which is typically derived from cotton and wool.

It feels smooth and soft on the skin.

As it is lightweight, it is breathable and comfortable to wear.

It is a versatile and highly-absorbent fabric which stays warm during cold or cool temperatures.

It feels warm and cozy on the skin.

As it is typically made from cotton, it deforms over time.

It is more expensive compared to fleece material.



Fleece
Although man-made, it is an excellent and a popular material used for making sleepwear like pajamas.

With the layers of thread, it delivers extra warmth.

The thickness of its thread makes it a soft and smooth material. Hence, comfortable to wear.

It does not wear out and shrink or deform easily.

It is affordable.
Due to the thickness of this material, it isn't breathable.

It provides excellent insulation but it is not absorbent and may cause moisture build-up.



Final Verdict
So, are flannel or fleece sheets and pajamas warmer?
After this thorough research and comparison review, flannel and fleece fabrics both stand out with their exceptional properties.
No wonder they've been deemed as popular materials to produce cozy and warm sleepwear and bedding.
Considering the overall quality, particularly in terms of comfort and insulation, flannel surely deserves the spot as the winner. This natural material has laid out multiple advantages that can make your pajamas the comfiest and warmest to wear during a chilly night.
It feels soft on the skin and keeps you warm without leaving you running with all the sweat while snuggling in your sheets. Although there's a slight drawback to this material, proper care and handling can still keep it in the best condition.
If you're looking for bedding, check out the best rated fleece sheets and flannel sheets on the market in 2023.
Want a fleece or flannel blanket instead? Go for the highly rated SOCHOW or Malinad.
So there you have it – the main differences between flannel and fleece. Sleep tight!