Lyocell vs cotton – which fabric is better for bed sheets and other things? Let's review and compare their pros and cons in great detail and see how they measure in terms of durability, feel, breathability, maintenance, softness, price and much more. Let the best material win!
In a hurry? Lyocell is softer than cotton and it's also better for people with allergies, more eco-friendly and breathable. Two of its cons are that Tencel is not as widely available as cotton and harder to care for. Cotton and lyocell sheets are both very durable.
If you want nothing but the best (and you're willing to pay for it a bit more) then luxurious Tencel sheets are better for you. It can be difficult to find 100% Lyocell sheets. I recommend you check out the highly rated sheet set by Royal Hotel. They offer excellent quality and are priced reasonably. However, if you're looking for more affordable sheets, try California Design Den 100% cotton sheets.
Tencel (Lyocell) vs Cotton: Quick Comparison
WINNER

Tencel

Made from eucalyptus trees
Long-lasting quality
Uses sustainable, recyclable & eco-friendly materials for production
Comfortable, lightweight
Smooth, soft & silky
Stays warm when it's cold & stays cool when it's hot
Hydrophilic; wicks the moisture away from the skin
Ideal for sensitive skin
Hypoallergenic
Eco-friendly material
Easy to clean and wash
Wrinkle-free fabric
Not always available
A bit expensive

Check Price
Cotton

Derived from cotton
Durable quality
Does not use eco-friendly materials
Does not feel rough on the skin
Comfortable, smooth, and soft (but Tencel is softer)
Provides ample insulation during cold temperatures and coolness when it's hot
Not as hypoallergenic as Tencel
Does not require delicate cleaning
Easy to clean and maintain
Gets softer and better over time
Popular and available almost everywhere
Affordable

Check Price
What Are the Differences Between Lyocell and Cotton?
Putting up a head-to-head comparison between Tencel and cotton is one way to identify the differences that don't seem so evident.
Delving into their features provides a clear layout which bed sheet is better in comfort, durability, breathability, and maintenance. Besides these features, I've also included the categories for availability, cost, and their effects on health and environment.
Material & Durability
Lyocell
Eucalyptus trees are the primary source of Tencel or lyocell. The painstaking process entails the production of woven fibers from wood cellulose. The cellulose fibers of such plant are broken down intricately to manufacture woven fibers.
Hence, Tencel or lyocell fabric that becomes the durable Tencel bed sheets available today. It can also be woven with other natural fibers, wool, and hemp.
In addition to its durability, the production of Tencel sheets is highly noted due to the eco-friendly, recyclable, and sustainable materials used in the process. It is also probably the reason why a lot of consumers prefer Tencel or lyocell sheets over other types of beddings.
The namesake Tencel, however, is a well-known brand for lyocell fabric under the ownership of Lenzing Fibers. Therefore, Tencel gives a common recall rather than the lyocell fabric itself.
Cotton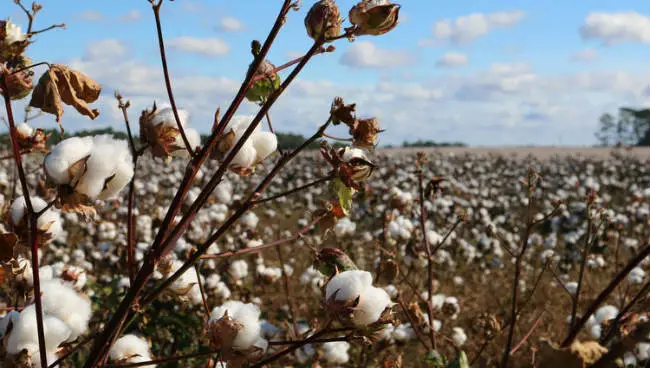 Cotton is a very popular fabric and it's quite obvious where it is derived from – cotton. This soft and fuzzy natural fiber goes through a process that manufactures soft and comfy bed sheets. Not only does it fill out almost every bedding store, cotton's well-known for its durability and comfort properties.
Whether it is pure cotton or blended with synthetic fabrics, it can produce comfortable bed sheets without breaking your bank. Cotton also has a wide range of selection that varies according to the quality and price.
Egyptian cotton and Pima cotton are some of the popular cotton sheets that provide excellent durability and long-lasting quality.
Winner: Lyocell and Cotton
Comfort
Lyocell
Lyocell embraces the skin with an incredible softness and smoothness that gives off a cozy feeling. It is cool and soft to touch which is an ideal texture for those who have sensitive skin. It drapes beautifully which also displays a luxurious vibe.
Cotton
Cotton is lightweight and feels very soft on the skin. It is also smooth to touch that provides comfort when you sleep in it. 
Egyptian cotton has a luxurions feel to it but there are many cheaper cotton sheets available on the market that don't even come close to the comfort of lyocell sheets.
Winner: Lyocell
Breathability
Lyocell
Even when the climate or temperature fluctuates, Tencel knows how to adjust and provide the ample warmth and coolness. It is exceptionally breathable that provides comfort and warmth at night.
When the warm temperature takes over, it doesn't leave any muggy or hot feeling but rather keeps the body cool.
Lyocell is naturally hydrophilic due to the fibers it is comprised of. This means that Tencel sheets easily absorb water or moisture away from the body. Hence, cool and better feeling.
Cotton
Cotton is also applauded for its remarkable breathability that does not trap the heat and leave the body feeling uncomfortable and hot. Cotton allows the air to circulate under these sheets that avert the build-up of moisture.
As it is breathable, it manages the wavering temperatures efficiently that allows the body to stay cool during summer and warm during winter or whenever it is cold.
Winner: Lyocell
Health and Environment
Lyocell
When you're concern about the mother Earth, Tencel is definitely the planet's ally. As the materials used for producing of lyocell sheets are sustainable and recyclable, they don't cause any harm to the environment. These sheets aren't bleached or dyed and no harsh chemicals are added.
Therefore, while everyone benefits from the remarkable features of Tencel, the Earth also takes advantage of its eco-friendly materials.
In regards to health, lyocell is hypoallergenic which is an excellent choice for those who suffer from allergies or asthma. It wards off dust particles and allergens which ensures a safe and clean sheet to snuggle in.
Its natural production also has beneficial effects to the skin making it a comfortable and safe material for people with sensitive skin.
Cotton
Cotton can also inhibit dust particles and allergens that adds to its hypoallergenic properties. It absorbs the moisture reasonably leaving a cooling sensation to the skin. But as it absorbs moisture away from the skin, it can potentially cause moisture build-up that may result in bacterial growth and skin irritation. But to make sure it is completely clean, regular washing is a must.
The production of cotton sheets isn't as environmentally friendly as the tencel sheets. Growing cotton requires intensive dependence to chemicals and pesticides which may cause harsh effects on the environment.
Winner: Lyocell
Maintenance
Lyocell
Tencel isn't as delicate as what other types of bed sheets are. Because these sheets are wrinkle-free, they're much easier to maintain. Although gentle care should also be applied, lyocell sheets are machine washable and easy to clean.
They do not deform even after frequent washing.
Cotton
Cotton is also easy to care for. Whether it is handwashing or in a washing machine, cotton sheets are easily washed. With its exceptional durability and long-lasting quality, cotton sheets do not wear out easily but rather get better and softer over time.
Winner: Lyocelll and Cotton
Availability & Cost
Lyocell
Lyocell isn't something you can just pick out from a shelf of a bed sheet store. Unfortunately, the availability of lyocell sheets isn't always at its peak.
Some stores may not have them for purchase. That's why it's no surprise if you're learning about these sheets for the first time.
However, if you ever come across these sheets, it's definitely worth a try. Compared to cotton, tencel sheets are usually more expensive.
Cotton
Whether you buy them online or in a physical store, cotton sheets are remarkably popular and widely available.
A vast range of cotton sheets is also accessible that allows everyone to take delight in their preferred type of cotton bedding.
When it comes to price, cotton is much cheaper compared to lyocell sheets.
Although there are premium quality cotton sheets, the price tags won't hurt your budget. But if you're looking for very affordable or much cheaper cotton sheets, cotton sheets that are blended with polyester or other synthetic fabrics fall within this price range.
Winner: Cotton
Lyocell vs Cotton: Final Recount
With thorough research and comparison, I was able to come up with a comprehensive layout of the primary categories such as durability, comfort, breathability, availability, cost, and effects to the health and environment. Here are the total scores:
LYOCELL: 5/6
COTTON: 3/6
What Are the Best Lyocell Sheets in 2022?
Royal Hotel 100% Tencel Sheet Set

It isn't always easy to find premium quality Tencel lyocell sheets from raw Eucalyptus trees.
But if you're in need of these extra soft and smooth beddings, Royal Hotel has in store for you.
Their eucalyptus sheets are derived from raw and sustainable materials that benefit both health and the environment.
With its hypoallergenic properties and absorbent feature, it can wick the moisture away from the skin and also prevents dust particles and allergens.
These sheets are incredibly soft and silky that snuggles the body comfortably. When it is cold, it can provide ample warmth and coolness when the temperatures get hot.
With its lustrous sheen and smooth texture, it gives off a luxurious feel that you can revel in all day and night.
This sheet set is available in different sizes.
What Are the Best Cotton Sheets in 2022?
400-Thread-Count  Cotton Sheet Set by California Design Den

The California Design Den is made of 400-thread count that ensures exceptional softness and smoothness.
As cotton is known for its cozy texture, this bedding carries out the same texture and comfort making every sleep sound and comfortable.
Made from 100% cotton, these sheets offer a long-lasting quality, resistance to fading, and precise fitting.
They are designed to provide comfort and proper insulation whatever the season or climate is.
With their durability, they won't easily wear out or deform over time. These cotton sheets feel smooth and soft whenever you feel like sleeping in it.
Pros and Cons of Tencel and Cotton Sheets
Lyocell Sheets
Pros
Comfortable, smooth, and soft to touch.

Durable

Made from sustainable and recyclable materials.

Eco-friendly.

Can adjust to the wavering temperatures.

Stays cool when it's hot and stays warm when the temperatures get cold.

Hypoallergenic.

Easy to clean and maintain.

Wicks the moisture away from the skin.
Cons
Not always available.

Expensive.
See 100% Tencel sheets available on Amazon
Cotton Sheets
Pros
Comfortable and lightweight.

Long-lasting quality.

Soft and smooth and doesn't feel rough on the skin.

Breathable and allows the air to circulate preventing moisture build-up and muggy feeling.

Easy to clean and wash.

Gets softer and better over time.

Hypoallergenic.

Affordable.
Cons
Not eco-friendly.

Not as hypoallergenic as Tencel sheets.
Conclusion
Lyocell vs Cotton – Which sheets are better?
Tencel Lyocell and cotton have unique and superb features that both provide superior comfort whenever the time calls for a snooze.
Eucalyptus sheets are ideal for people with particular needs namely hygiene, skin concerns, and health issues.
Besides its extreme softness and smoothness, Lyocell is woven from eco-friendly materials and known to be hypoallergenic and hence, can provide safe and clean sheets to sleep in.
So, lyocell is a clear winner. But if you're on a tight budget, you might choose cotton because it's cheaper.
However, the real challenge with these sheets is availability. They are not as common as cotton sheets.
Cotton, on the other hand, is available almost everywhere. Cotton sheets are comfortable, smooth, soft, and even get better over time.
There's also a wide selection of cotton sheets that can comply with one's needs and preferences. As they are typically cheap in price, everyone can afford a cotton sheet set.
However, they are not as hypoallergenic as Tencel Lyocell sheets and may trigger skin irritations.
So, Lyocell or cotton? Tencel sheets are the winner