Scientists, users, and enthusiasts all over the world have united and decreed. Weighted blankets are a fantastic solution if you have anxiety, suffer from insomnia, have a child with autism, a restless pet or are going through menopause. They are a natural response to a plethora of ailments that vanish under the wonderful weight. But some questions do arise. Are weighted blankets suitable for hot sleepers? Are they too hot for summer? Can you use this comforter all year round after you've invested in it? This is what we're here to find out!
The short answer is that it all depends on what weighted blanket you have chosen to begin with. First and foremost, it will depend on the filling, second on the balls or pellets that have been used to weigh the blankets down but, most importantly, on the cover itself. If the covers, meaning the fabric that actually comes in contact with your skin will be made of breathable materials, there is no reason for you to get hot during the warm season.
Taking those criteria into consideration, I've done some thorough research for you and found the best weighted blankets on the market that are guaranteed not to make you too hot or too sweaty.
This outstanding calming blanket actually comes with two separate duvet covers. One is for hot and the other is for cold sleepers. It has also been weighted down with nano-ceramic beads to ensure your comfort.
If it has 'cooling' in its name, how could you possibly get hot? This blanket is made of bamboo viscose, 100 percent natural, with no other fabric added. It's the bamboo that makes it incredibly breathable, not allowing you to get hot or sweaty.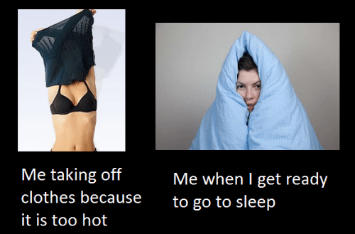 Are Weighted Blankets Hot?
According to the research that I've done on my own quest for the best weighted blanket – yes, there are some weighted blankets that will make you too hot.
But don't despair! First let me walk you through what I've found out. So, as mentioned above, it all comes down to the type you purchase. Some cooling comforters are made of inexpensive materials both on the inside and the outside. In other words, they have artificial fillings or low-quality polyester duvet covers.
This means that on the one hand, the artificial filling will get extremely hot while the polyester cover will never allow for the heat trapped under the blanket to escape in a natural way. To put it simply, an oven is created under the blanket where all the heat is caught, as well as all the smells and sweat.
This might also happen if you've decided to make your own weighted blanket at home, as a DIY project. Wanting to cut the costs, you might not be using high-quality fabrics. This, in turn, will lead to a hot weighted comforter.
Other weighted blankets on the market are specially designed with light fillings and ceramic or glass beads plus breathable fabrics such as cotton or bamboo so as to avoid exactly this problem. As the night progresses, your body heat can evaporate even though you are under the blanket and it's a warm summer night.
Are Weighted Blankets Too Hot Summer?
This is a supremely common question. It's a stereotype now for people to believe that a somewhat thick blanket which also has a lot of filling and beads inside will make them extremely hot and may not be the best choice for the sweltering heat.
But that's just a misconception. Gone are the days when bedding used to be just bedding! We are living in the age of technology and this idea has reached our comforters as well. These blankets are specially designed with glass beads that do not retain heat as well as very thinly sliced batting – the filling inside the blanket itself- that will not heat overnight.
Should Hot Sleepers Use a Weighted Blanket?
Just you try and stop them! Hot sleepers have the tendency to sweat a lot during the night and simply feel like they're boiling in their clothes or their bedding. They might also experience insomnia and need a very cool temperature in the room where they're sleeping. Therefore, it's only natural that they should be worried about the effects a weighted blanket might have on them.
However, it all depends on you and your surroundings. The first thing you should know is that weighted blankets are made to add more weight not to provide extra heat. They have glass beads inside not rolls and rolls of batting just waiting to make you sweat.
Second of all, if you live in a very humid climate, you might need to crank up the AC while you sleep or get a dehumidifier. Not because of the blanket per se but because that might be one of the causes you're a hot sleeper to begin with.
Thirdly, choose a weighted blanket made of cotton or bamboo to make sure it allows you to breathe and disperse the heat your body emanates throughout the night.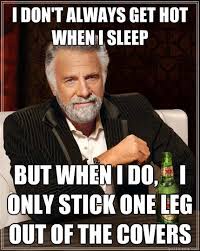 Tips on How to Find a Cool Weighted Blanket
Since we have begun talking about advice for hot sleepers and the way they choose their weighted blankets, let me give you some tips that will apply to everyone.
Breathable fabrics are important
I feel like I cannot overstate this. If you find user reviews online or if your friends tell you they have had a hard time with their weighted blanket, that's because they bought the wrong one. A weighted blanket that also keeps you cool absolutely needs to be made of breathable fabrics so that it doesn't trap heat underneath it.
Don't choose artificial materials
You might find some weighted blankets out there that are made of wool, fleece or polyester. While they might do the trick in weighing you down and providing a good night's sleep or even keeping you warm during the winter, they will be too much to take on hot nights. These materials are tightly woven and do not allow any air to pass through.
Buy a blanket with a removable cover
If the cover is removable, you can easily take it off in case it makes you too warm. Apart from that, the weighted blanket will become a lot easier to care for or wash in the machine with the cover off.
Don't buy a blanket that is not the right size or weight
This piece of advice also includes the idea of not using someone else's weighted blanket like your partner's. When you buy a weighted blanket, you need to calculate your body weight. The comforter needs to weigh 10 to 15 percent of that. Any lighter and it won't have any kind of effect on you. Any heavier and it will feel uncomfortable.
Want to Maximize the Cooling Effect?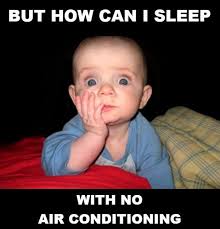 Cooling weighted blankets are number one on my list because not only can they solve my anxiety and sleep problems, but they also keep me nice and cool during those long, hot summer nights. But there's no reason to say no to other cooling accessories and bedding that one can use in combination with a cooling comforter to get the best sleep of your life.
A cooling mattress pad
This works a bit like a duvet that you can just slip onto your mattress. The trick is that it will balance your temperature incredibly well helping you stay cool and dry throughout the night. The best part of it all is that it works on cold sleepers as well, which means your partner won't have a problem with it, and it's super soft! Here is the cooling mattress topper everyone is raving about this year. Just look how many positive reviews it has!
Cooling pillow covers
Do you know that one night you get each summer when you toss and turn at least 200 times? You swap your pillow around, switching it from one side to the other, hoping the other side is just a little bit cooler? That's what every night feels like for a hot sleeper. Not with these cooling pillow covers, though. They will make sure your never have to feel like that again!
Cooling sheets
They will go perfectly with both your cooling comforter and mattress pad to create that breezy, fresh area in your bedroom that you will never want to leave. When your whole house is an oven in the middle of summer, let your bed be an oasis! See my favorite cooling sheets here.
Cooling pajamas
Of course, you can't possible forget the clothes you'll be wearing. Most people mistakenly believe that wearing as little as possible in bed will keep them cool. They're wrong. Cooling pajamas are made of special fabrics that absorb sweat and heat.
Best Weighted Blankets that Stay Cool
My top favorite choices when it comes to weighted blankets have a few criteria that are very important to me and should be crucial to you as well. I'm talking about the quality of the fabric, the filling, whether or not they are hypo-allergenic and much more. Here are my top choices for 2019.
The Degrees of Comfort Weighted Blanket

One of the main reasons why I chose this as the best summer weighted blanket is that it can accommodate both hot and cold sleepers. This means you can share it with your partner in case you have different needs at night.
Apart from that, the comforter comes equipped with two duvet covers for the purpose mentioned above, so you don't have to worry about extra accessories. This also translates into you not investing in extra parts. Therefore, this weighted blanket is budget-friendly.
It's filled with nano-ceramic beads and has a silky finish that will make you quit all your other beddings forever! Its CoolMax Microfiber was specially designed to ventilate warmth and heat away from your body.
Pros
Has nano-ceramic beads that do not heat up

Comes with two covers

Feels very soft
Cons
The pocket squares are too large
The YnM Cooling Weighted Blanket

Made out of natural bamboo viscose, the YnM cooling weighted blanket is designed to keep you cool at night no matter what.
This is why it's the perfect comforter for hot sleepers. The filling is made of luxurious thin polyfill that will not get hot as well as glass beads of premium quality.
This weighted blanket has Moisture Wicking Management technology. This is what helps you wake up dry and comfortable, no matter how much you sweat during the night or how hot it was.
The YnM will not leak because it has been fitted with two layers of extra cotton between the bamboo cover and the filling. In other words, you can rest peacefully knowing the glass beads will not spill out.
Pros
High quality glass beads secured within the blanket against leakage

Cover made of bamboo to ensure you do not sweat

Wicks away sweat
Cons
You will need to buy a cover for it
How to Determine the Perfect Weight for a Weighted Blanket
Physicians agree that an ideal weighted blanket needs to weigh around 10 percent of your total body mass. If it's under that percentage, the blanket might not have the same benefits. In the same way, if you get one that's too heavy for you, the comforter could add unnecessary pressure on your spine or make it too difficult to breathe.
However, you should know that, when it comes to weight, this is a learning process. If you take your blanket home and find you toss and turn under it, exchange it for something else until you come to a perfect match. Do give yourself a few nights to get used to it though.
Will a weighted blanket make you warmer depending on its weight?
Yes, that can happen. If it's too big for you, the weighted blanket could, in fact, turn out to be too much for you to handle.
A weighted blanket that is the perfect size and weight for your body will not make you hot.
If it's made of high-quality, breathable fabrics, it will wick away sweat and allow heat to ventilate from your body at night instead of just keeping it trapped under there.
Check out the best weighted blankets in 2022.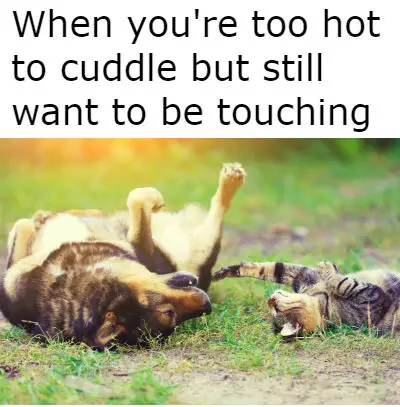 Conclusion
So, Are Weighted Blankets too hot?
All you hot sleepers out there and all you insomniacs! What do you say? Shall we all cozy up under our weighted blankets and watch Sleepless in Seattle?
After that, you can be sure you'll have a peaceful and long sleep through the night. Don't forget about my recommendations, the Degrees of Comforter and the YnM weighted blankets as well the other accessories that can make all this possible!