Silk vs cotton – what are the main differences and similarities between these materials and which one is best for your bed sheets and pillowcases? Is silk cooler or hotter than cotton? Is silk better than Egyptian cotton? Let's take a closer look and compare these two fabrics in terms of feel, allergies, insulation, price, and maintenance as well as their biggest pros and cons. 
Silk or Cotton Sheets and Pillowcase: Quick Answer
Though both fabrics are soft, silk sheets have that luxurious smooth feel to them you'll love when you sleep. Surprisingly, silk pillowcases and bed sheets are more durable than cotton and another pro is that they don't pill. Silk bedding is amazing for your skin and hair too. But cotton has its pros too – it's easier to care for and much cheaper than silk unless it's Egyptian cotton we're talking about.
If you're looking for silk sheets, go for the highly rated Mulberry Park Silks Bed Sheet Set. If you're on a budget, go for the cheaper THXSilk bed sheets.
Or you might want to get a silk pillowcase to take care of your hair and skin. Bye-bye, wrinkles and frizzy hair!
If cotton bedding is what you're looking for, go for the best rated 1000-Thread-Count 100% Egyptian Cotton Sheet Set by Thread Spread.
Alternatively, if you're on a tight budget, go for cotton sheets. California Design Den sheet set is one of the best one available on the market in 2023.
Silk vs Cotton Bedding: Pros and Cons Compared
WINNER

Silk

Natural protein fiber
Shiny & elegant appearance
Soft & smooth surface
Feels light on the skin
Very comfortable
Provides warmth during cold temperatures
Stays cool during warm weather
Hypoallergenic
Resistant to moisture, dust, mites, and allergens
Requires extra care & gentle washing
Quite expensive

Check Price

BUDGET OPTION

Cotton

Soft & fuzzy natural fiber
Smooth & soft to touch
Keeps you warm in cold
Stays cool during hot nights
Not as hypoallergenic as silk
Requires minimal maintenance
Can be washed with warm or cold water and any type of detergent
Affordable

Check Price
Fun Fact: Cotton is oftern referred to as the King of the fabrics and Silk is also known as the Queen of fabrics. It's going to be a tough one!
Differences and Similarities Between Silk and Cotton
It takes an in-depth research to pinpoint the gaps and striking features of silk and cotton. Although you can just pick out the material that seems fitting, learning more about these sheets will give a much clearer view of what you're investing in.
As you read through, I've jotted down the essential elements and carefully differentiated them in detail: the material, comfort, insulation, maintenance, and cost.
Material
Silk
The intricacy of silk is inevitably fascinating. Before it's woven into a fine material, silk is extracted from the larvae of certain insects, cocoons, and those that belong in hymenoptera such as ants, bees, wasps, and more.
It is a natural protein fiber that delivers an exceptional smoothness and softness on the skin. It also exhibits a shiny appearance that has become its signature detail; it looks classy and lavish.
Cotton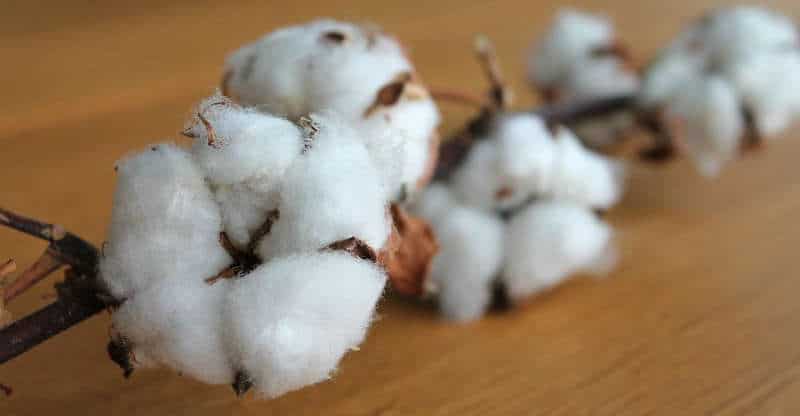 The namesake already suggests where it is derived from – cotton. This soft and fuzzy natural fiber is one of the most popular fabrics across the globe and has been widely used for producing clothes and bed sheets.
It can also be incorporated with other natural or man-made fabrics to produce quality but affordable sheets or clothing.
Depending on the fiber length, a cotton fiber can be produced in multiple types such as Egyptian cotton and Pima cotton, the popular options for long-lasting quality cotton sheets.
Winner: Tie
Comfort
Silk
Apart from its exquisite beauty, silk shares its own amazing benefits when it comes to comfort. Silk sheets have a soft and smooth surface that makes it very comfy and perfect for cozy snuggling. It also feels light and gives the skin a soothing feeling.
Cotton
Cotton is a comfy fabric that makes the sheets soft and smooth to touch. It does not feel rough or heavy on the skin when you sleep in it; very fitting for a cozy power nap or a sound sleep at night but it doesn't beat the feeling of silk.
Winner: Silk
Allergy Issues
Silk
Another impressive point about silk is its resistance to dust and allergens that usually cause allergic reactions.
Silk is hypoallergenic and with its excellent resistance to moisture-causing bacteria, the growth of bacteria is very unlikely. For those who are suffering from allergies or asthma, silk sheets are the ideal option.
Cotton
Cotton is also a hypoallergenic fabric but not as much as silk. Cotton can absorb moisture, therefore it can foster the growth of bacteria which can cause allergic reactions. However, this can be avoided with proper care and regular washing.
Winner: Silk
Insulation (Breathability)
Silk
Silk boasts its thermal properties whenever the winter or cold temperatures hit the season. But when the temperatures rise and the warm breeze takes over, it stays cool and comfortable.
Also known as an all-climate fabric, silk adapts to the temperature and provides optimal insulation accordingly. So, when you need bedding that can go along with the fluctuating temperatures, silk is an excellent option and better than cotton.
Cotton
Relatively, cotton is naturally warm and soft and a perfect snuggler during the frigid temperatures. As it absorbs the moisture reasonably, the air can circulate which leaves no spots for moisture build-up and muggy feeling. Even when the temperature gets warm, cotton sheets will keep you quite cool.
Winner: Silk
Maintenance
Silk
Silk is a delicate piece of fabric that requires extra care and gentle washing. These sheets should be hand washed and to retain its quality, frequent washing should be deferred. Strong detergents may damage the fabric.
Cotton
Cotton requires minimal maintenance. Whether it is warm or cold water, cotton sheets are washed easily. Although these sheets need to be handled with care, you can use any type of detergent with it.
Winner: Cotton
Silk vs Cotton Price
Silk
The intricate details and outstanding quality make these silk sheets relatively pricey compared to cotton sheets. Such fabric is typically associated with luxurious living and fancy hotel bedrooms.
Cotton
Cotton sheets are more accessible to everyone and available in almost everywhere. Compared to silk sheets, cotton sheets are affordable. Cotton sometimes becomes much cheaper when incorporated with other types of fabrics such as polyester.
Winner: Cotton

Silk vs Cotton Final Recount
And the winner is…
After detailing the comparison review between silk and cotton sheets, six essential elements were enumerated and carefully reviewed.
To define the distinct differences and determine which sheets are better, I've evaluated the mentioned features and the competition between the two is incredibly tight. Take a peek at this quick recount:
SILK: 5/6
COTTON: 4/6
What Are The Best Silk Sheets in 2023
?
THXSILK Silk Sheet Set
This bed sheet set is one of the best finds to revamp your beddings with a more luxurious vibe.
With its mulberry silk material, it won't leave any spots for allergens and dust mites which makes it an ideal option for those who are suffering from allergies or have sensitive skin.
As it also resists the odor and keeps the bacteria off the sheets, you'll surely have a healthy and sound sleep every night.
These silk sheets showcase a durable quality that can last for a long time. And while it keeps you off from allergies and growth of bacteria, it gives off a comfortable and smooth texture and extra warmth that you can snuggle in when bedtime calls.
What Are The Best Cotton Sheets in 2023?
California Design Den 400 Thread Count 100% Cotton Sheet
If you want to dress up your bed with cozy cotton sheets, the California Design Den gives your bed greater comfort and warmth every night.
Made with 400-thread count, these cotton sheets offer a lifetime quality that defines superb strength and resistance to fading.
As it is made from 100% cotton, these natural fibers are woven to provide precise fitting and superior comfort.
These sheets are tailored to perfection to ensure long-lasting quality and durability.
It can keep you warm during cold temperatures but gives you a cool and comfortable experience and a cozy sleep when warm temperatures take off. They are soft and smooth to touch and definitely a comfy sheet to sleep in.
Egyptian Cotton vs Silk: Which Is Better?
Price – Is Egyptian Cotton or Silk Cheaper?
When it comes to price, Egyptian cotton and silk are both rather expensive. Though Silk sheets are a bit pricier than even the luxurious Egyptian cotton bedding.
Is Silk Cooler Or Hotter Than Egyptian Cotton?
Silk sheets are very cool to the touch and that makes them perfect for hot sleepers. They're definitely cooler than regular cotton and outperform even the Egyptian cotton. 
Pros and Cons of Silk and Cotton
Silk
Pros
It is a natural protein fiber.

It has a shiny and elegant appearance.

It feels smooth and soft on the skin. Therefore, very comfortable as bedding.

It provides a warm and cozy feeling during cold temperatures and keeps you cool even when the temperature gets warm.

Another silk sheets pros are that they're hypoallergenic and breathable.
Cons
It is a delicate fabric that should be handled with extra care when washing. Hand washing and gentle detergent are recommended.

Biggest cons of silk sheets is that they're quite expensive.
Cotton
Pros
It is a natural fiber derived from cotton.

It is very comfortable, does not feel rough on the skin, and feels smooth and soft 

It gives off extra warmth during cold temperatures.

Keeps you cool during hot days
Cons
It is not as hypoallergenic as silk
Final Verdict
Silk vs cotton – Which sheets are better for your bed?
After this comprehensive review of the pros and cons of silk sheets, choosing between silk and cotton bedding was actually a tough call.
In terms of comfort, insulation, and overall performance, both bed sheets excel in their respective fields and truly make a great choice for sheets and pillowcases.
When it comes to the luxurious feel, silk sheets and pillowcases definitely beat cotton. If you want nothing but the best and feel like a Queen (or King!) when sleeping, silk bedding is the way to go.
The drawback can be the price tag though as silk products are usually more expensive than cotton. Though the price is very similar when it comes to luxury Egyptian cotton vs silk.
If Egyptian cotton bed sheet set is what you're looking for then, go for the popular 1000-Thread-Count 100% Egyptian Cotton Bedding by Thread Spread.
If you're looking for a comfortable sheet set that is also affordable, go for 400 thread count cotton.
You can find good-quality cotton sheets at a reasonable price.
Cotton is also easier to care for. Although it isn't as hypoallergenic as silk, the growth of bacteria can be prevented with proper maintenance and regular washing.
Now that you know the differences and similarities between both materials as well as pros and cons – Are you going to sleep on silk or cotton sheets?