Silk vs satin sheets: what are the differences? Silk is the queen of fabrics. Silk sheets and pillowcases have a matte finish, are better for your hair and skin but they're more expensive. Satin sheets also feel luxurious but can be slippery. Satin bedding is cheaper and has some other pros.
Silk is a lustrous natural protein fiber produced by, yup you guessed it, silkworms. Satin is a type of weave and can be made from fibers such as silk, cotton, nylon, rayon, and usually, polyester. The prism-like silk fibers refract light from different angles giving silk its shimmery look. While satin's sheen is due to the way it is woven, four or more threads float over a single thread, which allows a better reflection of light. Apart from that, these two have skin and hair benefits, such as preventing wrinkles, hair breakage and keeping the skin and hair beautiful and healthy. But which material is better for that?
Silk vs Satin Sheets and
Pillowcases: Quick Comparison 
WINNER

Silk

Perfectly comfortable
100% breathable
Fragile
Always hand wash delicately
Expensive

see Best-Selling Silk Products
Satin

Can be slippery
Depends on the fabric used. If made from silk, 100% breathable. If made from poly-blends, not so much
Stronger if made with blends of different fabrics
Wash depending on the fabric it was made from
Cheaper options available

see Best-Selling Satin Products
Difference Between Satin and Silk
Let's get a little bit more into how different silk and satin are by looking a little deeper in the qualities both of these smooth fabrics have.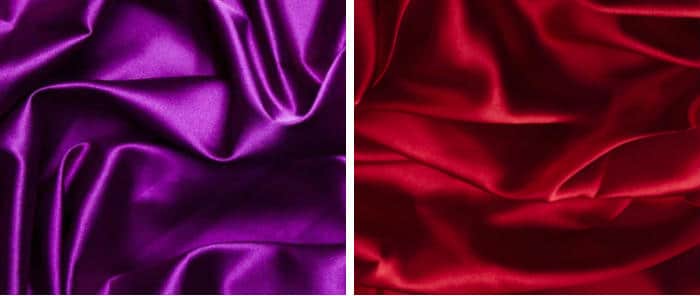 Comfort
Silk
Silk sheets are extremely smooth and comfortable and are in fact considered the most comfortable and luxurious sheets of all kinds. The threads are all flat, making your hands and skin slide through the sheets with no problems.
Satin
Satin sheets are known to be sexy. The shiny, sleek fabric makes it look very welcoming and comfortable and while most would agree that it is very comfortable for certain situations, you may find the sheets to be slippery and catching skin. Satin sheets are best used for special occasions.
Winner: Silk
Breathability
Silk
Silk sheets are made out of 100% silkworm secreting. It is all natural and all organic. Just like Tencel, cotton and bamboo sheets, organic materials used in sheets are all super breathable, unlike synthetic materials.
Silk sheets are fantastically breathable, keeping you warm in the winter and cool in the summer.
Satin
Depending on what fabric they are made out of, satin sheets can be breathable as well. If woven with natural materials such as cotton, Tencel, bamboo or silk, Satin sheets are also breathable. However, most of the times satin sheets are made from polyester and rayon.
Man-made fabrics like polyester or rayon can cause breathability problems and you may end up sweating under the sheets.
But if you choose satin sheets that are either silk or cotton then satin sheets are breathable. Be aware of the synthetic fabrics if breathability is important to you.
Winner: Silk
Durability
Silk
Silk is a very fragile material. However, it is very durable. Silk sheets, with proper care, will last a long time without piling and losing color. If not maintained properly, the sheets might become thinner. Silk is also hypoallergenic and antibacterial.
Satin
Satin sheets are much more durable than silk sheets because of the specific type of weaving. The complex weaving makes the fabric stronger and harder to tear.
Winner: Satin
Care
Silk
Wash silk sheets by hand in cold water and dry in a warm, not humid place. Never wash silk sheets in washing machines or dry in the tumble dry in driers.
Satin
Satin sheets also need to be washed by hand in cold water if they are made out of silk or bamboo. If your satin sheets are made from poly-blends, washing and drying them will be much easier, because you can just put them in a washing machine.
Winner: Satin
Price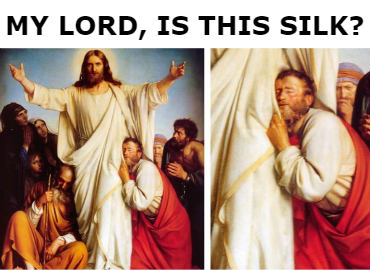 Silk
To make silk sheets, thousands of silkworms are needed. Therefore, silk sheets are very time consuming to make, and very expensive. Luxury sure comes at a price but the price you pay will be worth it.
Satin
Satin sheets made out of poly-blends or other synthetic fabrics are much, much cheaper than silk sheets. Silk satin sheets however are also just as expensive as regular silk sheets.
Winner: Satin
Silk vs Satin Sheets: 

And the winner is…
Silk
Overall silk sheets are great for your health and comfort but maybe not so much for your budget.  
Satin
Satin sheets are very variable, so finding one that fits your needs is much easier than for silk sheets. If you want cheaper satin sheets, go for rayon or poly-blends. However, satin sheets, unless made from silk or cotton, are not as breathable as silk sheets.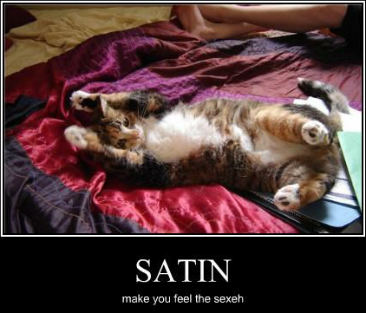 Silk vs Satin Pillowcase
Using either satin or silk pillowcase, instead of cotton, improves skin and hair and is recommended for better hair and skin. The main reason is that, unlike cotton, its smooth surface doesn't drag your hair and skin, causing less friction.  
Silk vs Satin Pillowcase For Hair: Which Is Better?
Rebecca Kazin, MD, FAAD, says that silk's surface helps reduce the chances of having hair breakage. John Corbett, a salon owner in New York, says that on a soft silk pillowcase, the hair will just slide which is less damaging. Moreover, silk can help preserve your style and keep your blowout longer. These pillowcases don't strip the moisture and natural oils from your hair which keeps it soft, smooth, and silky, preventing split ends, breakage, and frizz.
You can get similar hair benefits that a silk pillowcase provides with a satin pillowcase, especially if it is silk charmeuse, even so, silk still fares better in this regard. This is due to silk's softer and smoother surface which produces less friction.
Silk or Satin Pillowcase For Curly Hair
Sleeping on a silk pillowcase can make your curly hair more manageable and ready to go. Not only because it prevents your curly hair from getting tangled and staticky, but also for it keeps your hair's natural oils which a curly hair needs even more than straight hair.
Satin is non-absorbent so it can help maintain the natural moisture of a curly hair. It can also help reduce frizz which is a common problem with curly hair.
Silk and Satin Pillowcases For Wrinkle Prevention and a Healthier Skin
Silk
According to Dr. Jennifer Peterson, a dermatologist at the Dermatology and Laser Surgery Center in Houston, silk pillowcase, due to its smooth texture and finely woven fibers, helps keep the skin's moisture. She also added that hydrated skin cells tend to show fewer fine lines than dehydrated skin cells.
The Director of Cosmetic & Clinical Research in Dermatology at Mount Sinai Hospital in New York City, Dr. Joshua Zeichner, says that silk, being extremely soft, causes less friction between the skin and the fabric. He also added that it is better when the skin rubs less against the pillowcase. He stated, "Less folding can mean fewer wrinkles over time."
Kazin backs this up, saying, "Silk cuts down on sleep lines and creases on the face." Another thing about silk is that it keeps your skin cool during summer and warm during winter, making it beneficial in keeping your skin healthy.
Satin
Like silk, satin pillowcase is very soft and smooth. With that being said, both dermatologists, Kazin and Zeichner, says that similar to silk, it can also prevent the appearance of wrinkles. Kazin also mentioned that the skin slips over the slippery surface of satin more easily which prevents fine lines. Also, satin has low absorbency which means it won't strip your skin from moisture and as what was previously stated moisturized skin means fewer chances of getting wrinkles.
Best Silk Pillowcase for Hair and Skin
Alaska Bear Natural Silk Pillowcase

You won't always find a handmade 19 momme 100 percent mulberry silk pillowcase in the market which makes it a top quality pillowcase.
It has a 600 thread count, making it very soft and smooth. It has a hidden zipper feature giving it more comfort and style. Also, you have many colors to choose from which makes it even better.
Most reviews say that this ultra-soft pillowcase is well-made and beneficial to the hair, especially curly hair, by preventing frizzled hair and bedhead.
It also reduces the appearance of facial creases and wrinkles.
Best Satin Pillowcase
Shop Bedding Luxury Pillowcase with Zipper

This satin pillowcase made from 100 percent polyester, makes it machine washable and resilient.
Its 300 thread count gives it a soft and smooth finish. It also comes in a variety of colors and sizes.
A lot of customers say that they love this pillowcase due to its hidden zipper feature, high quality, and benefits to curly hair.
What Are The Best Silk Sheets in 2019?
Silk Sheet Set by Mulberry Park Silks
It is hard to find quality 100% silk sheets these days but this set has pastel colors, great star averages and wonderful reviews with some customers saying while the sheets are expensive, they sure are wonderful when it comes to comfort and how luxurious they feel.
Amazing softness and look seem to be some of the most common reviews. If you want to sleep like a royalty and money is not a problem, these sheets are for you.
What Are The Best Satin Sheets in 2019?
Honeymoon Home Fashions Soft Satin Sheet Set
For satin sheets, I picked a 100% polyester microfiber satin sheet set from Honeymoon Home Fashions,  because of the wonderful reviews and the extensive color options.
The reviews described the sheet set as shiny and comfortable and some even said they will end up getting more than three colors. Some verified customers explained how comfortable and sexy the sheets looked in their bedrooms.
Pros and Cons of Silk and Satin
Silk Sheets
Pros
Hypoallergenic
Comfortable
Antibacterial
100% breathable
Recyclable
Opulent look
Smooth but not slippery
Cons
Needs extensive care
Expensive
Satin Sheets
Pros
Variable
Some options are much more durable
Cheaper options available
Shiny
Cons
Slippery
Not organic (not all)
Might cling onto your skin
Frequently Asked Questions
Are Satin Pillowcases Good for the Hair?
Yes, the soft and smooth surface of satin pillowcases is good for the hair, for it helps keep your hair healthy and prevents hair damage. It doesn't strip the natural moisture of your hair, so it helps keep it soft and silky.  Since there is less friction between the hair and the pillowcase, it helps prevent split ends, frizz, hair breakage, dry hair, and bedhead.
How to Tell the Difference Between Silk and Satin?
If you are trying to distinguish silk from satin, it is very important to take note of its appearance and texture.   When it comes to appearance, silk is more shimmery while satin is glossier. Silk feels lighter, softer, and flows more fluidly. Satin, on the other hand, is more slippery and thicker with a lackluster backside.
Silk or Satin Scarf for Hair
Both have similar benefits for the hair, though silk is a lot better. If you want to spend less but get benefits closer to silk, then go for a silk charmeuse satin.
Silk or Satin Pajamas
Silk is the better option for pajamas all-throughout the year due to its thermal regulating properties. It is softer and lighter than satin and is higher in breathability as well. Even though it doesn't absorb water, silk is excellent in keeping you comfortable and dry.
This is because of its moisture wicking quality which prevents you from being drenched in sweat. Satin, on the other hand, has low absorbency so it won't really help that much in keeping you dry from sweat. You are less likely to get skin irritations with silk as it is gentler on the skin and has a hypoallergenic property which is good for sensitive skin, giving it another point.
Silk vs Satin: And the winner is…
All in all, silk pillowcases and sheets fare better when it comes to keeping your hair and skin healthy and moisturized, free from frizz, split ends, hair breakage, and wrinkles. However, if you are on a tight budget but still want to reap those beauty benefits, opt for satin.
Conclusion
So, what are the key difference between silk and satin?
In summary, silk is a natural fiber while satin is a type of weave. Silk and satin pillowcases and sheets are both smooth and luxurious. Both silk and satin are highly beneficial for your hair and skin and can help prevent wrinkles and hair damage.
Addedly, both keep your skin from being chafed and dehydrated. But though you can get similar beauty benefits from both, silk is better. For it is softer than satin, plus, it is a natural material which lessens the exposure of your skin and hair from chemicals.
It also has thermal regulating, moisture wicking, and hypoallergenic properties, making it even better. Aside from its beauty benefits, silk pillowcases and sheets are also more opulent and luxurious. But if you are looking for a cheaper option, you can always choose satin.