What makes silk bedding so expensive? And, more importantly, are silk sheets really worth it? What are the best silk bed sheets on the market in 2023? Let's find out!
Are silk sheets worth it? The short answer is yes, silk sheets are definitely worth it. They're pricey because silk production requires a lot of care and time. However, silk bedding is a good investment since it's very durable and comes with many health benefits for skin and hair. Not to mention that they look beautiful and feel luxurious.
You might want to get only a pillowcase if you're on a very tight budget or simply can't afford the more expensive silk sheets. I recommend the highly-rated 100% Pure Silk Pillowcase  – your hair and skin will thank you.
Top 3 Best Silk Sheets
TOP SILK SHEETS

Mulberry Park Silks Sheet Set

Made of 100% pure 22 momme (equates to a 900 thread count)
OEKO-TEX certified (standard 100)
Great for allergy sufferers
Sleep like royalty
Has a high content of amino acids that are healthy for your skin and hair

Check Price

SECOND BEST

THXSILK Silk Bed Sheet

Top 10 silk brand of China
OEKO-TEX standard 100 certification
Asthma & allergy relief
Many colors to choose from
High-quality craftsmanship & design

Check Price

BEST BUDGET SILK SHEET SET

LilySilk Bedding Sheets

Gained from silkworms, made of skilled workers
OEKO-TEX 100 certified
Allergy relief
High thread count
10+ colors available
Ultra smooth against your skin

Check Price
Best Silk Sheets Reviews 2023
1. Mulberry Park Silks Bed Sheet Set
Best Overall Silk Sheets
You'll be sleeping like royalty each night with the 100 Mulberry silk bed sheet set.
This product is the cream of the crop of silken bedding in the market today.
Available in different sizes and colors, it is completely made from charmeuse mulberry silk.
It's also a bit thicker than our two other product recommendations since it has a higher momme count of 22.
Each set includes 2 pillowcases, a flat sheet and a fitted sheet in a wonderfully lustrous look. Unlike low quality silk beddings, this product is seamless as well so that there are no annoying seams.
Finally, just like the other products I recommended, the Mulberry Park Silks Sheet Set is OEKO-TEX Certified, hypoallergenic, anti-bacterial, temperature-regulating and dust mite repellent.
Available sizes: silk sheets full, queen, king and Cal king
Pros
Thicker than other standard silk sheets

100% Mulberry silk

Uses natural materials and dyes

Hypoallergenic and temperature-regulating

Extra pillowcases can be purchased separately
Cons
A bit more expensive than other silk sheets
Read real reviews on Amazon
2. THXSILK Silk Bed Sheets
Second Best Silk Sheet Set  
The THXSILK Silk Bed Sheets can provide you with a good balance of comfort, beauty, quality, and price.
Each set comes with two pieces of luxurious pillowcases, a flat sheet and a fitted sheet with deep pockets.
These are available in four sizes and you can pick from 13 elegant colors.
This product comes with an Oeko-Tex certification, so you know that you're getting a quality product that is free from harmful chemicals.
Moreover, it's hypoallergenic, anti-bacterial and dust mite repellant, making it the perfect choice for people with sensitive skin and allergies.
Sleeping on these silk bed sheets, you'll have a comfortable rest each night since it's soft and smooth. Plus, it can help regulate your body temperature no matter if you're a hot or cold sleeper.
Available sizes: silk sheets full, queen, king and California king
Pros
Suitable for both  hot and cold sleepers

Available in a variety of sizes and colors

Gentle on the skin

19 momme count
Cons
Read real reviews on Amazon
3. LilySilk Bedding Sheets
Best Affordable Silk Sheets 2023 
If you don't want to splurge too much on silken beddings but don't want to compromise on quality either, check out the LilySilk Bedding Sheets.
It's cheaper than the two other products recommended in this post, but the quality is still nothing to scoff at.
Each set of 2 pillowcases, flat sheet, and fitted sheet is made of natural mulberry silk and is certified to be free of harmful chemicals.
It comes in 5 sizes which are available in 12 lovely colors which were achieved using natural dye. All these mean that this product is extremely gentle on the skin and safe for people suffering from allergies.
On top of that, silk can prevent dust mites and bacteria growth, so you can sleep without any worries every night. The silk's natural temperature-regulating properties add to the many benefits you can get from this silken sheet set.
Available sizes: silk sheets twin, full, queen, king, and Cal king
Pros
19 momme count

Made from premium quality mulberry silk

Available in a wide array of sizes and colors

Suitable for people with delicate skin and allergies

Will keep you cool in summer and warm in winter
Cons
Read real reviews on Amazon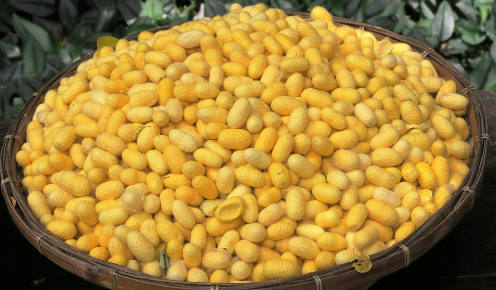 Silk is a natural protein fiber that is produced by different types of insect and larvae. It has a shimmering appearance that is caused by its light-refracting prisms.
Silk production requires a lot of care and is a time-consuming process, making it quite expensive. This, along with its beauty and smooth, soft texture, has earned it the title "queen of fabrics".
How Is Silk Made?
The most common form of silk is made from mulberry silkworm cocoon. The silkworm is fed mulberry leaves and after thirty-five days, it will start spinning its cocoon. This will then be placed in boiling water and later, spun into silk.
What to Look for When Buying Silk Sheets
Moving on, let's check out the different factors that you need to consider when buying silk bedding to ensure that you get luxurious sleep each night.
Fiber
Pick silk sheet sets that have been made from long fibers since these are softer, smoother, more durable and they give off that nice, shimmering effect. Silk sheets that have broken fibers have a dull look.
Momme Count
Unlike other fabrics which use thread count to differentiate quality, silk uses momme count since it has very fine threads.
Momme is the unit used to measure silk density. For bedding, you'll want to look for about 19mm since this is a good combination of durability, quality, and affordability.
Type
If you're looking for the best, then pure mulberry silk sheets are the only way to go. They are expensive, but you know you're getting your money's worth. Silken beddings made from mulberry silk are durable, smooth, soft and have less friction.
Frequently Asked Questions
Is silk better than cotton?
There are many ways that silk is better than cotton. First, not only is silk hypoallergenic, it provides better insulation as well.
It's smooth texture also means that it won't tug on your skin like cotton sometimes does. Even better, silk might seem delicate but it's actually a strong and durable material that stays fresh longer than cotton.
How long do silk sheets last?
Silk is a strong and durable fabric. A heavier weight quality silk around 19mm (don't buy sheets that have a lower momme count) or more will give you many years of use with proper care.
Are silk sheets good for your skin?
There are many benefits to using silken beddings and one of them is for your skin.
It's hypoallergenic so it's a good choice for people with sensitive skin. Plus, unlike cotton which draws the moisture out from your skin and hair, silk sheets won't leave them looking dull and dry.
What silk sheets are best?
If you're looking for the best, mulberry silk sheets with a momme count of around 19 are a great choice.
Are silk sheets hot?
Silk sheets are breathable, so they can keep you feeling fresh all night long. This also makes it a great choice for hot sleepers.
Is mulberry silk real silk?
Yes, mulberry silk is real silk. In fact, it is the most widely produced type of silk.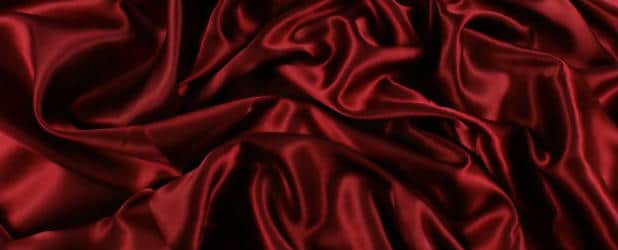 Check out our video about the best silk sheets on the market in 2023
Conclusion
So, are silk sheets really worth it?
Don't let the price of silk bedding stop you from getting luxurious sleep at night. Silk sheets are worth it if you consider the quality and benefits that you're getting. Plus, pure silk lasts for a very long time.
Simply put, it's a good investment that you won't regret for years to come.
When it comes to the best silk sheets in 2023, I highly recommend the Mulberry Park Silks Sheet Set and THXSILK Silk Bed Sheets.
They're everything that quality silk sheets should be – comfy, elegant, luxurious, and durable. These silk bed sheets are available in full, queen, king, and Cal. king size.
The LilySilk Bedding Sheet Set is a good alternative as well if you're looking for a quality product at an affordable price. 
So, are you ready to sleep like the Queen or King you are?