Are you looking for a pillow that is made using natural materials? Do you need a hypoallergenic pillow? If you answered yes to these two questions, then look no further than latex pillows. I was looking for a pillow for our guest room the other day and I found a fluffy slab of latex pillow. Of course, my curiosity got me, and I proceeded to do my research on the different latex pillow benefits. Here's what I found out.
Latex pillows come with a lot of benefits that make them a good investment. They provide excellent support and cushioning and are also durable and breathable They're even antimicrobial and resistant to dust mites and mildew.
If you'd like to experience the benefits of latex pillows first hand, check out my article about best latex pillows. Alternatively, if you don't want to read go for Malouf Z 100% Natural Talalay Latex Zoned Pillow or the Beautyrest Latex Foam Pillow.
What Is a Latex Pillow Made of?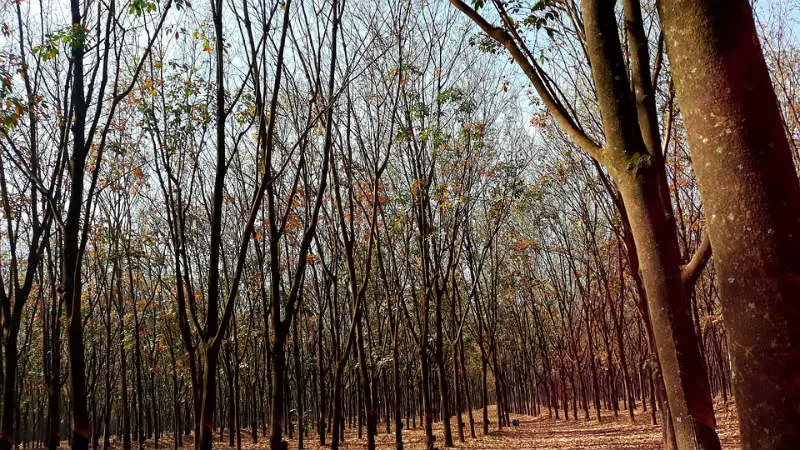 Latex pillows are made of latex, a polymer that comes from rubber trees. However, not all latex pillows are made equal. While some latex pillows are made from organic latex, there are others that use synthetic latex.
Organic Latex Pillows – Natural latex pillows have a stricter manufacturing process. They have minimal smell and is better at handling moisture and heat compared to their synthetic counterpart.

Synthetic Latex Pillows – Man-made latex is made in the laboratory using petrochemicals. Since they are easier to make, they have a much lower price tag than organic latex pillows. But, synthetic latex pillows may have an off-putting smell and a shorter lifespan.

The Advantages and Disadvantages of Latex Pillows
Now, let's check out the many benefits that come with using latex pillows.
Pros
Support – Latex pillows are very cushioning, so you can be sure that you're always getting enough support. There are even some that have contoured to better support the neck and the proper spinal alignment. In fact, there are some studies that show that latex is better in relieving pressure than memory foam.
Allergen-Free – Latex is antimicrobial and antibacterial. Plus, it is resistant to mildew, dust mites and other common allergens. These make it a great choice for people with allergies and sensitive skin. However, if you are sensitive to smells, make sure to go for organic latex pillows instead of synthetic ones.
Durability – Although latex pillows are a bit more expensive than other standard pillows, they offer so much more in terms of durability. This makes latex pillows a good investment that will last you for many years.
Chemical-Free – Note that this is only true for organic latex pillows, which is what you should be getting. With organic latex pillows, you can sleep easy at night knowing that you're not being exposed to chemicals.
Breathable – Latex pillows are a great choice for people who are hot sleepers or live in places with hot climates. This type of pillow is well-known for its breathability and ability to stay cool all through the night.
Cons
Just like other products, latex pillows have its own drawbacks as well.
The most common complaint about latex pillows is its undesirable smell. However, this is usually limited to synthetic latex pillows. Getting one that has been made from natural sources solves this issue.

Price – it's not as affordable as some other pillows on the market. So, if you're looking for a cheap pillow latex isn't best choice for you
What Are the Best Latex Pillows in 2019?
Malouf Z 100% Natural Talalay Latex Zoned Pillow
You'll be able to find just the right pillow for you with the Malouf Z 100% Natural Talalay Latex Zoned Pillow. It's available in two sizes, two lofts and two firmness for a whopping total of 6 different pillows to choose from.
This is a great thing since different people have different body types, sleeping positions and pillow preferences.
Plus, it's completely natural Talalay latex so it's free from synthetic additives.
Then, there are airflow channels of different sizes that will give you sweat-free nights each time. And, of course, it has all the pros of latex pillows including being mildew-proof and dust mite resistant.
As for the cover, you'll love its Tencel removable cover which has moisture-wicking properties for even cooler nights.
Pros
Customizable comfort

100% natural latex pillow

Great value for your money

Comes with a 5-year warranty against defects
Cons
May take some time to get used to
Read real reviews on Amazon
Beautyrest Latex Foam Pillow
If you're looking for a budget-priced but still good quality option, look no further than the Beautyrest Latex Foam Pillow.
It's made from natural latex and has antimicrobial properties. It will adapt to your movements as you sleep through the night, providing you with maximum comfort and support for improved sleep.
It also comes with a 100% cotton 300-thread count removable cover which you can machine wash for easy cleaning.
Pros
Made of organic latex

Affordable

Removable cover makes cleaning easier
Cons
Has a slight off-gassing the first couple of days
Read real reviews on Amazon
Frequently Asked Questions
Can you put latex pillows in the washing machine?
Never put your latex pillows in the washing machine as this will change its shape. Instead, get a piece of cloth and soak it in some soapy water.
Wring the cloth dry and gently use it to blot your latex pillow. Once you're done, place clean towels on both sides of your pillow and press to get rid of any excess moisture.
Afterwards, you just need to air dry it until it's completely dry before covering it with the machine washable cover. Remember not to expose your latex pillows to direct sunlight as this will make it hard and brittle.
What is in Talalay latex?
Talalay is one of the two manufacturing processes used to make latex pillows. Dunlop is the more traditional process wherein the rubber sap is whipped into a froth using a centrifuge.
It is then poured into a mold, covered and steam-baked. In the Dunlop process, the sediments settle at the bottom of the mixture, resulting in latex that is firmer on one side.
On the other hand, the Talalay manufacturing process differs a bit with the Dunlop process. After pouring the frothy sap into a sealed mold, air is extracted in a vacuum chamber and then flash frozen to stabilize the sap.
Afterwards, the mold is baked. Thanks to the two added steps, Talalay latex has a more consistent cell structure that makes it softer than Dunlop latex.
What is a latex foam pillow?
A latex foam pillow is made from latex, a polymer that can be produced either naturally or synthetically. When buying latex foam pillows, you'll see that there are some that can be bought as a whole or shredded into small pieces.
Are latex pillows safe?
Latex pillows, especially ones that are made from natural resources, are very safe to use. However, though rare, there are some people who are allergic to latex. But, people with latex allergy usually know of their condition beforehand and avoid anything made from latex. If you don't have any allergic response to latex, youare able to use organic latex pillows without any worries.
Final Words
Latex pillows are a great choice for people looking for better sleep quality. Not only will this type of pillow provide you with the comfort and support that you need, it will also keep you feeling fresh all night.
Add to this its antimicrobial properties and resistance to dust mites and mildew and you have all the reasons to get this wonderful pillow.
I  recommend giving the Malouf Z 100% Natural Talalay Latex Zoned Pillow a try since it offers customizable support and a 5-year warranty.
But, if you're looking for a latex pillow that is more affordable, the Beautyrest Latex Foam Pillow is the way to go.