We're sure you've already heard about all the benefits of a weighted blanket and how it can help alleviate your stress, insomnia, and lower your anxiety levels. Still, you might have seen it online and thought– this is far too expensive! Therefore, to help you out, we've put together a list of the cheap weighted blanket alternatives you can try out!
Prefer listening to reading? Check out our video version of this article.
There are many awesome low-cost weighted blanket alternatives but if you suffer from a serious medical condition you might want invest in a "real" one. Be sure to choose a high-quality product.
We recommend the Quility Premium Adult Weighted Blanket. It's a bit pricey, but customers simply rave about it. YnM Weighted Blanket is a cheaper option and is also very good.
Check them out, you might get lucky and catch a sale!
You can also read our full article about best weighted blankets.
Best Low-Cost Weighted Blanket Alternatives
1. The DIY Weighted Blanket
As we already know, weighted blankets are fabulous, but they can be pricey. Especially if you need more than one because you have a whole family to care for! But this is where your DIY skills come in handy because, as it turns out, making a gravity blanket can be quite easy if you're a crafty person. 
Here's how you make one.
Decide how big the blanket will be depending on the person who will be using it.

Next, decide on how large or small you would like the square inside to be. Remember they need to be stuffed so perhaps 3 to 5 inches will do.

Figure out the weight – a weighted blanket should always be around 10% of what the user weighs. Out of that, subtract how much the fabric weighs. Divide the resulting number by the number of squares you decided on. The result will be just how much you have to put in each square.

With a kitchen scale, weigh your glass beads or pellets and set them out separately for each square.

With regards to the sewing itself, start by sewing the front and back of the fabric together.

Then sew vertical channels into it according to the patterns you drew on it.

Fill these channels with beads.

Sew horizontally to create little pockets and push the beads into them as you go along.
When it comes to fabrics, there are several low-cost options to choose from. Of course, the first choice is always cotton. It's very traditional and one of the most comfortable on the market. However, people also go for minky if they are heat sensitive.
If you need a natural fabric that will also let you breathe, you can try silk or a blend of silk and cotton or bamboo. The cheaper alternative to silk is, of course, satin and the mixture of cotton and satin which is just superb to the touch.
2. Weighted Blankets on Your Christmas Wish List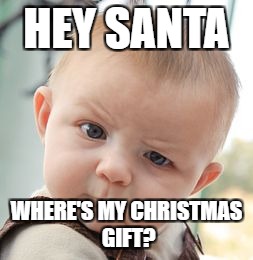 Yes, the above sounds great, doesn't it? But what do you do when you're not good at arts and crafts, when you don't have any time to sew a whole blanket or when you don't even know how to sew?
Don't worry, we have an idea! You put a weighted blanket on your Christmas wish list and hope for the best. But don't forget to send an email to your 'Santa' as well. Just so they have the right link to what you want! That way you can get your weighted blanket not for cheap but for free. That's even better!
3. Birthday Wishes for a Crafty Friend
Continuing on the idea above, you could also drop a hint to one of your friends if he or she happens to be very skilled when it comes to DIY projects.
Tell them a few months ahead of your birthday that there's nothing you would want more than a weighted blanket made by their crafty fingers. And, who knows, maybe you'll even get a personalized one!
If it's not your birthday, simply ask a friend to make a gravity blanket for you. Buy all the supplies yourself, including the fabric and the beads plus a delicious cake as payment for all their work. It's a win-win situation!
4. The Thrift Shop
No, I don't mean the song by Macklemore, although you can listen to it on your way to the thrift shop to look for a throw or a crocheted blanket. They are typically very heavy because of their dense stitching which means they will have the same result as a normal weighted blanket.
Pro Tip 
If you don't like the color or pattern or you find that the fabric is a little too scratchy, cover it in a duvet.
5. The Weighted Blanket with Pockets
This is like a DIY weighted blanket but with a cheat code. You don't make it from scratch so it won't take as much time and you don't have to be that good at arts and crafts either. Instead, you can buy a simple blanket and attach socks filled with lentils or rice to it. Remember to take them off when you wash it.
6. Check Your Local Autism Group
Since weighted blankets are used heavily during therapy for people with autism, it might be a good idea to check your local autism center. They might have an old one they don't need anymore or even a surplus they are willing to give away.
7. Use Wool Blankets for Extra Weight

If you're using a down comforter, you can always add more woven cotton blankets or cotton ones on top to weigh it down.
The Arcturus Wool Blanket, for example, is very warm and heavy on its own, coming in at a whopping 4.5 lbs.
8. Adopt a Dog
If we're allowed to be a little subjective, this might be one of our favorite weighted blanket alternatives of all. The main reason is that not only will you benefit from a warm and snuggly companion who sleeps on top of you, but you will also be rescuing your best friend from a shelter.
9. Find a Store That's Going Out of Business
Stores that are about to close down are usually very eager to sell out all the products they still have in stock. That's why they price them very low so that they're not left with a bunch of unsold merchandise. It's worth to check them out because a weighted blanket might be among the things in stock.
10. Try a Heavy Comforter

If you're in love with this idea, we recommend the Beckham Hotel Collection Heavyweight Goose Down Alternative Comforter.
It belongs to the Beckham Luxury Linens line and it's made of hypoallergenic fabrics.
Plus, it has a goose filling that will make you feel like you've been invited to stay with the Beckhams themselves!
11. Go For a Smaller Size First
This is a good idea for people who are unsure of whether or not a weighted blanket is a fit solution for them. Therefore, if you don't want to spend the money or the time to make a full one yourself, try a lap pad first. It's incredibly simple. Fill a ziplock bag with rice or cat litter and secure it with duct tape. Sleep with it and see how you feel!
12. Check for Sales
Do some research and save all your favorite shops and stores that sell weighted blankets. Then keep an eye on them for a few weeks or even months if you're that patient. You might be lucky enough to come across a sale at one point!
13. Sew Washers or Towels to a Blanket
This idea is more suitable for a trial run and not as a permanent solution because the blanket won't behave well in the wash. However, if you want to see how a weighted blanket might feel, you can sew washers or towels on a regular blanket to weigh it down.
14. Place a Weight on Your Chest or Back
Try placing a heavy object on your back or chest while you are sleeping for added weight. Make sure it is a comfortable item and not something with sharp edges that could hurt you. Also, you will have to secure it in place.
15. Rent a Weighted Blanket
There are different places that actually allow you to rent a weighted blanket. While this might not be a great permanent solution, you can still try it in case you want to see how you feel. After you decide, you can buy your own.
16. Use Ankle Weights

Some people who like living frugally but still love the feeling a weighted blanket gives you, go to bed with ankle weights on. If this seems like something you'd like to start doing, there are some pretty great ankle or wrist weights you can find online. The REEHUT Durable Ankle/Wrist Weights are very affordable and comfortable for sleeping.
17. Find a Groupon for Weighted Blankets
What could be better than finding a weighted blanket on sale? You may be able to do that if you log on to one of the dedicated websites that offer coupons for such items. Keep your antennas stretched for the best deal out there!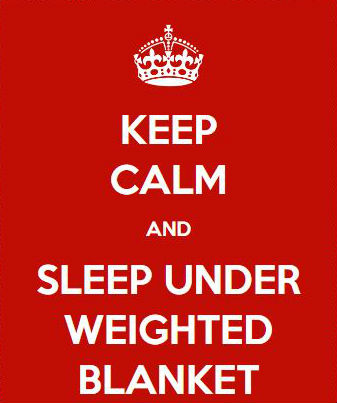 Why Are Weighted Blankets Expensive?
Many people have asked themselves why weighted blankets are so expensive or tried to find the answer to this question through their own research. Let's break it down so that you can have a better understanding of why weighted blankets are not cheap.
The filling
Filling is the most expensive part of the blanket by far. Weighted blankets have glass beads or polypropylene – a type of plastic – balls sewn into them to add the weight. However, these are not just any kind of beads. They need to be of very high quality and hypoallergenic if possible.
The fabric
Most weighted blankets are made entirely of cotton which, as we all know, can be quite pricy on its own. When it comes to bedding made of cotton, this is the rule of thumb – if it has a high thread count it will be expensive. High thread counts make cotton durable and resistant through many machine washes. Low thread counts means the cotton fabric will tear apart after a few times washing it.
The seams
Weighted blankets have a lot of technology behind them when it comes to sewing them. The manufacturer needs to figure out how to evenly distribute and sew in the beads so that they sit comfortably on top of you. Which leads us to this.
Time-consuming
It takes a long time to make a weighted blanket precisely because of the reason explained above. Each chamber and partition of the blanket needs to be filled with beads and then sewn individually.
The Downsides of Alternative Weighted Blankets
But you know what they say – there's no such thing as a free lunch. That's true for everything. In other words, these alternatives are amazing in their own way, but they do have their downsides.
Yes, they will cost you less overall and they will help you understand how a weighted blanket works and why it's so amazing for people suffering from insomnia and anxiety.
DIY Weighted Blankets Take a Lot of Practice
However, it is important to mention that making a weighted blanket at home takes a very long time. Apart from that, the stitching in itself is not for beginner sewers. Even though we are only talking about straight sewing, you still have to be very good and experienced at it.
Otherwise, seeing as the blanket is so heavy, the glass or plastic beads might spill out at night or worse, during washing if the stitching is not correct. Therefore, we would advise to attempt this project only if you are a seasoned sewer.
Beware of Cheap Fabrics
Apart from that, using cheaper materials is a two-way street. One the one hand, you lower the costs and keep the weighted blanket budget-friendly.
But on the other hand, you won't get the benefits of high-quality fabrics that can warm you up in the winter time and keep you cool in the summer. Therefore, what you will be making is essentially a duvet with glass beads inside, not an actual weighted blanket.
Therefore, if you feel you or anyone in your family has serious health issues concerning insomnia, stress or anxiety, you might want to try a professional weighted blanket. The best on the market is the YnM Weighted Blanket. Thousands of people have used it so far and have been impressed with its qualities and range of price that comes with it.
Best Weighted Blankets in 2019
It can be hard to admit but not all of us are good at DIY or home projects. Don't beat yourself up, though. We all have our strengths.
If that's your case as well or you simply cannot find enough time in your busy schedule to take on the lengthy task of quilting a weighted blanket from scratch, you can always buy one. If the pennies are a worry, keep an eye on the prices. You may be able to catch a sale!
Quility Premium Adult Weighted Blanket
Best Rated
The Quility heavy blanket made to the number one spot for us because it's the most highly recommended by users everywhere.  
It's definitely not on the cheaper side, but everyone who has used the Quility blanket simply raves about its wonderful qualities.
It's made of 100% cotton that will allow your body to breathe freely while you sleep. Plus, the glass beads inside are premium quality.
YnM Weighted Blanket
Cheaper Option
The YnM weighted blankets are quite well-known for their high quality and reasonable price.
Their 7-layer system comfortably surrounds your body and form to your shape while you sleep.
Also, YnM's "more glass beads, less fiber fill" design offers better temperature control
Read also: 23 Surprising Weighted Blanket Benefits [Scientifically Proven]
Conclusion
There are many low-cost weighted blanket alternatives if you don't want to or simply don't have the budget to buy one. You can always start making your own from scratch, ask 'Santa' to bring you one or plead with a crafty friend to sew you one.
However, these cheap homemade options are still not up to par with the real weighted blankets that you can find on the market and which you should be using if you have serious health issues.
Know of a great weighted blanket alternative that isn't mentioned in the article? Let us know in the comments, We'd love to add it to the list!
Sleep tight!