Yes, you can sleep in a waist trainer. But sleeping in waist trainer doesn't make you lose weight. It's the modern version of a corset, meaning that it trains your body to assume the coveted hourglass shape. And you can do it at night while you sleep in your bed!
If you want a more in-depth answer as well as know what are the best-rated waist trainers in 2022, keep reading! 
Not a fan of reading? Check out our video version of this article.
Top 3 Best Waist Trainers in 2022
1. Waist Trainer by Nebility
The cincher produced by Nebility is the best one overall.
It's made of a soft blend of Nylon and Spandex that makes it a delight to wear.
Plus, it has a 'U-Shape Push Up Breast Design,' and all women know just how important push-up really is.
Also, it's a #1 Best Seller on Amazon and has women raving about it all over America!
2. Waist Training Corset by Lady Slim
If you're looking for the best latex cincher, you can't go wrong with Lady Slim.
The wow factor here is that it actually has boning just like old-time corsets did.
This not only erases three inches from your waist the instant you put it on, but it also corrects your posture.
3. Waist Trimmer Belt by Shaperx
There's nothing like the sweet sound of Velcro in the morning!
And you know what this means.
That the Shaperx best waist trainer belt is the most adjustable one of all, allowing you to slim down as much as you feel you need to.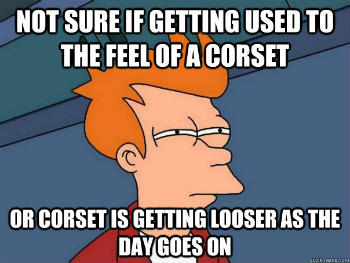 What Is a Waist Trainer?
Waist trainers fall into the garment category and are the modern equivalent of the old-fashioned corset. They work in exactly the same way as their bygone ancestors which means the following.
Waist trainers use boning, hooking or Velcro to compress your abdomen and shape it into an hourglass figure. They also force you to sit in an upright position thanks to their rigidity.
This is why many women are thankful for waist trainers not only for helping them lose weight and shaping their bodies in a much more aesthetic fashion but also for helping ailments such as scoliosis. Waist trainers can be worn by all women expect for growing girls and pregnant ladies. But if you're not in this category, lace up!
There are a few different types of waist trainers you need to know about so that you can make the right choice for your body.
Corsets with steel boning and lace-up
Wear this one to special events when you need a theatrical slim down. It's an incredibly durable underwear.
Vest waist trainers 
You can wear it on an everyday basis. It has a major bonus of supporting and lifting your breasts because of its unique shape.
Waist trainers for a workout 
As the name suggests, this type of corset was designed to enhance your fitness routine. But you can also wear it while you sleep since it is so form fitting.
Everyday waist trainers 
This is the cincher you can wear under any type of clothes you want, including your pajamas. It comes in skin tones and nudes so that it can remain invisible no matter what.
Wearing a Waist Trainer to Bed at Night: Is it Bad to Sleep with a Waist Training Corset?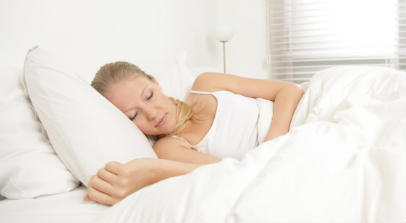 There is an ongoing debate about whether or not ladies should sleep with their waist trainers on. Perhaps it stems from that age when women used to wear corsets and damaged their internal organs in the process.
But that was literally a few hundred years ago. It's crucial for us to know that things have now changed drastically.
In fact, not only will a waist trainer not harm you, but have positive effects beyond those you initially went for, such as slimming down and shaping your body into a curvy, feminine shape.
Most users have reported that cinchers and waist trainers literally forced them to sit up straight and stop crouching when they walk or work at a desk.
And you know what this means. No more scoliosis! They also report fewer back pains for women with larger breasts, as certain types of trainers help support them beyond what a normal bra can do.
Apart from that, there are several reasons why you might want to try sleeping in your waist trainer
If your everyday clothes don't allow you to wear it as much as you would like.
In case you want to keep your figure after you achieved your shaping goals. Remember that the fight doesn't stop even when you look like Marilyn!
It's simply easier to wear it while you sleep, at least in the beginning when you're 'breaking in' the corset and you might find it a bit uncomfortable or even a little painful.
Which brings us to the following.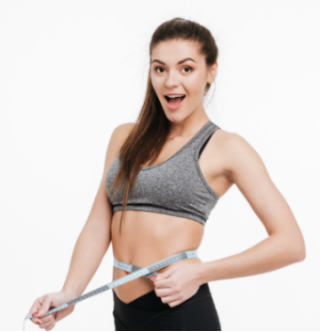 All You Need to Know About Waist Trainers
Here's a set of useful information, tips, and tricks about your waist trainer that will help you wear it and get that red carpet figure you've always wanted.
How Long Should You Wear a Waist Trainer?
As a rule of thumb, you have to start by wearing it a few hours every day and increase your usage exponentially until you can wear it 24/7.
By that time, it will feel like a second skin! When you have reached that special hourglass shape we all love so much or lost enough weight to satisfy you and look good in selfies and Instas, then you can stop wearing it by day.
However, you might still have to wear it at night to keep your body in shape. It basically works in the same way as a retainer.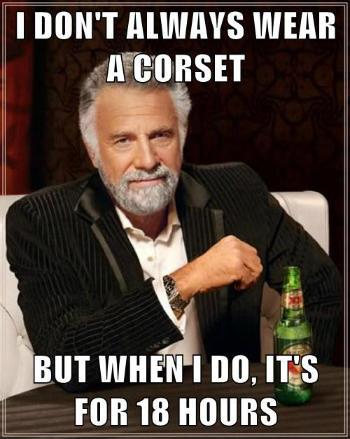 How Often Should You Wear a Waist Trainer?
Evidently, the answer to this question depends on many factors, such as the following. What kind of results are you going for?
If it's a special occasion such as your wedding or your prom, you only have to wear it for a few hours that day. If you want to lose weight, you need to enroll in a regimen of slimming down.
However, if you want to alter your body shape, you will have to wear it permanently, for an extended period. It also depends on whether your outfit allows you to wear it during the day or not. If you can't, then just wear it at night.
How Long Should You Wear a Waist Trainer to See the Results?
The results will come depending on the type of body you have, how long you wear the corset every day and, of course, on your lifestyle.
Most experts say that, if you wear the waist trainer at least ten hours every day for eight weeks, exercise, and eat correctly, you will be able to see the desired results.
Take it with a pinch of salt though and be patient if it takes a bit longer. Great things take time!
Best Waist Trainers in 2022: Reviews
Let's take a look at all the qualities that make the best waist trainers so special.
The Waist Trainer by Nebility
Best Overall Waist Trainer
This trainer's soft blend of fabrics is also antibacterial as well as breathable.
Therefore, you can rest assured that sweat will not be a problem whether you run, sleep, do cardio or yoga in this cincher.
It's a great product that has been enjoyed by both women who want to lose weight and those to want to reshape their bodies after giving birth.
The Waist Trainer by Lady Slim
Best Latex Waist Training Corset
The great thing about latex cinchers with boning, such as this one is that they don't roll up your body when you sleep, move or work out.
It's a reliable piece of undergarment that Jane Austen herself would have been jealous of.
Not to mention that the latex creates a sauna effect around your belly. The temperature will rise and it will help reduce your fat deposits.
The Waist Trainer by Shaperx
Best Waist Trainer Belt
This waist trainer prides itself on also being a fantastic lumbar support garment.
Therefore, it will relieve your pain, help prevent your herniated disc, and, of course, fight against muscle strain.
All this while you're asleep in your comfy bed!
Conclusion
So, can you sleep in a waist trainer?
We set off asking a burning question stemming from an age-old misconception about corsets. Can you sleep in a waist trainer?
Yes, you can wear your waist trainer to bed at night. 
And not only that, you should because, as we've seen, sleeping in waist trainer helps with back pains, prevent scoliosis, and provide lumbar support, all the while giving you a figure that eagerly awaits to be flaunted on a red carpet.