As the chilly weather approaches, dressing up my bed with a cozy duvet is one of the first things on my to-do list. There are a ton of options to choose from but I'm currently deciding between silk and down comforter. These snuggly beddings are designed to provide the ultimate sleeping experience with its superb comfort and breathability.
With their seemingly identical features, it may be a little hard to tell what the differences truly are. They are both extremely comfortable, soft, and feel luxurious that makes every bed a warm and comfy sleep haven. These duvets are also tailored to perfection that ensures precise fit and long-lasting quality.
Silk duvets have high-quality silk filling that embraces the body with ample warmth and comfort all night without the muggy feeling. As they are lightweight and highly ventilated, silk comforters give the skin a gentle touch. Down duvets are filled with down feathers that are typically derived from the girth of geese and ducks. If you like your comforter to be heavy, go for down and if you like a lighter duvet silk filling is better for you.
If you want to get your hands on these luxurious silk duvets, the silk comforter from Moon's Sleepwares is made of 100% pure long grade mulberry silk that will spruce up your bedding making it a cozy spot to sleep in. They are lightweight, comfortable, and hypoallergenic. But if you think you should give down duvets a try, the one from Egyptian Bedding showcases a topnotch quality, hypoallergenic, and provides warmth and comfort when the cold breeze hits!
Read also: Best Silk Sheets – this year's best options
Silk vs Down Comforter Comparison Table
Silk Duvet
Down Duvet
Material & Durability
Derived from silkworms, cocoon, insects, and larvae
Filled with silk fillings
Does not easily shrink and wear out
Versatile and durable
Has summer weight and heavier weight for better insulation
Typically derived from the girth of geese and ducks
Bunch of tiny feathers without quills
Offers variable thickness of filling for ample insulation and coolness
Commonly available with thick filling
Fluffy; do not fray or shed easily

Comfort & Breathability

Lightweight and breathable
Comfortable, soft and smooth
Adapts to different t seasons of the year
Drapes beautifully on the body and on the bed
A bit heavy and not as breathable as silk
Comfortable, very soft, and smooth
Provides an excellent insulation and warmth during cold temperatures
Health
Hypoallergenic
Resistant to mold, mildew, allergens, and dust mites
Not as hypoallergenic as silk
Has the tendency to harbor moisture and bacteria due to its weight

Care & Maintenance

Easy to clean and wash
Should be kept in a storage bag
Easy to clean and wash
Should be kept in a storage bag
Cost
The price range varies
The price range varies
What Are the Differences Between Silk and Down Duvets?
Choosing the ideal choice between silk and down comforter gets much easier through a comprehensive layout of features. I've categorized these features into five to figure out which duvet complies with my needs and preferences. But if you're also making your choices between these two, this breakdown will help you out.
Material & Durability
Silk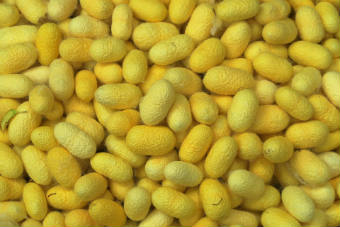 Cocoons, silkworms, insects, and larvae are the primary sources of silk. This natural protein fiber goes through an intricate process that turns into the exceptional and comfortable sheets we have today including soft and cozy duvets. They are filled with versatile and durable silk fillings that don't easily shrink and wear out.
Silk-filled comforters are typically designed into two types to adapt to different seasons of the year. Lighter silk duvets or the ones labeled with a summer weight contain 200g of mulberry silk. This lends a cool feeling during summer and hot nights.  For those who need heavier insulation during winter, the comforter contains 400g of silk.
Down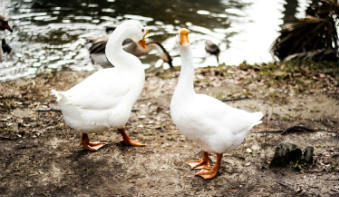 Down comforters are stuffed with down feathers that are typically derived from the girth of geese and ducks. These feathers are tiny feathers in a fluffy bunch and do not have quills. Therefore, all you have a is a cluster of soft and fuzzy hairs or feathers that make down duvets cushy and comfy.
These feathers are tightly stitched and quilted multiple times to keep the filling in place. Just like silk duvets, down comforters have a variable thickness of filling which is a significant factor when choosing for the ideal comforter to use for every season.
The thick ones can range from 500g to 700g which is suitable for frigid temperatures, especially in winter. Those with a fewer filling provide warmth and coolness during summer.
Winner: Silk and Down
Comfort & Breathability
Silk
While most duvets are usually deemed to be thick, and heavy, silk duvets are lightweight and breathable that allows the air to circulate leaving a cool and warm feeling.
Whether it is hot or cold, silk comforters have the ability to adapt to wavering temperatures. As silk duvets are light, they drape beautifully on the bed and on the contours of the body.
Silk provides a cool feeling during warm and hot nights. But when the cold breeze and winter season take over, it boasts its thermal properties that will keep you warm even in the coldest temperatures.
The insulation and coolness of a silk comforter may vary depending on the amount of filling. There are designs and brands that offer silk duvets with lighter weight for summer or hot weather. For winter and much colder temperatures, comforters with thicker and fuller silk filling are available.
Down
Down comforters carry exceptional properties in terms of comfort and breathability. When warm nights call for sweat and sticky feeling, there are variations of down duvets that offer lower or lighter filling which provides a cool and comfortable sleep.
However, down duvets are usually thicker and heavier compared to silk which can make you feel a bit hot and sticky when the season gets warmer. But when comfort and softness come into question, down duvets never disappoint.
Down duvets always lend a homey feeling that makes bedtime more inviting and a comfy place to sleep in. it is actually among the ideal options for duvets during winter due to its excellent insulation. Even when the chilly winds and temperatures, you'll surely get wrapped up with a blissful warmth.
Winner: Silk
Health
Silk
When you're prone to allergies, you might want to consider a silk duvet to cover your bed with. Silk is a hypoallergenic material and is also resistant to dust mites and moisture-causing bacteria.
With such ability, silk duvets can be an ideal option for people who have allergies, asthma, or just want to revel in a healthy and comfy bedding.
Down
Down duvet also has the ability to ward allergens off which adds to its hypoallergenic properties.
However, as down duvets are not as breathable as silk and are typically thick and heavy, it may cause moisture during warm temperatures and hence, may lead to bacterial growth and can even feel a bit muggy.
Winner: Silk
Care and Maintenance
Silk
Duvets are nothing like the ordinary bed sheets that can be tossed into the washing machine for cleaning.
It isn't always the case although some duvets can be machine washable. When it comes to silk duvets, it also requires gentle washing. If there's a stain, make sure to clean it off first prior to washing it in the machine.
To maintain the quality of your silk duvet, always make sure to read the instructions detailed o the label.
If you're not using it, it is a must to keep it in its storage bag to prevent damages and to limit its exposure to dirt.
Down
Maintaining a down duvet also requires careful washing and it is also necessary to read the instructions regarding the proper way of washing and cleaning. Just like any other duvets, they should be properly stored to prevent damages.
Winner: Silk and Down
Cost
Silk
There are affordable options for silk duvets.
The price range may vary depending on the thickness or the amount of silk filling. You may also expect a higher price range from some brands and other stores online.
Down
There is no constant price range for down duvets.
Just like silk duvets, the price range may also vary. It can be based on the amount of filling or thickness and the exterior fabric which can be sateen, cotton, polyester, satin, and silk.
Winner: Silk and Down
Silk vs Down Comforter: Final Recount
The detailed layout of features indicate the differences and similarities of silk and down comforters. With these five categories, I was able to determine which of these two is better and ideal for all the seasons of the year. Here's the total recount:
SILK: 5/5
DOWN: 3/5
What Are the Best Silk Duvets in 2019?
100% Mulberry Silk Comforter by Moon's Sleepwares
If you want to keep yourself cozy and comfy through the cold nights, this silk duvet from Moon's Sleepwares is among the topnotch choices you can ever find.
Filled with 100% pure long grade mulberry silk, you can luxuriate in a cushy, soft, and comfortable sleep all day and night. Unlike most comforters, this silk-filled duvet is lightweight and drapes beautifully on the bed and on the contours of your body keeping.
When it's all chilly in winter, it embraces your body and provides you enough warmth.
But when the season calls for warmer nights, this silk duvet has the ability to adjust according to the temperature leaving your body cool at all times.
It comes with a cotton sateen casing for a smooth and soft texture with a little bit of sheen.
Because it is breathable and hypoallergenic, it does not harbor mites, bacteria, mold, and mildew leaving you with a healthy and comfortable sleep all day and night.
Read real reviews on Amazon
What Are the Best Down Comforters in 2019?
1200 Thread Count Goose Down Duvet by Egyptian Bedding
This luxurious goose down comforter from Egyptian Bedding offers stunning features that will comply with your insulation and comfort needs.
Designed with 1200 thread count Egyptian cotton cover and a 750g goose down filling, this duvet gives off an extreme comfort, optimal warmth, and lifetime softness all-year-round, especially when the winter and frigid temperatures come.
While it eliminates the cold spots, this down duvet is hypoallergenic that wards off the allergens keeping it a healthy bedding to sleep in.
It is encased with a high-quality Egyptian cotton cover and designed with a Superior Baffle Box that holds the down filling intact.
This luxurious comforter comes with a reasonable weight that provides substantial warmth and comfort.
Read real reviews on Amazon
Pros and Cons of Silk and Down
Silk Comforter
Pros
Comfortable, soft, smooth, and lightweight

Breathable

Adapts to different seasons of the year

Does not leave hot spots or cause under heating

Easy to clean

Provides insulation during winter and coolness when the temperatures get hot

Hypoallergenic

Silk fillings are versatile, durable, do not shrink easily

Drapes beautifully

Cons
Some people may find it too expensive

See silk duvets available on Amazon 
Down Duvet
Pros
Very comfortable, soft, smooth and has a little sheen

A bit heavy

Commonly filled with thick down filling

Provides excellent insulation during cold temperatures

Has lightweight options depending on the amount of filling

Easy to clean

Has affordable options

Cons
Can harbor bacteria and moisture due to its heavy weight; may leave a sticky feeling at times

Not as hypoallergenic as silk

Due to its thickness, it may not provide enough coolness during warm seasons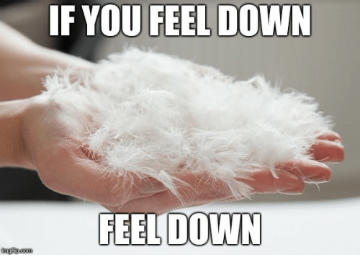 Final Verdict
Silk and down are two of the luxurious comforter that can give your bed a stunning revamp. Designed with fluffy and cozy fillings, silk and down duvets offer superior comfort that you can revel in any season of the year. They are also hypoallergenic to ensure you're wrapping your body up with comfy and healthy sheets.
As I've reviewed the features of silk and down, there are similarities and distinct differences that make each of them stand out. But if you're looking for a duvet that can adjust to the wavering temperatures, you can go for silk duvets. They are lighter and more breathable compared to down comforters.
Down duvets are relatively thicker and heavier than silk but they can be the best option when the winter season comes around. But there are still options with fewer down fillings which can compete with the lightness and breathability of silk. Nonetheless, these two beautiful comforters can provide all the comfort you need.