It seems quite puzzling to choose between satin and sateen sheets. Not only do their names sound pretty identical, but their appearance and quality are impressively close. I've always wondered how satin and sateen differ from one another, particularly the durability and comfort.
But here's the major fact you should know before settling on any of these sheets:
Satin and sateen are not types of fabrics but two different weaves that are typically derived from any type of fabric. These weaves are contrary to the traditional thread patterns which give off that silky, opulent, and lustrous signature texture. Although they vary in some aspects such as comfort, and breathability, satin and sateen are among the finest sources of beautiful luxurious bed sheets.
Satin vs Sateen Comparison Table
Satin
Sateen
Durability

Derived mostly from silk, polyester, and nylon or the combination of the three
Gives off luxurious quality
Silky and smooth
Derived usually from cotton
Features a tough and durable material
Has a lustrous sheen
Showcases a lavish quality
Comfort and Breathability
Comfortable and lightweight
Breathable
Stays cool when it's hot if made from silk
Keeps you warm when it's cold
Comfortable to sleep in
Breathable
Provides ample warmth during cold days and optimal coolness during hot temperatures
Health
Has reduced friction
Prevents hair breakage and skin allergies
Hypoallergenic
Resists mildew, mold, dust mites
Not as smooth and silky as satin
Provides benefits to the hair and skin
Hypoallergenic
Resists mildew and mold
Maintenance
Should be handled and washed with extra care
Not always machine washable
Recommended to be dry-cleaned or hand washed at times
Does not require intricate maintenance
Easy to wash
Machine washable
Easy to store

Cost
Has affordable options
High-quality silk sheets tend to be costly
Has affordable options and some more expensive depending on the fabric

What are the differences between Satin and Sateen?
There seems to be a fine line between satin and sateen. But sifting a little closer to these beautiful weaves can define what kind of sheets they really are. The differences, similarities, and other features are identifiable. One of the essential factors is the origin or the intricate process each weave goes through.
Satin is commonly the product of synthetic fabrics such as nylon and polyester. These weaves can also be derived from silk which explains its luxurious and lustrous appearance. Satin can either be any of these fibers but it can also be manufactured with the combination of these three.  
Satin has its cheaper versions, not only by the price but by its overall quality. Smooth, silky, and ultra shiny might be the common descriptions one can think about satin. But as each sheet varies according to the combination of weaves or blends of fabrics, the quality differs as well. It can either be incredibly durable or flimsy.
Sateen, on the other hand, is typically sourced from cotton. But with its unique style of weaving, it doesn't turn out like any usual cotton sheets. The process refines the texture of cotton making sateen sheets smooth, silky, and shiny. Sateen sheets made from high-quality cotton, however, may vary in quality and appearance. Some may not be as shiny as the other types of sateen sheets.  
Are Sateen sheets slippery like Satin?
Although sateen sheets are mostly derived from cotton, they exhibit a silky and smooth texture which lends a slippery feeling. It isn't as smooth and silky as satin, though. However, if you're not all into slippery texture, there are types of sateen sheets you can opt for. Sateen sheets made from high-quality cotton give off a slippery feeling but with a bit of crispness.
Is Satin or Sateen better for your hair?
Satin and sateen sheets exhibit prime smoothness and shimmering texture that do not cause abrasive effects on the skin and even on the hair. Although they both acquire remarkable attributes that provide beneficial effects to beauty and hair, satin sheets have the preeminent features that can ward off hair breakage.
Typically sourced from silk fiber, satin sheets also have a lavishly lustrous sheen; the trademark feature of every silk sheet. Due to its smooth surface, there is less friction that gives your hair a smooth and flawless glide.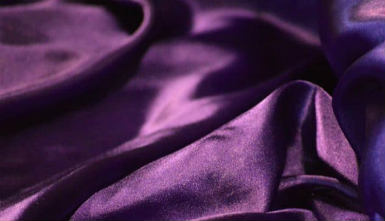 Satin vs Sateen Sheets: Breaking It Down
Satin and sateen are splendid weaves of fabrics that are surely worth a try. But I've listed the detailed breakdown of their features to determine which of these is an excellent addition to my sheet collection.
This side-by-side comparison is classified into six features: durability, comfort, breathability, health, maintenance, and cost.
Durability
Satin
Satin is commonly made from silk and synthetic fibers such as polyester and nylon. It can also be a combination of these three. But if we drive down to its root, 100% silk thread is one of its original sources and hence, acquires the durability of silk. Satin also has its lustrous sheen that gives off a luxurious quality.
The quality of satin, however, varies since it won't be derived from silk alone but also from synthetic fibers or a blend of different fibers. Some sheets tend to look cheap and can be flimsy.
Sateen
Sateen is made from tightly woven cotton fibers which make it quite a strong fabric. Compared to satin, cotton is a sturdier material which implies that the weaves derived from it, such as sateen, are incredibly durable.
No wonder sateen has been used to manufacture bed sheets and cloth coverings.
If you're looking for the closest material to satin, sateen is all you've got but without its usual delicate feature. Undeniably, it has the durability of cotton and the opulence of satin. Sateen sheets are smooth and sheeny, although not as shiny as satin.
Just like satin, sateen also has no consistency in terms of quality. The quality also varies depending on the thread count of cotton or the quality of cotton.
Winner: Satin and Sateen
Comfort & Breathability
Satin
Satin wraps the contours of the body with superior comfort due to its light and soft feeling. As a lightweight material, it drapes across the body giving it an ample warmth through the cold night. It can keep you cool during the warm season but not as much as cotton sateen sheets  can be.
The weave construction of satin is commonly sourced from synthetic fibers and has the tendency to retain heat when the season gets warm but it doesn't build up too much sweat or moisture. However, other types of satin sheets are also breathable which provide you the optimal coolness and warmth all year round.
Sateen
As sateen is usually made from cotton, sheets made from this feel smooth, soft, and silky making it cozy and comfortable to sleep in.
They are known to be durable and breathable which allows the moisture and heat to escape. Hence, it provides a cool and fresh feeling even when the warm season takes over.
Just like cotton, the quality of sateen may also vary according to the thread count. The higher, the better and the more comfortable it will be. High-quality sateen sheets usually range from 500 to 600 thread count. It has its remarkable smoothness that feels good on the skin.
Winner: Satin and Sateen
Health
Satin
When it comes to health benefits, satin adds up a few points. Because of its silky, smooth, and lustrous sheen, it provides gentle care to the hair. The reduced friction prevents hair breakage and other potential reactions on the skin, particularly on the face.
Satin sheets that are made from 100% silk are an ideal option for allergy sufferers. Satin is hypoallergenic. It is also resistant to dust mites, mildew, and mold.
Sateen
Sateen also shares its health benefits that give the skin and hair a gentle touch. It has its own kind of smoothness and sheen which also makes it an excellent option for those who have allergies. But compared to satin, sateen sheets are not as smooth and silky as satin. However, as it is also resistant to mildew, it can also provide a healthy and comfortable bedding to sleep in.
Winner: Satin
Maintenance
Satin
You can consider satin sheets as a delicate material which requires careful and gentle handling. They can also be washed in a machine, though. But it still depends on the type of fibers they are made from. Satin is mostly recommended to be hand-washed or dry cleaned.
Storage isn't also a big deal for satin sheets. Sa they are lightweight and thinner than cotton or sateen sheets in general, you can just keep it away easily. It won't consume too much space even when you fold it in the cabinet.
Sateen
Since sateen is made from cotton, it is machine washable. It is not as delicate as satin and only requires minimal maintenance. Sateen sheets are also naturally wrinkle-free. So, even when you fold it and keep away for storage, it won't form any creases or wrinkles.
Winner: Sateen
Cost
Satin
Due to the variations of fibers or fabrics satin is made from, the cost of satin sheets can vary a lot. High-quality satin sheets such as silk satin tend to be more expensive compared to those satin sheets that are made from synthetic materials.
Those that are derived from synthetic materials are more affordable and sometimes, incredibly cheaper. The main point is you'll have options and you can choose quality sheets without spending way over your budget.
Sateen
The cost of sateen sheets also varies depending on the quality and thread count. Those sateen sheets that have higher thread count might come with hefty price tags. But there are also affordable and even cheaper sateen sheets that won't break your budget.
Winner: Satin and Sateen
Satin vs Sateen: Final Recount
The competition between satin and sateen sheets is amazingly tight! They both stand out with their respective features, particularly in durability, comfort, and health benefits. 
Satin: 4/5
Sateen: 4/5
What Are the Best Satin Sheets in 2019?
Honeymoon Home Fashions Satin Sheet Set
If you want to perk up your bedroom with a smooth and luxurious bedding, these satin sheets from Honeymoon Home Fashions surely is a great find.
This sheet set offers durable quality that can last long along with the exceptional smoothness and comfort.
Made from polyester microfiber, these sheets are breathable and allow the air to circulate and therefore, keeps you cool during the hot temperatures.
When the cold breeze gets through the night, these satin sheets will cover you up with warmth. They feel soft and smooth that'll make your bed very comfy to sleep in. It is also wrinkle-resistant which doesn't leave any creases even when you fold it and put away in the storage cabinet.
Read real reviews on Amazon
What Are the Best Sateen Sheets in 2019?
California Design Den Sateen Sheets
These 100% long staple pure cotton sateen sheets are high quality and come with an affordable price tag. Besides its popularity and tons of positive reviews, its 600 thread count defines a luxurious bed sheet that you can use for many years to come.
These sateen sheets exhibit a soft and smooth texture that will make your bed a comfy haven to snuggle in. it is woven and tailored from fine yarns and long staple cotton fiber that guarantee the durability of these sheets. It also doesn't wear out easily.
It gets softer every after wash and can also resist fading keeping its condition at the topmost quality.
Read real reviews on Amazon
Pros and Cons of Satin and Sateen
Satin Sheets
Pros
Durable

Comfortable, smooth, and silky

Lightweight and feels good on the skin

Features a luxurious quality

Breathable

Stays cool during warm temperatures and provides warmth during cold temperatures

Has affordable options

Good for the skin and hair

Cons
Can be made from manmade or synthetic materials which may not provide durable quality at times

It's quite slippery and some people don't like that

See satin sheets available on Amazon
Sateen Sheets
Pros
Durable

Comfortable, smooth, and has a lustrous sheen

Lightweight

Provides warmth when it is cold and stays cool when the season gets hot

Has affordable options

Offers benefits to the skin and hair

Wrinkle-free

Requires minimal care


Cons
May not always be comfortable and smooth due to the thread count. High-quality sheets are the ones with a higher thread count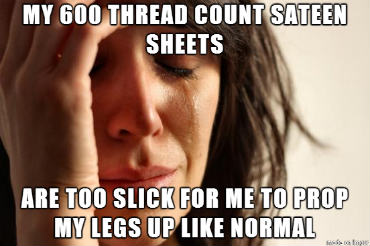 Conclusion: Which is better? Satin or Sateen?
Choosing between satin and sateen can be tough. Like what I've mentioned before, the gaps between these two types of fabric weaves seem unrecognizable. But delving a bit more into their features, I've singled out the differences little by little which helped me decide which sheet wins a certain category.
Satin is durable, comfortable, beneficial to the health, and doesn't cost an arm and leg but requires delicate and tender handling when it comes to maintenance.
Sateen, on the other hand, shows superb quality and durability, also comfortable, isn't costly, doesn't need delicate handling, but has slight drawbacks in terms of health benefits. Although sateen is good for the hair and skin, they aren't as smooth as satin which produces more friction compared to satin.
Overall, satin and sateen sheets are durable and comfortable to sleep in. You can also pick out quality sheets with affordable price tags. They also provide beneficial effects to the skin, hair, and general health.
Even when the scores are tied up, each of them has its own features to brag about and low points that need careful consideration.