Made from 100% eucalyptus fibers and very cool to the touch, the Buffy Breeze Comforter promises to be the go-to solution for every hot sleeper of the nation. But that doesn't mean that the rest of you, who simply want a luxurious and healthy sleep every night can't use it.
Let's discover what the Buffy Breeze Comforter has to offer in this tell-all review.
For all you impatient readers and shoppers, here's the scoop!
5 Reasons for Getting Buffy Breeze Comforter
Designed for hot sleepers

They offer a free trial

Made from 100% eucalyptus fibers

Can regulate temperature

Feels cool to the touch



Buffy Breeze Comforter Review
The most important piece of information that this review is centered on is that the Buffy Breeze Comforter was designed especially for hot sleepers and those who sweat heavily throughout the night, unlike other types of comforters.
Therefore, the Buffy Breeze Comforter is made entirely of eucalyptus fibers that have been approved by Oeko-Tex.
The reason why the brand chose eucalyptus is because it's a completely natural fiber that doesn't get as hot as cotton, polyester, or wool as you sleep on it.
Quite the contrary. As opposed to down, this comforter's filling, which is also made entirely out of eucalyptus, will not trap heat, seeing as it is a very breathable fabric.
Therefore, the heat rather moves through it than get trapped and make you sweat and feel uncomfortable.
But eucalyptus has other fantastic qualities as well. It's a fiber that can resist mold, dust, and mites. This is what makes it naturally hypo-allergenic.
As a consequence, many people who suffer from allergies or hay fever have reviewed the Buffy Breeze Comforter very highly.
The eucalyptus fibers do not have any essentials oils. Therefore, the comforter can be safely used by children and pets as well. I also love how soft the fabric is. The eucalyptus they used comes in a 300 thread count. 
Pros and Cons of the Buffy Breeze Comforter
No objective review would be complete without a list of pros and cons, so we've compiled one for your benefit. Here is what you need to know.
Pros
Created for hot sleepers
As mentioned earlier, unlike other comforters on the market, the Buffy Breeze Comforter has been designed especially with this purpose in mind.
To give hot sleepers and heavy night sweaters a relief from their problems. Therefore, it feels very cool to the touch and it has the ability to regulate your body's temperature.
Eucalyptus is superior to cotton
Even though cotton, especially Egyptian cotton is still considered to be the most luxurious fabric for bedding, eucalyptus is superior when it comes to hot sleepers.
The reason is that eucalyptus is much cooler than cotton, which can actually trap heat or cause you to sweat during the night because of friction.
Eucalyptus is hypo-allergenic
If we were to compare eucalyptus to cotton again, one of the main reasons why eucalyptus is superior is because it doesn't shed.
In time, because of heavy use, cotton produces lint. Eucalyptus, however, does not encourage lint, mold, or mites.
It's temperature-regulating
This means that, during the hot season, the Buffy Breeze Comforter can lower the temperature of your body and get it to an optimal state where you feel comfortable enough to sleep without sweating.
Apart from eucalyptus, there are very few other fabrics that can do that.
Cons
Not for people on a tight budget
The Buffy Breeze Comforter has all the amazing qualities we've already discussed in this review. But they come at a price. This means that shoppers on a budget might not be able to afford it.
However, if you purchase the comforter through the brand's official website, they do have the option of paying 7 days after purchase.
It only comes in white
There is only one option available for the Buffy Breeze Comforter – the color white. This might not satisfy some people who would like a different aesthetic for their bedroom.
Or people who have children and pets and are afraid of stains. However, the brand also sells eucalyptus sheets that come in a range of different colors.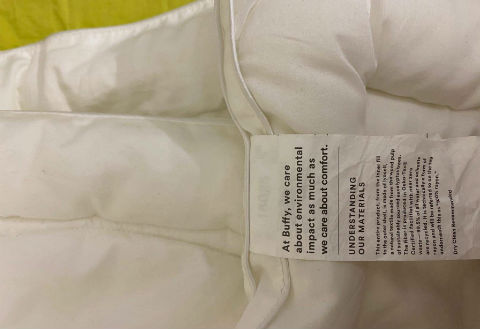 How to Care for the Buffy Breeze Comforter
The brand's clean and care instructions ask you not to put the Buffy Breeze Comforter in your washing machine. You run the risk of damaging the eucalyptus filling. Therefore, you are advised to dry clean this comforter only.
At the same time, try to use the comforter only with a cover that has been specially made for it. This will save it from getting stained and it will make cleaning it so much easier.
Where Can You Buy the Buffy Breeze Comforter?
The Buffy Breeze Comforter is available for purchase right here.
Can I Return My Buffy Breeze Comforter?
Yes, the brand offers you the choice of returning the comforter should you want to. However, seeing all the wonderful reviews it has received, you won't really want to. 
First of all, Buffy allows for a free 7-day sleep trial. During this period, you can take home the comforter and sleep with it. This will help you decide whether you like it or not. The trial is completely free. 
The shipping in itself is free as well and the Buffy Breeze Comforter will arrive at your doorstep in 3 to 5 business days via FedEx. Buffy does not provide a white glove service.
Returns are free as well, as long as you send back the comforter you ordered within 30 days. You will receive your money back within 3 to 5 business days after the comforter has arrived back to the store.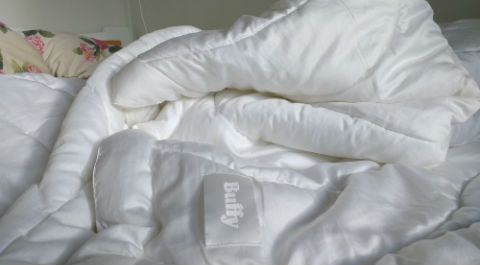 Conclusion
Even though it's a little on the expensive side, there is no denying that the Buffy Breeze Comforter is a dream come true for all hot sleepers.
Made of 100% natural and organic eucalyptus fibers, the comforter will wick sweat, regulate your body's temperature, and provide a comfortable and healthy sleep all night long. 
You can check out the free trial here.
The green choice for cooler nights!