Whenever I get a headache regardless of how big or small it is, the first thing that comes to my sore mind is going to sleep. And a good night sleep helps to relieve the pain of a headache. However, a good rest may require a great pillow and there are some pillows that are specifically designed to help ease headaches and migraines. Plus, these types of pillows could also stop people from waking up with headaches, neck pain, back pain, etc. so they can be a worthy investment.
The best pillow for headaches that migraine sufferers could use should be of high-quality materials, such as the stitching of the outside cover which can be well-made to last for a long time without causing irritation. The filling should also be extremely good quality be it handpicked and placed Memory Foam that you can change at will or comfortable Polyester. The best pillow should feel as if it was designed with only you in mind.
Top 5 Best Pillows for Headaches 2023
#1 Mediflow Fiber
Best pillow for headaches – All the user reviews and its magnificent qualities have led to one result. This is the best pillow for migraines in 2023. It's perfect for all types of sleepers, you can customize it, and it is water-based for your comfort!
#2

EPABO Contour Memory Foam
Best Contour Migraine Pillow: It's one of the best choices for headaches. And it can protect you against dust mites, plus give you some therapeutic relief.
#3
Original Bamboo
Third Best Pillow for Headaches in 2023 – It's a fluffy pillow that keeps your neck and head in place, plus it has handmade shredded Memory Foam for a personal touch and you can make it more personal. And it is cool too.  
#4 Sables Pillows (SA-BD 013)
Also good migraine pillow: It's a 100 percent cotton and has a 100 percent Goose Down Alternative feathers filling for comfort and support. Medical professionals would agree with the latter.
#5

The
AmazonBasic Down
Pillow
Best budget headache pillow: 100 percent polyester and 100 percent microfibers to give you fluffy softness, comfort and easy to clean.
Best Migraine Pillow Reviews
1. Mediflow Fiber
Winner
Why is the Mediflow the winner?
Just wait and see! If you're looking for neck support that will reduce your strains and help you ditch that pesky migraine, this is the pillow for you. 
It's filled with water which means the level of comfort is far greater than with any other pillow filled with down, feathers or memory foam.
Water creates a different sensation for the head and neck as it cradles and moves with you while you sleep. 
Not to mention that this pillow is one of the most customizable you will ever see. Because it's filled with water, you are in complete control over how soft, firm or medium you want the pillow to be. Just take out or add more water!
As far as materials go, the Mediflow is made of a water pouch that is insulated and fully sealed, meaning it will never leak onto your bed. To make it even safer, it also has a layer of Dacron Hollofil fiber on top. Everything is encapsulated in the cotton shell which is hypoallergenic.
If you want, you can take it apart and clean the Mediflow in the washing machine. 
The pillow is made right here in the USA and it comes with a 3 Year Warranty plus a 30 day period in which you can return it if, for some reason, you are not satisfied with it!
Pros
Clinically proven to reduce neck pain and improve sleep

Water-based

Very easy to customize

Perfect for all types of sleepers

Will not leak
Cons
The pillow will always be cold, so you might have to get used to that
2. EPABO Contour Memory Foam
Best Contour Migraine Pillow

The contour design of this pillow is made in such a way that it could support your head, back, and at times your neck to give a fulfilling night's sleep.
The breathable Memory Foam also keeps you cool and dry.
It is also said that this type of relief is therapeutic.
Plus, it is said to give you dust mite protection as well as being chemical free.
Pros
Contour Design

Breathable Memory Foam

Therapeutic relief

Dust mite protection

Chemical-free materials

Keeps you cool
Cons
May be too cool for cold nights
3. Original Bamboo
Third Best Pillow for Headaches in 2023

First place goes to Original Bamboo because the filling can be evenly distributed and it is fluffy so it will keep your neck and head in place plus fluffs back into place like a normal looking pillow after a night of rest.
The outer cover of the pillow is redone so I would say it has been upgraded, with high-quality stitching to give it a long lasting lifespan.
The inside of this pillow is handmade shredded Memory Foam which you can remove some with an easy to use a zipper. This pillow is designed to change to your body's sleeping need and it has a cool cover that decreases heat for back or side sleepers that get hot at night and wake up with a slight sweat.
Pros
Customizable handmade shredded Memory Foam

Cool outer cover for hot sleepers

Long lasting stitching

Easy to fit pillowcases
Cons
4. Sable Pillows (SA-BD 013)
Also Good

Sables Pillows (SA-BD 013) is great because you can customize it to suit your sleeping style.
The cover is 100 percent cotton which could be comfortable for many people's skins as well as easy to wash and the filling is 100 percent Goose Down Alternative which is on the high-end quality of pillow fillings.
And the filling is feathers so it should keep your head nicely warm and comfortable.
Plus, this pillow is registered with the FDA as a Class 1 Medical Device so doctors may even like it. And it is said to be suited for all types of sleepers.
Pros
Customizable

100 per cent cotton outer layer

Goose Down Alternative (feathers) filling

Registered with the FDA as a Class 1 Medical Device
Cons
The temptation to pull feathers through the covers (as is a slight standard with feather pillows)
5. AmazonBasic Down
Best Budget Migraine Pillows

…are the AmazonBasic Down which is two pillows that are 100 percent polyester and 100 percent microfibers to give it a lot of softness as well as a smooth finish.
It is fluffy to keep the head, neck, back in place while giving these body part comfort.  
This could be a good choice for the back or front sleeper of the world who suffer from allergy since there should be no feathers, which could also make it easier to clean.
Pros
100 percent polyester

100 percent microfibers

Fluffy

Allergy-free
Cons
Maybe too soft for some sleepers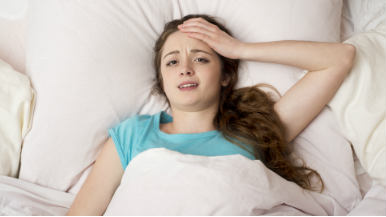 Different Types of Headaches
Headaches and migraines are quite similar to each other in that there is a certain level of pain felt. However, migraines are known for being much worse since they could make you feel a throbbing quality as if your head is pulsing and you can actually feel your brain.
Plus, there could be some instances of having a bit of physical exertion.  Some symptoms of having a migraine can also be feeling nausea or even vomiting. People who suffer from migraines complain about being more sensitive to smells, sounds, and light which could be less common in typical headaches.
Speaking about headaches there are different types such as
Primary Headaches
These types of headaches are usually caused by soft tissue which can get strained or stress in areas of the head, or upper back, or neck. The muscles, ligament, blood vessels and nerves in these areas of the body could get stuck causing headaches.
These types of headaches do not have underlying issues and are standalone. Cluster headaches, migraines and tension headaches are known as Primary Headaches.
Secondary Headaches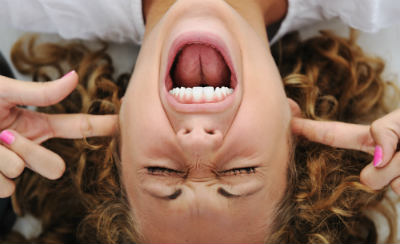 Secondary headaches have underlying issues such as drinking (aka a hangover), dehydration, blood clots or even having a stroke. However, if a headache increases in pain, lasts for a while as well as being hard to alleviate than you should get in touch with a doctor, certainly if you had a past injury that may have resulted in headaches.
These headaches could be known as cervicogenic headaches which are caused by having something wrong with your cervical spine such as a past injury (or present one), or if the bone, or disc, or soft tissue is strained. However, having a certain pillow could prevent headaches but it is best to check with your doctor if they know which one.   
How Headache Pillows Work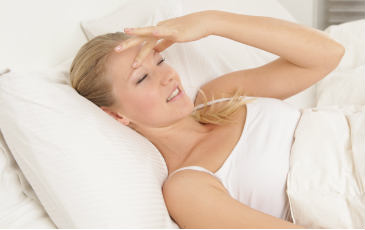 The idea of having a pillow that could help with headaches and migraines may sound a bit strange to some people but I am here to tell you that they can work and how they work.
You should keep in mind that migraines pillows are designed to keep the vertebrates in your spine in a natural alignment so that a muscle, or a nerve, or soft tissue, or a disc, or a bone do not get stuck somehow which could result in having a bad morning headache.
Therefore, the best pillow for tension headaches is something to keep your spine from moving around unnecessary and the pillow should also give your head, neck, and spine a suitable amount of pressure to keep all in place as well as letting you have a brilliant night's sleep.
Things to Consider when Buying a Pillow for Migraines
The first thing to notice when shopping for a good quality pillow is how you sleep. This can influence the type of pillow that could be able to benefit you without your changing your sleeping position which may be uncomfortable to do.
So figure out if you are a back sleeper, side sleeper, or even a front sleeper. The main purpose of having a pillow that suits the way you sleep in because this pillow has to keep your head straight to your shoulder in alignment so that your head is not too forward or too back.
And also keep in mind if you like to have a cool feeling pillow, or if you are a person that sweats a lot while you sleep. This could also influence your pillow choice.
The outside of the pillow is another aspect that you should pay attention to. Getting a pillow with the correct inside could mean nothing if the outside of the pillow irritates your skin and it is uncomfortable.
A pillow with a bad outside could even fall apart after a few uses. A pillow should be able to last for four to five years so getting a pillow that you need to replace before that is only proof of bad quality.
Speaking of replacing pillows it would be a great idea to get a new pillow ever four to five years so that your sleep quality does not decrease due to the age of your pillow.
Different Fillings
Now on to the more challenging part of buying a pillow which is what filling should you get? There are different types that could do different things to your body while you are fast asleep.
There is Memory Foam which is made in such a way that it continuously adjusts to your head and neck. This could be a great choice for people who move around while they sleep. However, it may not be a good choice for those people that get very hot at night since Memory Foam is known for building up heat. But, you can get a cooling pillow cover to help with this problem.
Another type of filling is the more commonly found (and used) Polyester pillows. These types of pillows can come with different level of firmness so you should be aware of which pressure from the pillow can suit you since headache from pillow pressure could also be a thing.
But, these pillows are easy to wash and easy to dry so grabbing a good quality Polyester pillow could be the choice for you.
And the last type of filling I want to look at is Feathers Pillows, also known as Down Pillows.
These are also quite common since the insides of the pillow are movable yet still have the firmness to them. This can give you support where and when you need it plus you could have multiple pillows of your bed for different sleeping positions.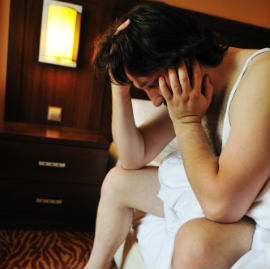 Other Factors to Consider
There are two other factors that you can look at while pillow hunting and those are thread count and fluffiness. The thread count could determine how durable and comfortable the pillow could feel.
The standard thread count seems to be 300 but the higher that number the more luxurious (and therefore expensive) the pillow will be.
Fluffiness can be quite important in that it provides cushioning as well as letting fresh air travel through the pillow. Sleeping on a fluff-less flat pillow may not be very comfortable and would not give any support to the spine.