Did you know that buckwheat, the cheap grain that is used to make different food products, can be used to make pillows as well? In fact, I was surprised to see one when I went pillow shopping  couple of weeks ago.So, I got curious and went on to find out the various benefits and side effects of buckwheat pillows.
The benefits of buckwheat pillows include exceptional support, durability, and breathability. On the other hand, it also has disadvantages like a higher price tag, a heavy weight and it might take some time to get used to. It also makes some noise when you move while you sleep.
How to Use Buckwheat Pillows
The way you'll be using your buckwheat pillow will depend on your sleeping position.
Back Sleeper – If you prefer sleeping on your back, you'll be placing your pillow to support your head and your neck as your shoulders rest on the mattress. You can even add another pillow under your thighs to help keep your spine at its natural alignment.
Side Sleeper – Side sleepers need to keep their spine straight to prevent neck and back pain. Hence, hugging a pillow while you sleep will keep your arms and back supported while placing a pillow between your knees will prevent stressing your spine.
Stomach Sleeper – People who prefer sleeping on their stomach will need a flat but supportive pillow. You can adjust your buckwheat pillow of choice until it's the right height for you.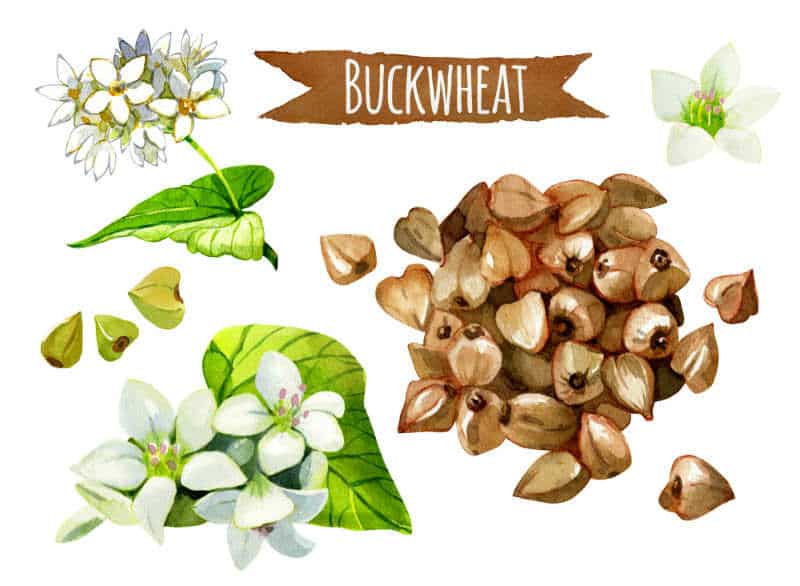 The Pros and Cons of Buckwheat Pillows
Just like with other products, buckwheat pillows have its own pros and cons. Let's check them out.
Pros
Support – If you're looking for exceptional support, then look no further than buckwheat pillows. The hulls are flexible and will conform to the shape of your head, neck and shoulder to provide you with the support that you need each time.
Durability – Buckwheat pillows are very durable and with proper care, the high-quality ones can last you up to ten years.
Breathable and keeps you cool – They are also suitable for hot sleepers since they promote airflow. The hulls do not retain or emit heat.
Dust mite resistant 

–  breathability makes this pillow unattractive for dust mites

Hypoallergenic – A lot of people are allergic to pillow materials like down and feather. This makes buckwheat pillow a good natural alternative for people with allergies.
Non-toxic 

– Buckwheat pillows are 100% organic and all natural

Great for the environment 

– no chemicals are used to make these pillows

Will not collapse like foam pillows
Cay relieve common sleeping problems like  tension, muscle pain, stiff neck, headache
Adjustability

– you can easily add or remove buckwheat hulls to create a perfect pillow for your liking

Cons
Price – Buckwheat pillows tend to be expensive than regular pillows 
Weight – They are also very heavy, with some products containing up to 12 pounds of hull. This makes it quite difficult to move the pillow.
Sound – This product isn't for you if you're a light sleeper since the hulls make a soft sound when you change your sleeping position.
May take some time to get used to 
What Are the Best Buckwheat Pillows in 2018?
Comfy Sleep Rectangular Buckwheat Hull Pillow
If you like having a lot of options when it comes to sizes, then the Comfy Sleep Rectangular Buckwheat Hull Pillow is for you. This product comes in 5 sizes namely standard, queen, classic, classic plus and traditional.
The hulls that are used for filling are grown in the USA and are carefully cleaned without the help of chemicals and fumigants. You also have the option of getting the pillowcase which is organic cotton and comes with an invisible zipper that makes it easier to adjust the hulls in your pillow.
Pros
Various sizes to choose from

Adjustable support thanks to the zipper

Breathable

Provides exceptional support

Cons
Read more reviews on Amazon
Beans72 Organic Buckwheat Pillow
If you're looking for an all-organic pillow, then look no further than the Beans72 Organic Buckwheat Pillow. Like the previous product, this one is made in the USA. For its filling, it has 100% US grown organic buckwheat hulls. As for the cover, you'll be happy to know that it's completely natural unbleached cotton.
Unlike regular pillows, it is very breathable and won't collapse after a few months of use. You'll need to do a bit of trial and error to find the right amount of hull that will give you enough support.
Since the manufacturer is very generous in the amount of hulls that you get, you'll most likely need to take out a few cups to get proper support. Just make sure that you keep the hulls that you take out for future use.
Pros
Made in the USA

Made from organic materials

Promotes airflow

Offers customizable support

Cons
Makes crunching sound as you move
Read more reviews on Amazon
Sobakawa Buckwheat Pillow
Get quality sleep every night by using the Sobakawa Buckwheat Pillow. You can choose from three sizes depending on your height and weight. Like other quality buckwheat pillows, the filling is 100% buckwheat hulls while the pillow cover is 100% cotton.
A popular choice by buckwheat pillow lovers, this product offers just the right amount of support and comfort that you need to wake up refreshed and free from pain. The cotton cover, along with the buckwheat hulls, also promote good airflow for sweat-free nights.
Pros
Breathable

Durable

Suitable for all types of sleeping position
Cons
Some people find it to be too small
Read more reviews on Amazon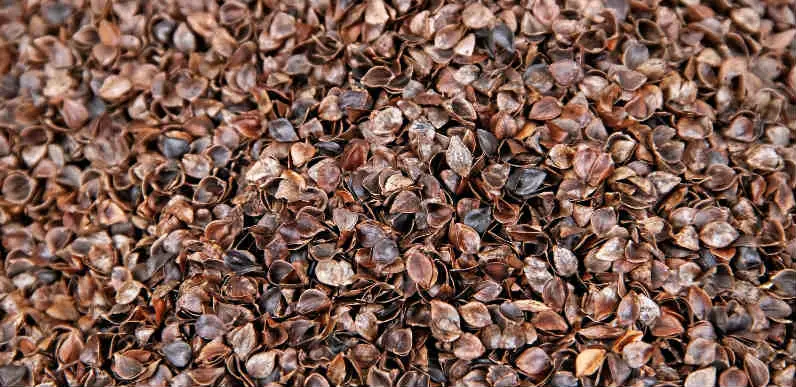 Frequently Asked Questions
What is buckwheat hull?
Buckwheat pillows are made from the seed's tough shell. These hulls are thoroughly cleaned and dried before being used in buckwheat pillows.
How long can you keep a buckwheat pillow?
Buckwheat pillows are very durable. With proper care, a good quality one can last you for more than ten years.
Can a buckwheat pillow be washed?
The buckwheat hulls should never be washed since they'll get ruined if you soak them in. To clean, just machine wash the cover and lay out the buckwheat hulls under the sun.
Do buckwheat pillows attract bugs?
Unlike buckwheat seeds, the cleaned hulls don't have any nutritional value, so they don't attract bugs. Moreover, the breathability of buckwheat pillows makes it unattractive for dust mites.
Conclusion
Buckwheat pillows are a great choice if you're looking for exceptional support, breathability and durability. However, it has its downsides as well since a buckwheat pillow can be quite expensive and take some time to get used to.
But, if you think that buckwheat pillows are for you, I highly recommend the Comfy Sleep Rectangular Buckwheat Hull Pillow. It's available in a lot of sizes and you can easily customize it to fit your needs. Plus, it's made in the USA and completely organic.
On the other hand, you might also want to check out the very popular Sobakawa Buckwheat Pillow. It's less expensive compared to other buckwheat pillows but you'll still be able to get a high-quality product.