The biggest difference between ZzzQuil and NyQuil is that NyQuil was designed to relieve cold and flu symptoms like sneezing, sore throat, headache, fever, runny nose, and cough. While it also makes you sleepy, it should only be taken when you're sick because it has other active ingredients. If you're having trouble falling or staying asleep, it's best to take ZzzQuil.
Prefer listening to reading? Check out our video version of this article.
ZzzQuil vs NyQuil: Quick Comparison
Cold and Flu Medicine
NyQuil
Provides cold and flu relief and makes you sleepy
Available over-the-counter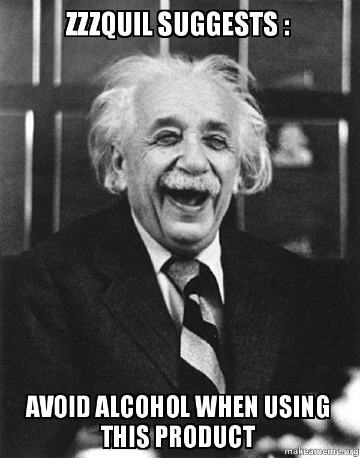 What is ZzzQuil and What Is It Used for?
ZzzQuil is a range of over-the-counter sleep aid that is manufactured by Vicks, one of the companies owned by Procter & Gamble.
These products come in various forms like liquicaps, liquid, gummies, and balm. They also use different active ingredients such as diphenhydramine, melatonin, and botanicals like chamomile, lavender, lemon and valerian root.
For comparison's sake, we will be focusing on the most popular ZzzQuil product, the ZzzQuil Liquicaps. According to Vicks, it is a non-habit forming sleep aid which you can use to help you fall and stay asleep.
Is ZzzQuil Bad to Take Every Night?
ZzzQuil should only be taken occasionally and for no more than two weeks. While it is non-habit forming, your body will still get used to ZzzQuil.
In other words, your body might lose its ability to fall asleep on its own. If your sleeplessness persists, it's better to consult your doctor to find other ways to help you sleep.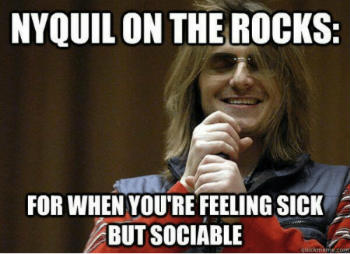 What is NyQuil and What Is It Used for?
NyQuil is another range of medication that is produced by Vicks. They are made to provide cold, cough and flu relief. You can get them over-the-counter and they are available in forms like liquid, caplets, and liquicaps.
It works by relieving common cold and flu symptoms such as cough, fever, headache, runny nose, sneezing, sore throat and other minor aches and pains.
What Are the Differences Between ZzzQuil and NyQuil?
Ingredients
ZzzQuil
The active ingredient of ZzzQuil Liquicaps is diphenhydramine, a type of antihistamine. It blocks the histamine which our body produces during an allergic reaction.
When you have an allergic reaction, you often get a runny nose and watery eyes which are two symptoms caused by histamines. Hence, diphenhydramine is often used to provide allergy relief.
So why is diphenhydramine the active ingredient of ZzzQuil? Well, one of the side effects of diphenhydramine is drowsiness which is why ZzzQuil and other diphenhydramine products like Benadryl are often used by people with insomnia.
Other ingredients that ZzzQuil contains include the following:
FD&C Blue No. 1

FD&C Red No. 40

Gelatin

Glycerin

Polyethylene glycol

Purified water

Sorbitol sorbitan solution

Titanium dioxide
Some variants of ZzzQuil also contain 10 percent alcohol. But ZzzQuil LiquiCaps and ZzzQuil Alcohol-Free Liquid are non-alcoholic versions which you can use if you can't take alcohol.
NyQuil
NyQuil has four active ingredients.
Acetaminophen – Acetaminophen, or what others might know as paracetamol, is a pain reliver and fever reducer.


Dextromethorphan (DXM) – This ingredient is a cough suppressant.


Doxylamine – Doxylamin succinate is another type of antihistamine which can relieve runny nose and sneezing. Just like diphenhydramine, it can cause drowsiness.


Phenylephrine HCl – It is a nasal decongestant which can provide temporary relief from a stuffy nose and sinus. It can also reduce swelling in the ears brought by the common cold, flu and allergies.
Its inactive ingredients include the following:
Citric acid

D&C Yellow No. 10

FD&C Yellow No. 6

FD&C Green No. 3

Flavor

Glycerin

Propylene glycol

Purified water

Saccharin sodium

Sodium benzoate

Sodium chloride

Sodium citrate

Sorbitol

Sucralose
NyQuil Liquid also has 10 percent alcohol but variants like the NyQuil Liquicaps and Alcohol-Free NyQuil Cold & Flu Nighttime Relief Liquid are alcohol-free.
Dosage and Effectivity
ZzzQuil
Adults and children 12 years of age and older may take up to two ZzzQuil LiquiCaps or 30 mL of ZzzQuil Liquid during bedtime. Take note that it shouldn't be given to children under 12 years of age.
There are many factors that can affect its effectivity. However, it is recommended that you only take ZzzQuil when you can get at least eight hours of sleep. Otherwise, you might feel groggy when you wake up.
NyQuil
Adults and children 12 years of age or older can take up to two liquicaps or 30 mL of NyQuil Liquid every six hours. Children that are 6 to 11 years old can take up to 15 mL of Children's NyQuil every six hours. You should never take more than four doses of NyQuil in a 24-hour period.
As for its effectivity, it might take about 30 minutes before you can feel its effects.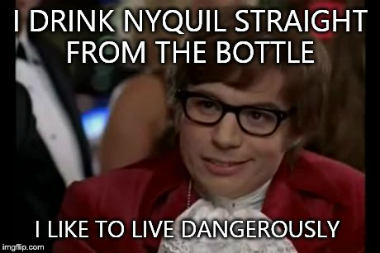 Safety
ZzzQuil
ZzzQuil is relatively safe to take as long as you take note of these reminders:
If you are pregnant or breastfeeding, make sure to check with your doctor first before taking ZzzQuil. This goes for people who have medical conditions or are taking medication as well.

Do not consume alcohol together with ZzzQuil since this can cause complications and overdose.

Never operate machinery or drive after taking a dose of ZzzQuil.
NyQuil
This product is a good cold and flu medication. However, there are still some safety guidelines which you need to follow.
Consult your doctor before taking NyQuil if you are pregnant, lactating, taking medication or have existing medical conditions.

Do not take NyQuil if you have just consumed alcohol.

Do not consume acetaminophen together with NyQuil since this can cause liver damage.

Do not take this product if you are taking tranquilizers or sedatives.

Just like ZzzQuil, NyQuil can reduce your mental alertness and cause drowsiness. As such, never drive or operate machinery after taking it.
Possible Side Effects
ZzzQuil
If you're taking ZzzQuil at higher doses or if you're not getting adequate sleep after taking it, there's a chance that you'll develop minor side effects like the following.
day-time drowsiness after night-time use

loss of coordination

blurred vision

drowsiness

dry eyes

upset stomach

constipation

dry nose, mouth, or throat
There's also a risk that you'll experience serious side effects such as:
uncontrollable movements of the tongue

rapid or irregular heartbeats

tightness in the jaw or neck

feeling like you might pass out

painful urination

confusion

little or no urinating
NyQuil
Just like any other medication, NyQuil comes with potential side effects. 
headache

nausea

vomiting

dizziness

lightheadedness

stomach pain, diarrhea or constipation

dry eyes, nose or mouth

drowsiness

restlessness

nervousness

blurred vision

mild skin rash
There are more serious side effects like the following as well:
difficulty urinating

allergic reaction characterized by hives, itching, swelling, difficulty breathing

seizure

severe headache

hallucinations

uneven heartbeat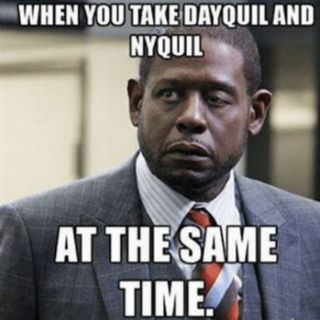 Is It Okay to Take ZzzQuil and NyQuil Together?
Though both products can make you sleepy, they are made for different purposes. Only take NyQuil if you are suffering from a cold or flu. Otherwise, if you need help falling asleep, just take ZzzQuil.
Remember that these products both contain antihistamines. If you take them at the same time, you might overdose or develop serious complications. Some of these include a decrease in blood pressure, severe drowsiness, and respiratory depression.
Not to mention that both drugs are anticholinergic. This means that you might get dehydrated, suffer from dry eyes or get constipation if you take them together.
Reviews
Vicks ZzzQuil Nighttime Sleep Aid

I've used this highly popular sleep aid a couple of months ago when I was having trouble sleeping.
I liked that it only took about 25 minutes for me before I started feeling sleepy and finally fell asleep.
I slept for 8 hours straight which is a rare thing for me, so I find this quite effective. There were also no "hangover" effects for me, something that I've often experienced with other sleep aids.
Vicks NyQuil Cough, Cold & Flu Nighttime Relief

Since my friend recommended this NyQuil product a couple of years ago, I've been using it whenever I get a cold or the flu.
I often get sinus pain due to congestion whenever I get the cold, but I find relief a few minutes after taking this.
I also like that it knocks me out so I can get enough rest despite being annoyed by the symptoms that I get whenever I'm down with the flu.
Pros and Cons of ZzzQuil and NyQuil
ZzzQuil
Pros
Can be purchased without a prescription

Can be found in leading physical and online stores

Fast-effecting

An effective sleep aid

Available in various forms and flavors

Non-habit forming
Cons
Can cause dependence if taken too often

Doesn't target the root of the sleep disorder
NyQuil
Pros
Very effective in minimizing cold and flu symptoms

Can provide relief in about 30 minutes

Can be purchased without a prescription

Can be found in leading physical and online stores

Available in various forms and flavors

Will knock you out while your body heals itself
Cons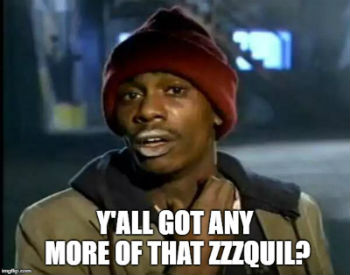 Final Words
ZzzQuil is better for sleep and NyQuil is a cough, cold and flu medicine. Since they are made for these purposes, you should only use them as such.
Only take NyQuil if you're sick since it has active ingredients that are used to relieve certain symptoms. If you're looking for a sleep aid, then ZzzQuil is your better option.