Queen vs short queen aka RV queen – what are the differences and which size bed is better for your needs? Which mattress is better for RV and what about the availability of these mattresses, accessories, comfort, space, and price? Let's take a closer look.
Queen vs Short Queen Mattress: Quick Comparison
Best Selling

Queen Mattress

Taller
60 × 80"
Most popular bed size
Widely available
Comfortable for short & tall people
Accessories are easy to find
More expensive than short queen
Requires more space

Check Price

Popular Short Queen

Short Queen Mattress

Shorter
60 × 74"/ 60 × 76"
Mainly used for RVs & smaller rooms
Not so common
Great for shorter people but not so great for tall people
Accessories can be pretty difficult to find
Cheaper than queen bed
Fits easily into smaller spaces

Check Price
What Is A Short Queen Mattress?
Just as the name sounds, a short queen mattress is a queen mattress that is shorter than the traditional queen bed.
It's usually 5 inches but sometimes even 6 inches shorter and great for RVs or just people who want a smaller queen size.
Difference Between Queen and Short Queen Bed
RV Queen vs Queen – let's take a closer look and see how they differ in size and much more. 
Dimensions 
Size is one of the major differences that exist between these two mattresses.
While the Queen mattress is sized at 60 inches of width and 80 inches of length, that Short Queen is typically sized at 60 inches of width, but its length is between 75 to 76 inches.
Sometimes, the length of a Short Queen can be as low as 70 inches, especially in the less marketable versions that are preferable for mobility.

Considering the slight difference in size that exists between the two, one can say that the Queen is a perfect choice for overall use.
It is especially good to have at home if you have a standard Queen bed. It is an excellent option for use by two people and comfortable even for tall people.

On the other hand, Short Queen mattresses are often uncomfortable for very tall people because of their shorter length.
They are also sometimes tricky to install, considering the unavailability of many accessories. However, the length makes transportation easier. Therefore, many people tend to prefer it for camping trips and RVs.
Price
The Price difference between a Queen and Short Queen mattress can also affect your choice. Short Queen is relatively not common and would often need to be purchased from specialized markets specifically for RVs or other movable home situations. 

Just like other types of mattresses, Short Queens come in a variety of styles. Ultimately, your choice boils down to the percentage of your budget that you intend to spare for a mattress. However, we always recommend that you do not sacrifice quality on the altar of price.
Comfort
Queens are great for both tall and short people, while Short Queens can get somewhat uncomfortable for taller people.
However, even tall people can still adopt short queens as a temporal solution when space is an issue or when they're looking for an RV mattress.
Space
The size of the room is another vital aspect to look at. In a standard room, for instance, it is generally good to have a walking space of at least two feet around the three sides of your bed (that is excluding the headboard).
This is one of the reasons why most buyers would consider the dimensions of their room before arriving at a choice.
However, we already know that the difference that exists between a Queen and a short Queen is just 5-6 inches. Therefore, there may be no major concern for a standard home.
However, if you would be using it in a small space such as an RV, a Short Queen would come useful for the preservation of more space.
What is the best short queen RV mattress in 2022?
Perhaps you are getting ready to hit the market for a short queen mattress. Well, you'll need to know the best, considering the numerous options available. Here, take a look at these best-rated Short Queen beds.
1. Classic Brands Cool Ventilated Gel Memory Foam
Best-Rated
The Classic Brands Cool Gel mattress comes with three layers of hybrid materials.
This feature makes for a deeper and more relaxing night's sleep.
The mattress looks just as great as it feels. You'll find that it has a waterfall edge covered with a four-way stretch.
Most customers are fascinated by the great look of this mattress, as well as its brilliant performance.
Let's also mention that the mattress is very easy to install. It also comes as a bed-in-a-box with the ability to unfold to its original shape.
Pros
Fairly cool

No chemical fumes

Looks great 

Impressive performance



Cons
2. Sleep Master 8″ Memory Foam RV Mattress
Runner-Up
The capability of the Sleep Master 8″ to mold itself according to the sleeper's body is one of the reasons for its popularity, especially among users that prioritize comfort and support.
Additionally, this mattress also integrates high-density foam; hence, its ability to stay in excellent shape for a long time.
It is offered at a relatively affordable price tag for the standard model, and it also gives you access to superb aftermarket customization.
Pros
Easy to unpack

Environmentally friendly

Firm and comfortable

Relatively affordable

Fresh and pleasant scent.
Cons
Might be too firm for some people
FAQs
What is the size of an RV short queen mattress?
The typical size of RV queen mattresses is 60 inches × 75 inches. 
Can I put a regular queen mattress in an RV?
A regular size mattress may appear too large for your motorhome. This may cause some limitations for you to access the drawers on the bed.
Moreover, if you let the mattress hang over the edge of the bed platform, then it may sag with time, and this may cause it to feel uncomfortable around the head and feet support areas. 
Will full-size sheets fit a short queen mattress?
Some full-size sheets will fit your short queen mattress quite well, especially if you are not a  fan of tucking them in.
However, because sizes are not always standard, it is important to go with what fits the size of your bed perfectly.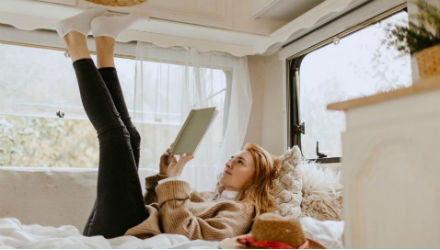 Conclusion
Queen Vs Short Queen Mattress: And the winner is…
So far, so good, you can already tell that the difference between Queen and RV Queen mattresses is not too significant.
However, it is important to know the differences in order to make the right choice.
While queen mattresses can be a great option for tall people, short queen mattresses are usually not so great for taller couples.
On the other hand, short queens are better for smaller rooms and RVs while queen mattresses would need more space.
You'll also find that the accessories for queen mattresses are easily available in the market, while the accessories of the short queen aren't always available and have much less variety.
If you're looking for a bed, these are the best rated

Queen size

and

short queen mattresses

in 2022.
Queen is the most popular bed size but if you're looking for an RV bed or have very little space then go for a short Queen mattress.