Let's put it like this. In the past couple of years, the market and the online world have been absolutely flooded with pillows that are supposed to change your life. Some are expensive, some are imported from exotic countries, some have weird shapes, and some are described in words you can barely understand. But which one actually works? That was the baseline for reviewing the Mediflow Waterbase pillow for neck pain. Is it worth buying it?
You don't have time to waste, so here's the deal!
Main Reasons for Buying the Mediflow Water Pillow for Neck Pain…  
Mediflow Water Pillow Quick Overview
Why is it Better?
Clinically proven

to reduce neck pain & improve sleep
100% Cotton
Ideal for all sleeping positions
Customizable
Proper neck support
Made in USA
30-Day satisfaction Guarantee & 3 year warranty over manufacturing errors
COMPARE PRICE ON AMAZON & ON THEIR OFFICIAL WEBSITE
Mediflow Waterbase Pillow for Neck Pain – Review
Let's start this review but covering a few basics about the Mediflow Waterbase Pillow that you absolutely must know before buying it.
As its name suggests, it's a water-based pillow intended for all types of sleepers. This means that you can use it safely if you're a back, side or stomach sleeper without worrying you will wake up with neck pains. 
The innovative thing this product brings to the table is that, as opposed to other pillows, it's not filled with feathers, down or memory foam, but with water. Yes, you read that correctly, it's a pillow filled with water. But if you're thinking water matrices from the 70s, you couldn't be further away from the truth. 
The pillow basically consists of an insulated pouch that you will have to fill with water yourself. This pouch is covered in a fiber layer made of Dacron Hollofil and then encased in its cotton shell which is 100 percent hypoallergenic. So, not only will it be super comfortable, but it also looks like they thought of everything when they made it!
Why Is the Mediflow Water Pillow Different?
To put it simply, the main reason this pillow is different is fairly obvious. But does it have any other characteristics that place it one notch above every other pillow on the market? Let's see!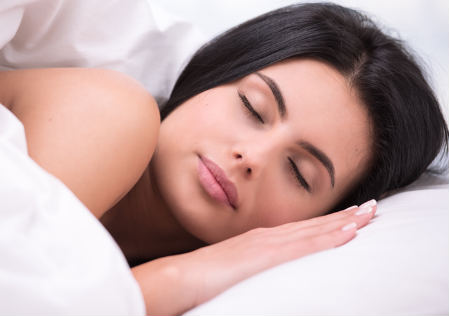 1. It's filled with water
Of course, this has to be the number one thing on the list. Its inner water chamber is precisely what makes this pillow such a success. Sleeping on water is an experience that cannot compare to anything else. Given the fact that you can control exactly how much liquid goes in it, you can also achieve precisely the level of comfort you've always been dreaming about.
2. It is both soft and firm at the same time
As far as we know, there are no other pillows on the market which can hold up to this claim. Why? Because it's impossible to get this effect if your pillow is filled with feathers or memory foam. Therefore, traditional pillows usually go for one of the two. 
But given the fact that the Mediflow Waterbase Pillow has liquid inside, you can fill it as much or as little as you want. As a consequence, you decide how soft and firm it becomes, all at the same time.
3. It can align your spine
If this is a problem you are facing right now or if you are constantly waking up with neck pains or headaches, it might be because you are not sleeping it in the right position. Or because your spine is not aligned correctly. 
The Mediflow Water pillow can fix all that for you. Once you fill it with water as much as you need, the pillow will constantly keep your head at the same level as your back, forcing your spine to remain straight.
4. Clinically proven to reduce neck pain
It is one of the few pillows that has the merit of having been tested in an actual clinic. The Mediflow was subject to a number of tests at the Johns Hopkins University, where it came out on top in all its categories. Therefore, if you are looking for a pillow that is not only comfortable, but actually reduces neck pain, you've just found it!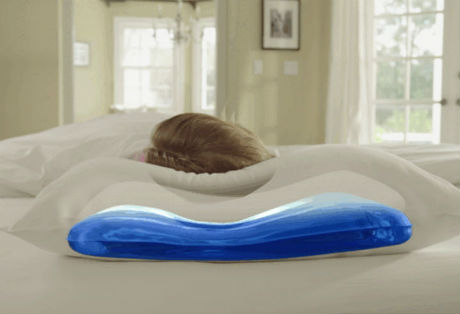 The Pros and Cons of the Mediflow Therapeutic Waterbase Pillow
We've taken a look at different user reviews and compiled a list of pros and cons of the pillow which will come in handy before you go out shopping.
The Pros
Many pillows promise this. They say that because they are filled with shredded foam or other such fillings, you can go in and remove or add as much as you want until you get the level of comfort you desire. But let's face it. What's easier than water? 
Not only that, but the Mediflow Waterbase pillow was, in fact, tested at the Johns Hopkins University. It came in first in no less than five categories – interruptions occurring during sleep, amount of time needed to fall asleep, amount of time needed to fall back asleep, reducing neck pain, and the quality of sleep.
It will never lose its shape
As mentioned when detailing its basics, the Mediflow Waterbase pillow is essentially an insulated pouch that you get to fill with water as much as you want. As a consequence, it will never lose its shape, unlike every other traditional pillow. In other words, this is, without a doubt, a long time purchase.
The second benefit that comes from that is your comfort during sleep. Just imagine! You will never again have to wake up to shake your pillow to try and get it back in shape. You won't have to reshape or fluff it either. Welcome to the future!
It's larger than classic pillows
The Mediflow was specifically designed to be larger than most pillows on the market. The reason is, of course, your comfort and support. It has a lot of surface area so that, if you decide you want to sleep on your side or stomach rather than your back, you can do that as well. 
It's amazing for pregnant women
This pillow has also received great reviews from pregnant women. If they are in the later trimesters of their pregnancies and need extra support, the Mediflow Waterbase pillow will surely provide it for them. But without being bulky like traditional pillows and with less pressure when the woman moves in bed. 
The Cons
It's a little heavier than traditional pillows
According to consumer reviews, this pillow is heavier than traditional ones. But you might have figured that one out for yourself already. After all, it is filled with water! However, it's only a matter of getting used to after which you won't even notice this slight change in your bedding.
Filling it can be a little tricky
The process of filling the pillow with water might be a little cumbersome, at least until you get the hang of it. The pillow comes with its own wrench which you will have to use if you want to take its cap off. Sure, it seems a little extra, but you need to understand this is done for your protection. The lead is screwed on so tightly just to make sure it will never leak onto your bed. Which brings us to this.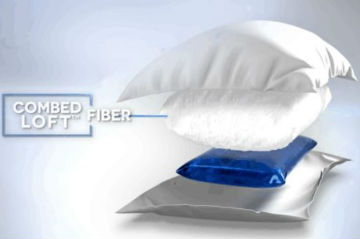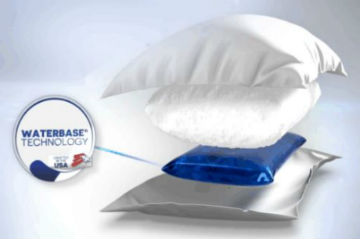 How to Use the Mediflow Neck Support Pillow
The pillow comes with all the tools you need to fill it as well as a set of instructions you can follow, minus the water. You have to provide that yourself!
With the wrench given to you, remove the cap. 

The wrench is dual purpose, so now you can use it as a funnel through which you can pour water into the pillow.

The pillow must be seated upright at all times during the procedure. Perform this process on a chair.

Flatten your pillow gently with your fingers to remove as much air from inside as possible until there's nothing left but water. 
You can decide how much water you want to fill it with. The pillow also comes with a filling chart that will help you decide.
Do not use ice cold water, but tap or lukewarm water. If you're planning on using water from a well, add a drop of bleach inside, as that water has not been purified. 
Change the water inside your Mediflow Waterbased pillow once every year to avoid mold or bacteria growing inside.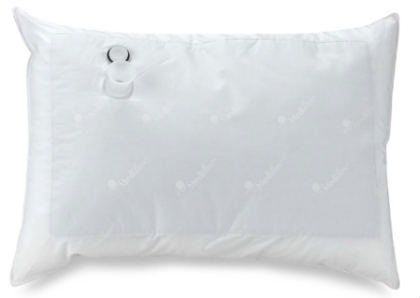 Where to Buy Mediflow Waterbased Pillow?
The Mediflow Waterbased Pillow is available for purchase right here on Amazon.
You can also click here if you want to read more reviews and check out their website for price comparison.
Can I Return My Mediflow Water Pillow?
Absolutely! But why would you do that? The pillow has a 30-Day satisfaction guarantee. If you don't seem to be pleased with it in 30 days, the company will accept it back. 
But, if you decide to keep it, you get a three-year warranty.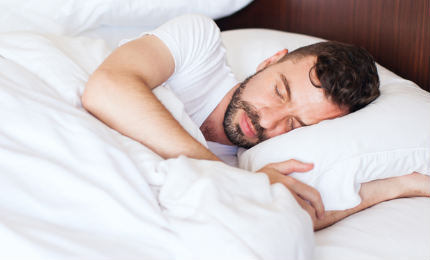 Conclusion
Does Mediflow Water Pillow really work for neck pain?
The Mediflow Waterbase Pillow cannot be easily compared to other pillows on the market. It has a unique design as well as innovative technology behind it. This is just about the only pillow that can say it's both soft and hard at the same time and you will love that! 
The Mediflow also offers complete control over the level of filling as well as hypoallergenic materials and the promise of a product you won't have to replace very soon. Seeing as it was tested at the Johns Hopkins University, it has also been clinically proven that this is the pillow that reduces neck pain.