Here's a fact for you. As you fall asleep, your body starts to cool down so that it can go through all the stages of sleep. Therefore, most specialists say that the perfect temperature to sleep at would be between 60 and 65 degrees Fahrenheit. However, unfortunately, not everyone can adjust their body temperature naturally to rest well. So they need a little external help. That's where the chiliPAD comes in, a pad that will cool you off into bliss. But does it work? Here's your ultimate chiliPAD review. Scroll and find out!
You're too hot (or cold) and bothered to wait, we know, so let us break it down for you!
Main Reasons for Buying chiliPAD are…
Chili Technology chiliPAD Cube Quick Overview
Why Is It Better?
It can both cool and heat you
Improves your sleep quality
Helps to save electricity
Assists in reducing sleeplessness from hot flashes, menopause, body pain & night sweats
Remote controllable
Increases REM sleep
New & improved chiliPAD Cube 3.0
CHECK PRICE ON THEIR OFFICIAL WEBSITE
COMPARE PRICE ON AMAZON
The chiliPAD Cube – Let's Review the Basics
First things first. Let's cover a little of the basics about the chiliPAD cube and pad such as what it actually is, and what you'll be getting if you decide to buy it.
The chiliPAD or better known as the chiliPAD Cube can be described as a climate control system that is highly personalized. It consists of an operating unit which comes in the shape of a cube, hence the name, and a very thin pad. 
This pad needs to go on your bed and under your fitted sheet. It has a series of medical grade tubes made of silicone that will help cool it or heat it, depending on your preference or needs. Place the cube as closely as possible, preferably on your nightstand or directly on the floor next to the bed if you don't have one. 
The chiliPAD Cube works by circulating water. Therefore, you will have to pour the liquid into the cube. It will get sucked into the silicone tubes and directed through them. As it moves, the water will be either heated or cooled to serve temperatures between 55 and 110 degrees Fahrenheit. Which brings us to this.
How Does the chiliPAD Work?
The chiliPAD is super easy to understand. Just think about it as a hot water bottle. Except a super fancy one from the future that can also cool you down if you want to! And it works in the exact same way. 
You have to pour water into the cube which will then flow into the silicone tubes that run all the way through the pad. Using your remote control, you can set the temperature as high or as low as you want it to be. The amazing thing about it is just how precise the temperature can be set. You can modify it by a difference of a degree. 
As you lay on your bed, the water will start to heat or cool down your mattress, allowing you to sleep or relax better. And that's not all! The chiliPAD will maintain a constant temperature all through the night so you don't have to worry about anything. Not even night sweats!
Are There Different Models of chiliPADs?
There have been other versions of the chiliPAD but they are no longer available on the market. The reason is that the brand has constantly worked to update the system and has currently produced the best one.
When you buy the chiliPAD Sleep System, you will receive the mattress pad which is hydro-powered, the cube for regulating the temperature, and the remote control. 
Why Is chiliPAD Different?
This is a fair question. The market is filled with cooling systems that promise you a perfect night's sleep. Therefore, we asked ourselves the same question when we reviewed the chiliPAD. Why is it different? Here are the answers. 
It can both cool and heat
Unlike most systems out there which will only provide one of these functions, the chiliPAD can do both. How does this help you? It means that you won't have to pay for two separate devices in case you need a little help to stay cool in the summer and something to warm your mattress in wintertime. The chiliPAD works perfectly well all year round!
It's less noisy
The chiliPAD's cube has a fan, of course, which you can see with the naked eye. However, compared to other cooling systems or tools we have come across, it's far less noisy. In fact, the level of noise the chiliPAD makes is equal to the sound of a laptop or maybe a very weak fan. Some users even say they like it and compare it to a pleasant white noise machine.
It can maintain the temperature
This means that the cooling or heating effect doesn't wear off immediately as you turn it off. With other systems, once you press the off button, the cooling benefits stop.
However, given the fact that the chiliPAD works under your sheets, the temperature effect will take a long while to dissipate. Most users report that they like to keep it on while they watch a movie or read and turn it off because the chiliPAD conserves heat or cool air throughout the night.
The Pros and Cons of the chiliPAD Sleep System Reviewed
Reviewing the Chillipad cube allowed us to make a list of pros and cons that come with using this little gadget. Here it is for your benefit!
The Pros
ChiliPAD maintains the sleep temperature
As we mentioned earlier, the chiliPAD will continue to conserve the temperature you set for your bed even after you turned it off. This means you can save money on your bills by not having to run the system all night long.
It has both a cooling and a heating system
Unlike other gadgets in this niche which can only perform one of these tasks, the chiliPAD can do both. Given the fact that it is water-based, this means that you can both heat and cool the liquid inside. It's as simple as that! Therefore, you can use it all year long!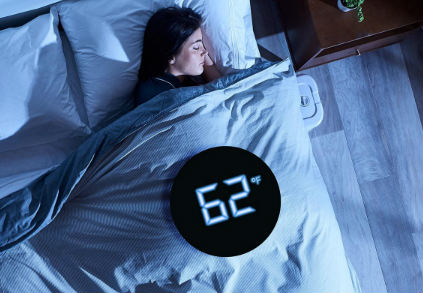 Helps to save on electricity
Even though the chiliPAD Sleep System should not be viewed as an alternative to air conditioning because that's not what it is, it can help you save money. Simply because it's a cheaper alternative to central air conditioning. If you use the chiliPAD and get comfortable at a certain temperature in bed, you won't have to heat or cool the entire house and spend so much money anymore.
You are in total control of the temperature
With the chiliPAD, the temperature varies between 55 and 110 degrees, which is a massive range when compared to other tools in this niche. Apart from that, you have absolute control over it, being able to set it down to a one degree difference if you want to!
It comes with a remote control
Although you can adjust the chiliPAD manually if you want to, seeing as the cube has a series of small buttons, most users appreciate the fact that the system is also equipped with a wireless remote control. This means you don't have to move at all when you are in bed or shift if you are already in a very comfortable position. Just use the remote control!
The pad is machine washable
 Even though you might not think it because it has silicone tubes inside it, the pad is, in fact, machine washable. This, in turn, makes it very easy to maintain. So you don't have to worry if you spill something on it or you stain it. 
Tim Ferris loves chiliPAD

It's not just that he loves it, Tim Ferris wrote about the chiliPAD in his book, Tools of Titans. Here's what he has had to say about it.
"Several of my close friends in Silicon Valley sheepishly admitted that, of all the advice I've ever given in my books and podcasts, the chiliPAD had the biggest impact on their quality of life."
The Cons
It's a bit expensive
Seeing as it is such a sophisticated system, the chiliPAD is more expensive than other tools in this niche. However, if you consider that this is an investment for a long time and that it might actually help you save money on your bills, it might be worth it!
Some people don't like the noise it makes
Even though it's closer to a hum than an actual noise, some users have reported they like to sleep in complete silence. If you know you're one of those people, then the chiliPAD might not be for you. 
You are advised always to place a protector under the pad
The reason is that one of the silicone tubes could break or get punctured. If that happens, the water will leak, of course, and wet or possibly damage your mattress. Therefore, you are advised to place a waterproof protector between your mattress and the pad.
Can I Wash My chiliPAD?
That depends on what you mean! If you're talking about the cube, you don't have to, obviously. Just wipe it or dust it. But if you're referring to the pad that goes on the mattress, we have some good news. Yes, it is completely machine washable!
Therefore, you can clean it easily enough whenever you feel like it. Just follow the instructions that come with it and you should be good to go!
How Do I Drain My chiliPAD?
Nothing easier! The system is equipped with a tool for draining. If you look in the box, you will recognize it easily enough because it looks like the letter H. Plus, you can see a photo of it in your user's manual. 
Use the cross end if you plan on draining the cube. The hollow end of the tool is meant for draining the pad.
Draining it is simpler than you think. 
Will the chiliPAD Help Me Save on Electricity?
Here's the whole equation. There is no doubt that warming or cooling just your bed as opposed to a whole room or an entire house for that matter will always be cheaper. And that is exactly what the chiliPAD will do for you.
How Much Does the chiliPAD Cost?
The chiliPAD is on the more expensive end when it comes to tools or systems that can help you get better sleep. Even so, we could argue that no one can put a price on a good night's sleep, isn't that right? 
You can check the current price on Amazon and their website right here.
How to Use the chiliPAD
Here are all the steps you need to take if you are using the chiliPAD for the first time.
Take out the pad and secure it on your mattress.

Find a very flat surface where you would like to place the cube. Make sure it has a minimum of two feet of air in all directions so it can circulate its airflow. 

Always place your cube facing up so that no water can leak from the tank.

With the hose attachment, connect your cube to the pad. Please be aware that the brand no longer sells extension hoses, so you will have to place the cube very close to your mattress.

Plug in your cube.

Locate the cap of the water tank and unscrew it.

Fill the cube with distilled water to the brim.

You must add hydrogen peroxide (one cap) inside the water tank as well.

Screw the cap back on.

Turn on the cube.

Using your remote control, set the temperature to how many degrees you want.

Let the chiliPAD reach that temperature. It should take an approximate of 15 minutes.
Where Can I Buy the chiliPAD?
The chiliPAD is available on their official website and on Amazon.
You can also check Amazon if you want to read more reviews.
Does the chiliPAD Come with Any Warranty?
Yes, if you buy a chiliPAD, you will get a 2-year warranty. The first year will cover you for any damages that might happen to the Chilipad. The company will either replace or repair your system without asking you for charges or pay for shipping. 
However, during the second year, you will have to pay a $30 fee if your chiliPAD turns out to be defective and you need to repair or replace it.
You can also opt for a sleep trial, which lasts for 90 days. You can return your chiliPAD at the end of the 90 days or at any point during that period if you want. 
Plus, the company also offers their customers free exchanges for their products as well as upgrades. All you have to do is request it via an online form.
Please note that these rules apply only to those customers who have bought the chiliPAD directly from the company and not from any third party.
chiliPAD Shipping
All standard shipping within the United States is free if you buy a chiliPAD directly from the manufacturer. The product is expected to arrive in a maximum of five or seven days, as long as you are living in contiguous USA. If you live in Hawaii or Alaska, the shipping period will extend to ten business days.
The company also ships internationally, but it is not free. You will have to pay extra. Apart from that, there is a list of restricted areas where no packages can be sent. However, international shipping may take up to twelve days.
What's the Conclusion after the Review?
So, should you buy chiliPAD or not?
Even though the chiliPAD is a little on the expensive side, there is no doubt that it's a creative solution for insomniacs and individuals who suffer from night sweats. It seems like an idea straight from sci-fi movies – a thin pad made of silicone tubes that run cold water, made to keep you cool all night. 
Sounds cool, doesn't it? Pun intended! And when you realize it can help you save on electricity as well, nothing should stop you from buying it!
What do you think about this review? Let us know in the comments!