If you're a back or side sleeper, one of the things that you have to watch out for when you sleep is your spinal alignment. Not having enough support can lead to unwanted body pain or even disorders. Moreover, hip pain caused by conditions like arthritis, injuries, pinched nerves, cancer and osteoporosis can worsen without proper support. So, let's check out the best knee pillows for hip pain, back and side sleepers.
If you are looking for a relief from knee and hip pain, scoliosis, sciatica, and arthritis or pregnant and struggle finding a comfortable sleeping position you should try sleeping with a knee pillow. Keep reading to find out what are the best knee pillows in 2019!
Here's a quick overview if you don't have the time or don't want to read all the article: Best overall knee pillow is by ComfiLife Orthopedic. It has thousands of positive reviews and you pretty much can't go wrong with it! Try Everlasting Comfort knee pillow if you're looking for a pillow with a removable strap and Cushy Form if you prefer a knee pillow in a shape of a half moon.
What are knee pillows?
Just as its name suggests, this type of pillow is placed between or under the knees to help maintain optimal spinal alignment as you sleep.
Who needs under a knee pillow?
A knee pillow is suitable for both side and back sleepers as it can give them enough support during sleep.
It is also recommended for people suffering from neck, back, and hip pain and other disorders like scoliosis, sciatica, and arthritis.
Pregnant women can achieve comfortable sleep as well with the help of this type of pillow.
Do knee pillows work?
They sure do!
When used properly, good quality knee pillows can you give you more comfortable nights that will have you waking up feeling refreshed each time.
Knee Pillow Benefits
There are many advantages to using knee pillows. Here are some of them:
Pain Relief 
If you suffer from hip pain, a correctly placed knee pillow can help reduce pain and even improve symptoms.
It can also give relief to knee pain caused by bone to bone friction. Aside from these, knee pillows can help with any discomforts caused by arthritis, sciatica, and surgery.
Quality Sleep 
A knee pillow can give you better sleep each night by reducing pain and keeping you at a comfortable position.
Correct Posture 
Keep your spine at a neutral position and maintain good body posture even while you sleep with the help of a knee pillow.
Improved Blood Circulation 
A knee pillow allows for better blood circulation in the legs and feet. This means that there'll be no blood stagnation, keeping your legs and feet healthy.
Types of Knee Pillows
Hourglass Knee Pillow – This knee pillow's shape hugs the body so that it is kept in place while you sleep. Aside from being the most common type of knee pillow, it is also the most affordable one.
Strap on Knee Pillow – If you're looking for a longer knee pillow, then this is just what you need. To keep it in place, it has a strap which you can attach to your leg.
Bolster or Wedge Knee Pillow – If you tend to switch from sleeping on your back to sleeping on your side, you'll find this type of knee pillow very comfortable to use. A bolster and a wedge knee pillow are used in the same way, but they differ in shape.
Bolster knee pillows have a half-moon shape while wedge knee pillows are triangular.
Things to Consider When Buying Knee Pillows
When you're buying knee pillows, there are several factors that you have to consider:
Firmness
A knee pillow should never be too firm nor too soft. Finding a good balance in terms of firmness will ensure that you have enough support to keep your body at its optimal position. However, when choosing, you should also consider your weight and height.
Material 
You have a lot of options in terms of materials. If you have sensitive skin, you'll want to get one that is hypoallergenic.
Or, if it fits your budget, a knee pillow made of memory foam is your best choice. You'll also want to consider getting a product with some cooling feature if you live in a place with a hot climate.
Thickness
The thickness of your knee pillow will depend on your weight and height. Knee pillow that is four to six inches thick is a good place to start.
Durability 
Invest in a high-quality product that won't flatten after a few weeks of use.
What Are the Best Knee Pillows in 2019?
Best Overall Knee Pillow
ComfiLife Orthopedic Knee Pillow Review
Is your hip pain getting in the way of your good night's sleep? Then, check out the ComfiLife Orthopedic Knee Pillow.
It's an hourglass knee pillow that has been ergonomically designed to provide relief to people with sciatica, back pain, hip pain, leg pain, and joint pain.
This knee pillow is made from top quality memory foam that can stand the test of time while providing you with maximum comfort and support.
It even comes with a zippered cover that is not only breathable, but it's also easy to clean as well.
Last but not least – you can be sure that it's a good quality product as there are literally thousands of positive customer reviews on Amazon.
Pros
Comfortable to use
Easy to clean
Comes with a money-back guarantee
Cons
Some people find it to be too thick
Read real reviews on Amazon
Best Semi-Roll Knee Pillow
Cushy Form Half-Moon Bolster Knee Pillow Review
If you're a back sleeper looking for enough support, then the Cushy Form Half-Moon Bolster Knee Pillow is definitely worth checking out.
Made in the USA, this knee pillow is made from hypoallergenic, visco-elastic memory foam and a breathable, organic cotton cover case.
You can put it under your knees while you sleep on your back or use it to lift your lift to encourage better blood circulation.
Plus, you can position it, so you can comfortably sleep during pregnancy or post-surgery.
Pros
Hypoallergenic
Multi-purpose
Comes with a money-back guarantee
Cons
Unpleasant smell when new
Read real reviews on Amazon
Best Knee Pillow with Adjustable and Removable Strap
Everlasting Comfort 100% Pure Memory Foam Knee Pillow Review
Get quality sleep each night with the Everlasting Comfort Memory Foam Knee Pillow. It's one of the best knee pillows that can be found in the market today.
Plus, it comes with two pairs of memory foam earplugs with an NRR of 33.
Made from pure memory foam, this quality knee pillow has an orthopedic contour that will help support and align your spine, hips, and legs.
It even comes with a strap which keeps pillow properly positioned when sleeping. You can remove and adjust according to your preference. 
Pros
Has an adjustable and removable strap
Comes with premium quality memory foam earplugs
Comes with a lifetime replacement guarantee
Cons
Some people find it to be too thick
Read real reviews on Amazon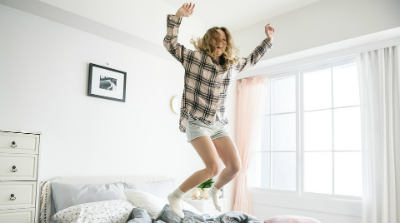 Conclusion
So, What Are the Best Knee Pillows for Hip and Knee Pain for Back and Side Sleepers?
Knee pillows are very helpful in keeping our body in its proper alignment while we sleep.
The Cushy Form Half-Moon Bolster Knee Pillow is a must-have for back sleepers while I highly recommend the Everlasting Comfort Memory Foam Knee Pillow for side sleepers.
Both are reasonably priced and are made from quality materials.
You can also opt for the ComfiLife Orthopedic Knee Pillow if you're looking for support and relief from hip pain, joint pain and scoliosis, sciatica, arthritis or are pregnant.