When thinking about a good night's sleep, most people imagine sinking into a soft pillow-like a fluffy marshmallow and dreaming away. But is that really what you need? Or is it a good, firm pillow that will keep your spine and neck aligned and make sure you don't wake up with cervical pain? Now that we've asked this most intriguing of questions, let's review the best firm pillows in 2022 and find out the answer!
The perfect firm pillow should be the one that allows your neck and head to rest easily and without putting any stress on you. It should also fill in the gap between your neck and the mattress in a seamless and supportive way. So how do you choose the firmest pillow? After reviewing the best firm pillows in 2022, the answer lies in the different qualities they have. Curious to know more? Read on!
Of course, we provide a lot of reviews for your benefit in this piece, but because we know you're anxious to find out a little spoiler, here are the two extra firm pillows that got top points this year. The winner is the Classic Brands Conforma Ventilated Memory Foam Cushion Firm Pillow thanks to its responsive memory foam that will provide never before seen pressure relief. Our runner up is the Beautyrest Extra Firm Pillow for Back & Side Sleeper for the ultimate loft and high thread count cotton cover. Here are some more details!
Top 7
Best Firm Pillows: Comparison Table
TOP-RATED

Classic Brands Conforma

High pressure relief
Ergonomic support
For back and side sleepers

Check Price

RUNNER UP

Beautyrest Extra Firm Pillow

Pack of two
For back and side sleepers
400 thread count cotton cover

Check Price

FIRM LATEX PILLOW

OrganicTextiles

Filled with natural latex
Resistant to mites and mold
Will not flatten for years

Check Price

CHEAPEST OPTION

Triple Cloud Premium Luxury Pillows

Made of shredded memory foam
Highly adjustable
Fit for back and side sleepers

Check Price

BEST BUCKWHEAT PILLOW

Beans72

Filled with organic buckwheat hulls
Helps relieve headache and stress
Will never lose its shape

Check Price

BEST DOWN ALTERNATIVE

Basic Beyond

Comes in a pack of two
Filled with a blend of polyester and bamboo
Can be cleaned in the washing machine

Check Price

FIRMEST DOWN PILLOW

WENERSI Premium

Comes in a pack of two
The cover is handmade
Perfect for all sleepers

Check Price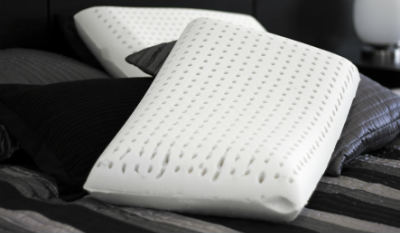 What Are the Benefits of Sleeping on a Firm Pillow?
Let's take a look at some of the benefits most chiropractors, doctors, and users alike talk about when referring to firm pillows.
Higher level of support
This will become extremely important especially if you have joint, back or neck problems.
It aligns the spine
You need to have a good posture even when you sleep, not just when walking or working. A firm pillow can take care of that by keeping your spine straight without straining it or hurting you.
It distributes your weight evenly
Not having the proper support from your pillow means your head and neck will end up sagging on one side as you sleep. Therefore, your vertebrae could get misaligned and your muscles could ache.
Best Firm Pillows 2022: Reviews
#1 Classic Brands Conforma Ventilated Memory Foam Cushion Firm Pillow
Best rated – winner

The best pillow reviewed in 2022 is the Classic Brands Conforma.
Why? You might ask.
Where should we begin? It's made of a special responsive memory foam that will provide ergonomic support for your head and neck while you sleep.
And that's not all. Apart from the support and comfort, the Classic Brands Conforma also offers pressure relief in a way that other firm pillows cannot. Which means your whole upper body is aligned, making sure you won't wake up with muscle pain.
The memory foam that the Classic Brands Conforma is made of is resistant to all types of allergens, including dust mites, bacteria, microbes, and mold. 
This best-rated pillow can regulate the temperature of your body while you sleep, which makes it perfect for people that suffer from night sweats. 
As far as feel is concerned, the Conforma can be classified as a medium-plush pillow.
Pros
Made of responsive memory foam

Pressure relief

Antimicrobial
Cons
The pillow might be a bit too high for first-time users.
#2
Beautyrest Extra Firm Pillow for Back & Side Sleepers
Runner up

Are you looking for a firm pillow that's also soft to touch?
Stop looking because the Beautyrest pillow will be exactly up your alley! 
Specially designed to cater both to side and back sleepers, this outstanding firm pillow is filled with fiberfill from NaturesLoft. This means you will be getting all the support you need and a little extra touch of class!
But the thing that might make you fall in love with it is the cover. It's made of 400-thread count cotton that will make you feel like you're sleeping in a luxury hotel! Not enough? What if we told you this top pillow comes in a standard pack of two so that you can share it with your loved one? 
Pros
High thread cotton cover

Comes in a pack of two

Filled with fiberfill
Cons
Might require a little adjusting to in the beginning
#3 Organic Textiles All Natural Latex Pillow
Best firm latex pillow
Forget about memory foam, forget about down alternatives, and forget about gel-filled pillows.
If what you truly want is a firm pillow than you need to go for the Organic Textiles All Natural Latex one.
It's made of 100 percent natural latex which means you will not be exposing yourself to any chemicals while you sleep!
Let's talk about latex! It's naturally hypoallergenic. As a consequence, it's resistant to mold and dust mites. Apart from that, latex is also a super-strong material that will last a long time.
The Organic Textiles pillow comes with a cotton pillow cover that will allow your skin to breathe freely, as opposed to other firm pillows.
It was especially designed to enhance ventilation so that you don't sweat during the night. Quite the contrary, you will be kept cool and refreshed! And you know what this means!
Say goodbye to the pesky hot pillow!
Pros
Made of natural latex

Organic cover that is breathable

Hypoallergenic
Cons
Might have a slight rubber smell at first
#4 Triple Cloud Premium Luxury Pillows for Sleeping
Cheapest firm pillow

Who says you can't find the pillow of your dreams on a budget?
Meet the Triple Cloud Luxury firm pillow!
It is part of the Dream Series and it was designed from scratch so as to create the perfect sleep environment for people who wish to have just a little more support while they sleep.
The Triple Cloud Luxury Pillow is made of shredded memory foam, which means it's super adjustable. Go in and add or take out as much memory foam as you want until you get the desired loft or thickness.
Did we mention that all the memory foam was shredded by hand? Because it is.
It's also more aerated and provides more support than regular memory foam according to reviews. It has also shown to be more flexible, resulting in a better, more flexible pillow that bends to your wishes but also remains firms once you set your head on it. All for a fraction of the cost!
Pros
Made of shredded memory foam

The memory foam is shredded by hand

Aerated memory foam

Adjustable
Cons
You will need to air it out for two days before using it.
#5 Beans72 Organic Buckwheat Pillow
Best buckwheat firm pillow

If you're a vegan and want a firm pillow for a good night's rest, you have found your sleep buddy!
Of course, this doesn't mean non-vegans can't use it because we're sure they will.
The Beans72 Organic Buckwheat Pillow is a dream come true, pun intended.
It's filled entirely with organic buckwheat hulls grown 100 percent in the USA. The cover itself is made of 100 percent unbleached cotton, which means you will be getting a fantastic pillow and protecting the environment at the same time!
But why buckwheat? Because it's simply one of the best material when it comes to firm pillows. It's natural, can help relieve muscle and neck pain, and is very malleable. This means that it will take the shape of your head and neck during sleep.
Buckwheat is also naturally cold. The hulls do not get hot because of your body temperature nor do they store moisture. In fact, they move organically since they are a grain, after all, allowing a vast quantity of air to circulate through the pillow, keeping you cool all night. 
Another major advantage of the buckwheat pillow is that it will never lose its shape. Nothing happens to the buckwheat hulls over time, unlike with other materials. 
Pros
100 percent organic and vegan

Will never lose its shape

Will stay cool all night

Allows air to circulate
Cons
The buckwheat hulls rustle when you move
#6
Basic Beyond Down Alternative Bed Pillow
Best down alternative

There are many down alternative firm pillows out there, but this is the best-reviewed one.
The Basic Beyond pillow is filled with a fiber blend of Polyester and premium Bamboo, designed to both ventilate your skin and protect it against mites and other allergens.
When you order this hard pillow, you will receive a standard pack of two down alternatives that are super comfortable no matter which position you decide to sleep in. 
Even though the pillows come in a compressed pack, they are very easy to re-fluff. Simply push them down to make the pillows come back to their original size and loft.
If you wish to clean the Basic Beyond down pillows, do so in the washing machine on the gentle cycle. Only use cold water and dry them out in the sun! 
The company also offers a 30 day period for a refund, but we really don't see why you would want to return this firm pillow!
Pros 
Comes in a pack of two

Made of a blend of Polyester and bamboo

Can be cleaned in the washing machine
Cons
Might need a bit of getting used to in the beginning
#7 WENERSI Premium Goose Down Pillows with Feather Blended 
Best down firm pillow 
Are you a feather person or a down person?
You will be a down person after you sleep on the Wenersi Premium Goose Down pillow.
Get ready to say goodbye to those crunchy feathers because this firm pillow is all about that soft down! 
The reason why so many users reviewed this pillow so positively is because it can provide ample support in the lightest of ways thanks to its outstanding blend of feathers and down. 
Apart from that, the Wenersi Premium Goose Down pillow is perfect for any kind of sleeper, whether you choose to rest on your back, stomach or side. 
The pillow comes in a standard pack of two, perfectly vacuumed and sealed. You are advised to pat both of them gently and allow them to sit for a few hours until they recover their initial loft.
The pillows also come with fitted covers made of 100 percent cotton. The covers will make a gorgeous addition to any bedroom thanks to the beautiful handmade silver piping around the edges. 
Pros
Comes in a standard pack of two

Cotton cover with handmade silver piping

Perfect for every type of sleeper
Cons
Has to sit for a few hours until it goes back to its initial loft
Firm Pillow Buying Guide
What Types of Firm Pillows Are There?
Now that we have reviewed the best firm pillows in 2022, did you know there are also several types out there?
Possibly the most popular ones on the market, top memory foam pillows are both firm and elastic at the same time. People are drawn to the viscous feeling that takes the shape of the head, cradling it all night as you sleep. Memory foam can distribute the weight of the neck very evenly and alleviate your pressure points.
Overstuffed fiberfill and down pillows
Even though they are still firm pillows, these are considered to be the softest of the bunch. They have a lot of extra filling inside, but they are also less prone to being compressed. Be careful when selecting these pillows because neither down nor fiberfill is malleable!
Latex is a natural material that comes from the rubber tree. This means they are organically safe and very durable. However, they do not yield in the same way a memory foam pillow will. Therefore, this pillow will never take the shape of your head or neck. You can push and smoosh it all you want. A latex pillow will always revert to its original shape because it's very firm.
As you might have expected, these pillows have thousands of beads inside. They are made of polystyrene, which is what gives them a unique firm feel. The pillows can be molded to fit your neck and head. However, they will deflate as time goes by, so take that into account!
They are famous for managing to keep your head straight and your spine aligned the whole night long. But only if you have enough patience to fill them correctly. Which means you need to figure out first how much water you have to put in. They are also not malleable since you cannot force water to sit in one place! This would make it a hard pillow.
They are, arguably, the best firm pillows out there. They simply check all the boxes. They provide perfect support, are moldable and malleable, promote airflow, are breathable, the buckwheat keeps cool, they last forever because nothing happens to the buckwheat, and you can adjust them. But they do rustle when you move! Still, they qualify as super extra firm pillows.
Things to Consider When Choosing a Firm Pillow
1. Your sleeping position
Are you a back sleeper, a side sleeper or a stomach sleeper? The position in which you sleep will be one of the key factors in choosing the type of firm pillow you need.
For example, side sleepers need a lot more support for their neck, which is why they should go for the firmest memory foam pillow or for buckwheat. Stomach sleepers need to stay as close to the mattress as possible so that they can breathe, so they should go for a down pillow.
2. The loft
Once again, the loft you need depends on the position you sleep in. A super high loft can prove incredibly comforting in some positions, but downright bothersome in others. 
3. Warranty
It's no secret that some manufacturers offer longer warranty periods than others. It may have to do with the materials used for making the pillow itself or the price you paid. Generally speaking, go for a pillow with a long warranty.
4. Material
Check out the paragraphs above where we detail the different types of firm pillows! They have to do with the materials they are made of. Then decide. Are you a buckwheat kind of person, a down and feather type of person or a memory foam individual?
Conclusion
So, what is the best firm pillow 2022 has to offer? 
The reviews are in and it looks as if the Classic Brands Conforma Ventilated Memory Foam Cushion Firm Pillow will wear the crown this year. As it well should! It's made of a fantastic responsive memory foam that will relieve your pressure points and allow you to relax.
Our silver medal winner is the Beautyrest Extra Firm Pillow for Back & Side Sleeper thanks to its amazing loft and luxurious high thread cotton cover that will make you feel like you're sleeping on a cloud!
Are you ready for bed? Don't worry about the bed bugs biting. These pillows are hypoallergenic!