CNH pillows are one of the ways to relieve pain caused by Chondrodermatitis Nodularis Helicis. They have holes that take away the pressure on your ear, allowing it to heal. There are different types of CNH pillows but they all have the same basic function; give you relief from pain by CNH and sores.
Keep reading to find out what are the best CNH pillows and how they all compare in terms of comfort, odor potential, support and body alignment.
Pillow with Hole in the Middle: Quick Comparison
BEST OF THE BEST

Original Pillow with a Hole

Effectively provides relief from ear pain and pressure sores
Promotes faster ear healing
The pillowcase of soft material and easy to clean
Pillowcases also have a hole on both sides
The firmness of the pillow is easily adjustable
Hypoallergenic

Check Price

RUNNER UP

Pure Comfort Pillow with Ear Holes

Pillow loft is fully adjustable
Made of memory foam
Provides great support and comfort
Cool and soft pillowcase
Readily washable pillow cover
No smell like some other memory foam pillows

Check Price
Ubermade Donut Plush Pillow

Delicious looking pillow for a comfy sleep
Soft and lightweight
Perfect for use as a bed pillow
Cheap and easily affordable

Check Price
What Is a CNH Pillow?
CNH pillow is one that has a hole in it so that the ear can fit in. The hole present in the pillow allows your delicate ear to rest on air. This takes away the pressure that the use of a regular pillow will cause.
A regular pillow will cause pain on your pinna when the weight of your head presses on the pillow. Pillow with a hole in the middle is an effective way to relieve the pain that is caused by CNH.
What Is CNH Of The Ear?
CNH is short for Chondrodermatitis Nodularis Helicis. It is also known as wrinklers disease and is sore from the pressure that develops on the outer ear.
It affects people of different ages but mostly affects those who are above 55. It also affects you if you have the habit of sleeping constantly on one side.
CNH is a result of friction and pressure on the external ear over time. It is prone to occur in those of advanced age because the skin is less resilient and less likely to a quick repair.
Always sleeping on the side and on a standard pillow has your external ear rubbing on the pillow, causing the formation of sores. The use of CNH pillows is meant to take away the pressure from the ear so as to allow the sores to heal.
Best CNH Pillow: Reviews
#1
The Original Pillow with a Hole
Best Pillow with Ear Hole 2023
The original pillow with a hole is out to give you comfort and ensure you get a good night's rest henceforth. Made with the aim of providing you with relief from ear pain, it has over the years lived up to its purpose.
The original pillow with a hole is effective in helping you with fast healing from chronic ear pain, pressure sores and also CNH. One interesting feature of the pillow is its adjustable firmness.
You can easily adjust this by altering the stuffing. There is a zip present that gives you access to the stuffing material.
You can describe this as your ear's best friend because this pillow has undergone changes based on users' feedback to ensure that what you have is perfect for you. No wonder it is highly recommended by doctors.
It comes with a pillowcase that is made from soft rose and cotton. The pillowcase also has a hole on both sides that helps the pillow achieve its goal of providing you with relief.
The use of the pillowcase gives your pillow longer life and lets you keep it clean easily.
Carefully manufactured to ensure that you lack nothing, it is stuffed with hypoallergenic hollow fiber. It is cooler and softer than memory foam and gives you more comfort. If you are a sufferer of allergies, this is the best product for you. 
Pros
Hypoallergenic

Facilitates ear healing

Odorless

Provides comfort and support
Cons
#2
Pure Comfort Pillow with Ear Hole
Runner Up
Second, on our list of CNH pillows for you is the Pure Comfort. It is the pillow for those with sensitive ears and also CNH sufferers.
Its design is made with the ear cutouts so as to give relief to those with ear pain.
An appealing feature of this product is the fact that its loft is fully adjustable. This enables you to customize the pillow to your preferred height giving you the utmost comfort.
The comfort and support it gives perfectly align your spine so that when you sleep, you can do so without pain.
It is made of memory foam material, but unlike other memory foam products, this pillow with ear holes produces no odor.
To ensure that you can easily care for your pillow, the pillowcase is made of bamboo and is machine washable. Ideal even for people with allergies.
Pros
Fully adjustable loft

Made of memory foam material

Gives good support and comfort

Odorless

Machine washable pillowcase
Cons
Pillowcase is a bit too thin
#3
Ubermade Donut Pillow
Cheapest Pillow with Hole in the Middle
The donut pillow for the ear is the cheapest pillow that has a hole in the center. It is the best option for those on a budget.
Although it is not specially designed for CNH, it can pass as a sore ear pillow and a pillow for ear pressure sores. For more permanent solutions, the choice of the other two pillows is better.
The donut pillow is soft and lightweight. You can adjust it easily as you sleep without having the hard stone feeling on your head. You can comfortably use it as a head pillow for reading, watching TV, and also as a back pillow.
Pros
Very soft and lightweight

Bite allows for perfect shoulder placement

Great for side sleepers

Great price
Cons
Pillow is a bit flat and could cause some comfort

Not specifically designed for CNH
FAQ
Does CNH Go Away On Its Own?
No. CNH does not go away on its own but can be treated with either medications or self-care techniques. The self-care techniques involve the use of a CNH pillow.
Also, avoid the sun and putting too much pressure on the affected side. The use of petroleum jelly is also great.
Is Chondrodermatitis Nodularis Cancerous?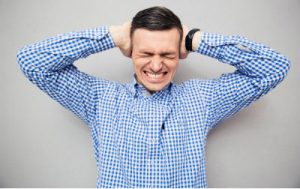 No. CNH is not cancerous. It is most times mistaken for skin cancer especially if the symptoms of CNH involve bleeding and scaly skin around the nodules.
This confusion is because basal cell skin cancer, squamous cell skin cancer, and pre-cancers are similar in appearance to some CNH nodules.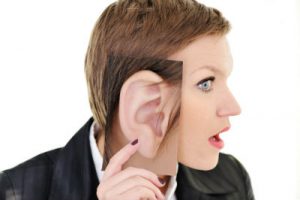 Conclusion 
The easiest way to avoid ear sores and pain from CNH is with the use of CNH pillows. This not only avoids the occurrence of CNH, but also cures it in the event that you already have it.
When it comes to CNH pillows, the best pillows with a hole in the middle in 2023 are Original Pillow With Ear Hole and Pure Comfort Pillow. These products have proven to be exactly what you need even if you are on a budget.