Sleeping on the couch surely has a pejorative connotation to it. Usually your partner makes you sleep there when you've done something bad and you're not allowed in bed any more. Or you sleep there by yourself when you've binge watched Game of Thrones to see if you can figure out who's going to win in the end. But what if I told you there is more to recliners for sleeping than meets the eye? That I've reviewed a whole bunch and found the best recliners for sleeping you will gladly trade your bed for?
If you just can't wait and want to make your decision as quickly as possible, then I have a huge treat for you. I've reviewed four of the most comfortable recliner to sleep in and laid out the results for you down below. You will also find information on what they are, what features you need to pay attention to when buying the perfect sleep chair, what types you can find on the market, warranty, and more. Let's start with a quick rundown!
Top 4 Best Recliners for Sleeping
#1

NHI Express Addison Large Contemporary Microfiber Recline
Top choice: This large recliner was my number one choice because of its top-notch mechanism as well as upholstery that is stain resistant. It also has hardwood frames and comes with a 1-year warranty.
#2

CANMOV Power Lift Recliner Chair
Best electric controlled recliner: This is a power lift recliner with a heavy duty mechanism and a single motor that caught my eye. You can use its controller to get it in any position you want.
#3

Homall Manual Recliner Chair
Best option on a budget: The other options may be useful and powerful, but we are still all on a budget. So the Homall recliner will do the job just fine with its leather upholstery and theater chair feel.
#4

Lifestyle Power Recliner Fabric
Best looking recliner: They might be comfortable and relaxing, but they also need to look good in your living room or bedroom. And the Lifestyle recliner is the most beautiful one of all.
What Are Sleeping Recliners?
To put it as simply as possible, a recliner is a chair padded with cushions in which you can relax and sleep. The cushions in the backrest allow you to lay your whole weight as well as your spinal cord against it so that you can fall asleep easily. Apart from that, a sleeping recliner also comes with a footrest so that you can extend your legs as if you were in a bed.
Typically, you will see a sleeping recliner used by pregnant women or by elderly people because its wonderful design helps relieve the pain in their muscles and joints. However, in the past few years, the sleeper recliner has become more and more advanced, allowing everyone to use it and even sleep in it through the night.
What Types of Recliners for Sleeping Are There?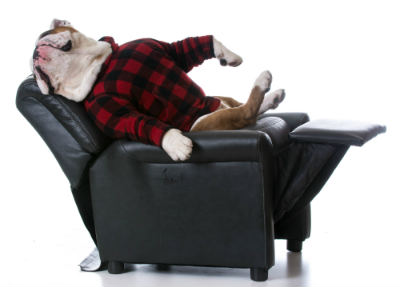 Buckle in because you're in for a ride. As mentioned above, the past years have brought forward a wealth of improvement on the sleeping recliner. Therefore, more and more models and types have been invented purely for your comfort.
The two position recliner
It's probably the cheapest one. But be aware because cheap also means it will be quite limited in what it can do. Two positions means that's all it comes with – upright or reclined.
The rocker or glider
A little more expensive than the two position, it comes with more angles at which you can recline it. Plus you can place it as close to your walls as you like. This means it's great if you live in a small space.
The push back
As the name suggests, all you have to do is push it back to get it to recline. The downside to this type of recliner is that it doesn't have a footrest. So maybe use it just to work?
The power lift recliner
This one is among the most expensive but also the best ones. That's because it comes equipped with a motor which essentially lifts the whole chair allowing you to get in and out effortlessly. It's perfect for people with disabilities and patients.
The massage recliner
You know what this one does. You've tried it already at the mall! It's super popular among shoppers because it can massage your whole body while you sit in it.
The recliner sofa
It comes in two options itself – a manual and an electrical one. This is essentially a typical sofa but one which reclines all the way down.
The kids' recliner
It's the same as the adult one only smaller, made of non-toxic materials and usually has a cup holder installed. Plus, the best ones have safety features and fabrics that are extra easy to clean.
The swivel recliner
This fancy model will recline like all the others but it will also swivel in both direction all the way to 360 degrees. However, you should know they work better as gaming chairs or for the office. Which brings me to this.
Gamer recliner
Gaming has now become such a widespread activity that manufacturers have come up with recliner chairs especially made for it. It has fantastic lumbar support as well as great compatibility with your personal gaming system. Halo anyone?
What to Look for in Your Perfect Sleep Chair
If you just scan the long list of different types of recliners for sleeping I've compiled above, one thing becomes crystal clear. They are not cut from the same cloth. Pun intended. I mean to say they are not all the same, of course.
This means that your needs, as well as your idea of comfort, will vary greatly from another person's. Or maybe you have a different budget or you care more about your house's design. So what do you need to take into account when buying a fully reclining chair-bed?
Size
This needs to be the first thing you take into account. Think both about the size of the chair itself and the size of the room you will be placing it in. When in the store, don't forget that the chair reclines. Do you have room enough for it to extend? The sleeping chair should sit comfortably and you shouldn't squeeze around it.
Weight
It's important to know that not all sleeping recliners can carry the same amount of weight. A standard one will take between 200 and 300 lbs. But there are larger ones that can go up to 500 lbs. Choose according to the person who will be sitting in it.
Upholstery
Most recliners are covered in leather, cotton, wool, microfiber, or polyurethane. The fabric will decide the price of the chair but you need to make a choice based on it as well. For example, we already mentioned above that people with children should choose a material that's easier to clean. Kids spill! The same goes for pets.
Warranty
This is one of the most important criteria to look at when buying a recliner bed chair. The reason is that you may know how the chair will perform or if it's the right fit for you. Therefore, the warranty itself guarantees a refund, a repair or even a replacement should something happen.
Padding
Here's a tip for you – look for a chair that has a 2.0 density or even higher than that. This means that the foam inside the upholstery will not lose its initial shape that easily.
Tip number two – never go for chairs that have cotton batting inside. In time, it will shift and the chair will get super uncomfortable. Reach for memory foam or synthetic foam.
Suspension springs
Always look for a recliner for sleeping that has both coil springs in the seat as well as suspension springs at the back. Apart from providing the best support, the chair won't sag that easily.
What Are the Best Recliners for Sleeping in 2019?
So let's take a look at the recliners I reviewed for your benefit. If you're searching for the best lay flat recliner, you'll find all the details you need right here as well as in the more exhaustive review below.
1. NHI Express Addison Large Contemporary Microfiber Recliner
Top choice

This 35-inch wide super comfortable recliner was my top choice out of all the ones I reviewed. It's the wall hugger type, which means you only need an approximate 4 inches between the chair and the wall if you want to recline it at its full extension.
Its upholstery is stain resistant so it will prove to be a quality purchase for people with children and pets. Plus the frame is made of hardwood, making this recliner extra durable.
This chair reclines manually and comes with a 1-year warranty. You can get it in a selection of colors that will match any living room and it can support up to 250 lbs.
You will also find that it's super easy to assemble, meaning that you won't require any tools to put this chair together. When you open the box, you will see four large pieces that join together as if in a puzzle. Then your recliner is ready for you to relax in!
Pros
Only needs a little space

Super easy to put together

Hardwood frames

Stain resistant fabric
Cons
Could get squeaky after a long time
2. CANMOV Power Lift Recliner Chair
Best electric controlled recliner

As the name suggests, this is the power lift type of recliner, which means you have to plug it in. This chair has a heavy-duty mechanism that will change its positions as you control it using the remote control.
The upholstery is antiskid which makes it a lot safer than the rest. The pillows which you can find on the back, armrest, and seat are all overstuffed so that the chair is super comfortable.
As far as the remote control goes, it's incredibly easy to use since it only has two buttons. You will use a combination of them to reposition the recliner as you want. Its installation is easy as well, and it lasts under ten minutes.
The recliner is covered in velvety microfiber that only needs to be wiped clean. You don't have to waste time scrubbing it down. For your convenience, the Canmov has also been fitted with two cup holders as well as an USB port where you can charge your phone or laptop. Essentially, it will feel like you're sitting in a chair at the cinema!
Pros
Has a USB port

Comes with two cup holders

Easy to clean

Easy to install
Cons
You may need an extra pillow
3. Homall Manual Recliner Chair
Best option on a budget

Needless to say, this is the cheapest option I could find and review for you but that is still great for your sleeping needs.
Its upholstery is made from PU leather.
This stands for Polyurethane leather, a synthetic fabric. In other words, yes, this chair is actually vegan. So, vegans, this one's for you!
The chair also has a footrest that you can adjust made from a super durable steel frame and extra foam padding. This recliner's maximum weight capacity is 265 lbs.
Another detail that I loved about it is its curved and wide armrests that fit a lot better with the shape of your body and allow you to rest better.
As far as warranty goes, you are allowed 1 year for replacements, repairs, and exchanges.
Pros
Budget-friendly

Vegan-friendly

Easy to clean

One year warranty
Cons
4
.
Lifestyle Power Recliner Fabric
Best looking recliner

Apart from being the best looking recliner on my list, it's also a high-quality electric one that you can control with a single button.
What I've also loved so much about it is the upholstery. It's a super comfortable plush fabric that simply makes sleeping or lounging in this chair a luxurious experience. It won't wear or tear. The fabric is resistant to stains but you can also clean it very easily should a stain get through.
This recliner is able to go all the way, meaning you can turn it into a bed if you want thanks to its layflat mechanism. It will take a weight of up to 250 lbs and has a USB cable integrated in it.
Once you sit in it you will notice that the extra padding makes it soft and comfortable as if you are being cradled to sleep. What's even more, it's incredibly silent for a chair that uses an electric motor to recline.
You will need absolutely no tools to assemble it and it only takes a few minutes.
Pros
Plush feeling when touched

Very easy to clean

Comes with an USB port

Super silent

Very beautiful design
Cons
Does not have a backup battery
Final Verdict
So, what's the best recliner for sleeping?
All the recliners for sleeping that I've reviewed for you are of very high-quality. The only thing that differentiates them are a handful of criteria that will apply to you personally. This is what will matter the most when you shop.
For example, the NHI Express Addison was the best overall, but there might be some of you out there who have specific needs. That's why you may want to choose the CANMOV Power Lift Recliner Chair because you can control it by pushing a button.
Or you might be on a budget so you'll choose the Homall Manual Recliner Chair. Others will not want to ruin the perfectly balanced design of their living room so they will go for the beautiful Lifestyle Power Recliner Fabric. The idea is that there's a perfect sleeping recliner out there for everyone. I'm going to bed now. Good night!